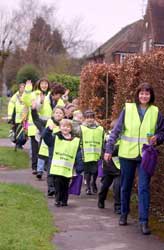 Kids find safety in walking school bus
Seat Belts on
The School Bus!

POLL
Should America's school buses be equipped with seat belts?

Non 2safeschools members can participate in this poll by clicking on GUEST
at login.

CLICK HERE

Moving the distance Kids can ride the school bus to and from school is one of many school board agendas to cut school transportation costs. When the distance to ride is moved farther away parents everywhere express concerns about their childrens' safety. Sometimes parents demands to return to boardings and departures closer to school are honored. When this is not the case, or while parents fight what may be a disservice to their childrens' safety, one option is to form a Walking School Bus. This story looks at how this idea, promoted in Europe and Australian communities, might work in American communities. (jk)

Original story title, Walking School 'Buses' Gather Pace, Released Oct. 15, 2001, by Auckland City Council, published by The NewsRoom, Copyright ©2001, All Rights Reserved.


New Zealand - An Auckland City initiative to help reduce traffic congestion at school gates and improve safety for children walking to and from school is becoming increasingly popular.

Three more schools have started Walking School Buses -- the Billy Goat, the Vicky Viper and the Elephant have joined the programme after a sponsorship grant from the its sponsor, Stagecoach.

The three new schools in the programme have added about 110 children to the scheme.

The Billy Goat is the "bus" for Hillsborough Primary School there are three Vicky Vipers, for Victoria Ave Primary School, Remuera; and the Elephant is the bus for the Halsey Drive Primary School in Lynfield.

CHECK THAT BUS!

• Find out how to safety check a field trip bus before allowing it to depart with kids on board.
Click Here

• FREE School Bus Safety Video
Click Here

• 2SAFESCHOOLS Transportation Policy Recommendation
Click Here

The Walking School Bus scheme involves children walking to school under the supervision of volunteer parents — a "driver" and a "conductor" supervise the walkers.

Children join the "bus" at designated stops along the route. The driver and conductor wear a sash with the sponsor's name, the name of the school and the "bus". Each passenger has a bag tag.

Mariken Flapper, Auckland City's School Road Safety Co-ordinator, says the scheme is a wonderful way to help reduce traffic congestion at school gates.

"It also has children walking to school in a safe environment under the supervision of adults and they learn road-safety skills while they get fitter and socialise." Click Here to comment on this story - Subject: Walking Bus.
DEATH AT THE SCHOOL BUS STOP - what happens, how it happens and how to prevent it
DEATH AT THE SCHOOL BUS STOP

More kids die at their bus stop, many run over by their own school bus, than die in the 55,000 school bus crashes that occur in the United States each year. 2safeschools looks at how parents and school staff can help prevent death at the school bus stop. Click Here for: Death at the school bus stop. Click Here for: 2safeschools Press Release. Click Here for: Free training presentation.
Florida Times-Union Special Report
School bus drivers hired despite no licenses, many tickets
A recently released Florida Times-Union analysis of Duval County's school bus driver's hiring practices found that people with bad driving records, suspended driver's licenses and unsettling arrest histories were able to get jobs transporting children mostly because Duval County set low hiring standards. A few others, the ones who had invalid licenses, were hired because school and bus company employees didn't enforce standards that are spelled out in state law.
Duval County, Florida -- In August, the Florida Times-Union began using Florida's public records laws to examine parts of the personnel records from each Duval County bus contractor. It obtained the last of those records this month.
The newspaper reviewed driving records and compared driver lists against the index of the Duval County Clerk of Courts. The newspaper used a state-run Internet site to check whether some driver's licenses were still valid.
Also compared were the driver standards in Duval and five other counties.
After examining hiring standards in five other large Florida counties, the newspaper concluded that 38 Bus drivers hired in Duval County probably would have been turned down automatically in at least three of the other counties. Another 53 would have been rejected in one or two places.
School Superintendent John Fryer said he was disturbed by some of the newspaper's findings. He told subordinates to start evaluating other school districts' criteria and said there will be steps to increase scrutiny on drivers.
(Click Here) to read the Times-Union report
by Florida Times-Union staff writers, Steve Patterson and Laura Diamond. Florida Timers-Union staff writers Stuart Aase, Alliniece Andino, Binyamin Appelbaum, Rachel Davis, Joe Humphrey, Matthew I. Pinzur, Jim Schoettler and Marilyn Young contributed to the October 28, 2001 report titled, "Duval's screening process missed dozens of violations, didn't follow state laws.
Bus drivers hired despite no licenses, many tickets," ©The Florida Times-Union.