WEIRD SNAPSHOTS, STRANGE TRUTHS, ODD REALITIES AND WACKY INFO ABOUT JAPAN COURTESY OF HASEGAWA (

) TOMOKO
This is the god of abortions in Japan, who takes care of good children that don't have a chance to get into this world.

We have a realistic attitude in Japan about the subject, that may be against sensitivity of people from other countries.

There is an even more weird truth in Japan that is related to the subject: the history of the popular doll of Japan named kokeshi, that originated from visualization of aborted babies.

© Hasegawa Tomoko

Dolls play a significant role in the Japanese life as a nation. Click here to see pictures and history of the 'aborted kid' doll, and why there are some dolls painstakingly made just to get tossed into the fire.

This is a shrine of Susanno-o-kami shaped like the head of the god of wealth in traditional Japanese carving.

It takes courage to enter this shrine, because you will feel like being eaten by a giant!

© Hasegawa Tomoko

Many traditions that you assume to be Japanese are actually imported from China: kanji, Buddhism, ikebana, bonsai, tea ceremony, and so on; even sushi and Shinto.

This is an advertisement board at train station in Tokyo.

Another bad English!

© Hasegawa Tomoko

Click here for other specimens of what the Japanese have been doing to English.

Here is a business establishment that you will see in Japanese cities. It is a service for parents, who don't know what to name their children. You can ask for a name for your baby in shops like this, and they will give you a choice of names that are gotten by auspicious signs after consulting various Japanese sources for spiritual guidance, also by choosing among many readings of kanji characters, as well as ordinary names.

© Hasegawa Tomoko

Click here for how Japanese names are made, and what their meanings are.
| | | |
| --- | --- | --- |
| | | |
Pictures & texts at the 'Weird' section © 2003, 2004, 2005, 2006 Hasegawa 'Pinky' Tomoko
except 'trademark' images of this site and the wording of the links to other pages.
All rights reserved. Every borrowed image at this site is put for non-profit educational purposes only.
.HELP ME ....Answering people's questions about Japan, samurai & warlords. CLICK HERE.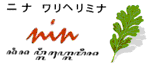 Site © 1996, 1997, 1998, 1999, 2000, 2001, 2002, 2003, 2004, 2005, 2006 Nina Wilhelmina
HOME

LINKS

CONTACT

CREDITS

COMMENTS