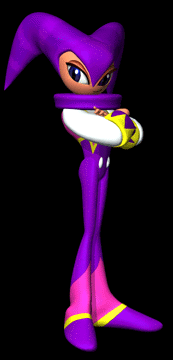 Sex: Male
Level: 1

Dream: Created by Wizeman, NiGHTS is actually a Nightmaren, and a first-level one at that (the only other being Reala). However, within a short period of existence, he realised his master's plans and rebelled against his creator for the good of Nightopia. This has earned him many enemies, not least Wizeman, and especially his counterpart Reala.
NiGHTS is the epitome of grace. Shaped like an acrobat, he has the ability to perform sensational aerial manoeuvres with ease due to his ability of flight. His flying speed is matched by no one and he also boasts metamorphic skills, where he can change his shape to best suit the situation, such as changing his feet into a fin for swimming.
Being courageous, he is naturally attracted to Red Ideya, a rare dream energy from humans that signifies bravery, like a drug. Whenever Elliot or Claris came to the palace where he was restrained, their power was enough to free him so he could fight against Wizeman and his forces. With the children's' help, he was able to foil his creator's plans for total domination of Nightopia and the real world, as well as renew the children's' belief in themselves.