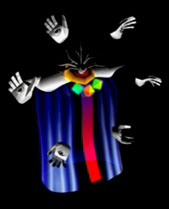 Sex: Male

Nightmare: The true meaning of malevolence, Wizeman is the ultimate evil being. Despite all his power and that of his countless servants, he still wants, in a megalomaniacal sense, much more.
By sending his servants into the individual dreams of sleeping humans, he gains dream energy from simply frightening them. He already has a shocking amount of energy, but is still to get his many hands on the rarest energy of them all, the energy of bravery (Red Ideya). He has turned his attention to Claris Sinclair and Elliot Edwards who have this gift, and once he procures this power he will be able to leave Nightopia and enter the real world, where everything will become a true living nightmare, with nothing to stop him. Not even the Americans... ;-)
Extremely fortunate for both realms, NiGHTS and the two children managed to put a stop to his plans by defeating both him and his servants. But Wizeman will not give up that easily. One day, he'll try again. And when he does, he'll be better prepared...