Awards Page
Want to see what awards I have won? Well this is the place to be!
---
I've been honoured with a web design award!!! I feel very flattered to have recieved this award since it is one that is voted on by the members of the I.A.W.M.D., a leading Internet Association of IT and Web Professionals. I have been designing my own web pages for over 5 years now, so it's wonderful to be recognized for my efforts.
---
These are the crochet and craft-related site awards that I have won:
WOOHOO!!! I've been presented with my very first award! Thanks Sue!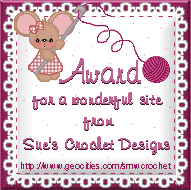 ---
I have also been honoured with an award from Crochet Crafts. Thank you Jackie!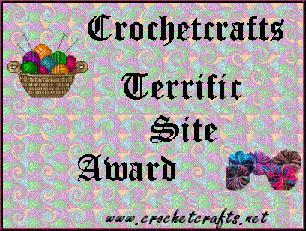 ---
The Creative Enterprises Network is another site that thought Nicole's Crochet Bistro worthy of an award. Thank you Carol!

---
Crochet N' More has honoured Nicole's Crochet Bistro with an award. Thanks bunches Lisa!
---
| | | |
| --- | --- | --- |
| What patterns are available? They're on the patterns page. | Looking for finished items? See the projects page. | Knitting on a crochet site? That's on the knitting page! |
| Why did I create this site? Learn more about me! | What else have I done? Check out my "Brag" page. | What's on the drawing board? It's on the coming soon page. |
| Who thinks this is a great site? See it on the awards page. | Into webrings? You'll find them on the web ring page. | The links page has some great crochet groups and learn-how sites. |
| Let me know what you think. Send me an email and let me know! | Let everyone know what you think. Sign my guestbook! | What do other people think? View my guestbook! |
These graphics were designed especially for this site by Mary I.
Please do not save these for yourself.
�2002-2004 Nicole's Crochet Bistro
http://www.geocities.com/nicolethgeek