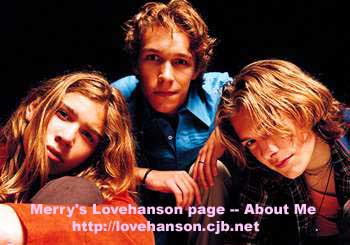 About Me

Hi!
My name is Merry. I'm from Jakarta, Indonesia. I was born on May 13, 1981. That means I'm 19 years old. I always collecting all stuff of HANSON like poster, pin-up, photo and anything else. I also looking for e-pal or penpal. All of HANSON fans out there please write to me :
*~* MERRY *~*
you can e-mail me :
[email protected]
I'll glad to be your friends.
I really love HANSON coz I think they are very talented group!. First I saw in MMMBop video, I so interesting about their voice, their music! With Tay's soul R&B voice so touch me when I hear it! I bought all their CD and homevideoes. HANSON is always my idol. Whenever I watch their video and heard their songs...I never bored. I always to be fans of them forever 'til I get old and start losing my hair, or with another meaning until I die :)
I hope they always be there for me :).
I think there is a little fact file about me. Thanx to read it, I really appreciate it!
Peace, Love and HANSON.
Here's a pic of me!!!
This my HANSON story when they in Hard Rock Cafe Jakarta, Indonesia (August 6, 1997) :
HANSON MANIA
Incredible! That's what the audience at the press conference would say about HANSON. Beside people from the electronic over 3000 HANSON "maniacs" had flocked to Hard Rock Cafe, anxious to see their idols live. They didn't mind waiting for hours outside the place to get through.
Their patience paid off. After the press conference, Hard Rock Cafe let the HANSON fans it. Just imagine, 3000 people trying to push their way through the entrance! There was no way to squeeze everybody in. Hard Rock Cafe was already filled beyond capacity when the door closed on hundreds of youngsters who were still outside. The Cafe's staid atmosphere during the press conference quickly changed into hysteria. The lucky ones inside cried and screamed over and over again:"HANSON!HANSON! and "Taylor, I love you!" Looking very cute, Taylor was the most popular among the HANSON siblings. Then, HANSON sang three songs for their fans, the songs is Madeline, Man from Milwaukee and of course MMMBop, and the fans sang along enthusiastically, especially, their favourite MMMBop.
In fact, the show was over after the three songs. Who would guess that, immediately after they went off stage, they left the building? None of us inside, and certainly none of those outside, who were still hoping for a glimpse of HANSON. Although the Cafe staff had informed the fans outside that the boys were not in the building anymore, they wouldn't believe it. The closed door upset them, and so it began...a few threw stones, and the rest followed suit, picking up anything to target the glass entrance. The violence continued for some time, making te situation around Hard Rock Cafe look like a battlefield. Eventually, Hard Rock Cafe management made a good desicion. They opened the door for the angry crowd to get in and see for themselves. The Hard Rock Cafe manager commented after the storm was over, "It's been the most complicated event for us." And if Taylor, Isaac, and Zac HANSON carry on the way they do, there's no stopping this HANSON mania for along time.
And you can heard HANSON opinion when they went to Jakarta, Indonesia on Tulsa, Tokyo and Middle Of Nowhere.
They really appreciate our craziness. Coz their fans in here are really really wild, and they tell to us when they were interviewed by Rick Dees (radio show) that their fans (girls) in Indonesia are the fly girls. That means the girls is always there wherever HANSON are :)
Wanna see some pics when Hanson came to my country go to :
Indonesia "MMMBop" Promotour Aug 5-12, 1997.

[ Home | Site Updates | Latest News | Article | 100 Fact | Albums | Family | Pictures | | Multimedia | Stuff | Lyrics | Bookstore | Virtual Card | About Me | Links|
| LoveHanson Mailing List | Sign My Guestbook | Email Me ]

&copy 1998-2000 Merry's LoveHanson Page [email webmaster]