From : [email protected]

A friend told me that Hanson will working togethar w/ Moffatts, is that true??? I know that sounds SILLY, the one thing I know 4 sure IF that's true maybe Hanson will play the instruments and singing, then Moffatts?? um........ Well......We never see background dancers in Hanson's show b'4 or.....maybe they can help Hanson bring the instruments or sumthin....hehehehe--------Milwaukeebaby-Ina

From : [email protected]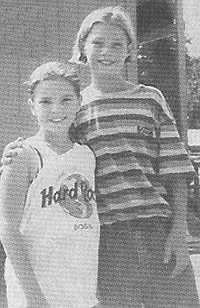 Who is the girl beside Tay ?
Is she Tay's Girlfriend???
What do you think?
From : [email protected]

I heard tay got his ears peirced (I heard he got three) someone supposably saw them at yet another Jonny Lang Concert (this time in Texas) and they
said it looked like he had 3 earings! weird! I wonder if it true? I don't think it would look that bad but will
have to see!
bye
Lauren
From : [email protected]

My friend Kim told me that she went into Clairs when she was on vacation in another state (I don't remember where, I can ask her tho)and I think
she asked the ppl there if they had any Hanson stuff and the Lady who does the ear peircings there said that the Hanson family came in and two
of the boys got their ears peirced. I totally trust Kim! And I don't think a Clairs worker would lie like that...that would be pretty pathetic to lie like that... oh well. Just to tell ya! Cya - Kat :)

From : [email protected]

I think Moffatts 1st song I'll be there 4 u or something , sounds JUST LIKE MMMBOP....but of course MMMbop 99% way better than it. So.....I'd probably say......Moffatts is suck, and HANSON RULEEZ.
*aure*
From : [email protected]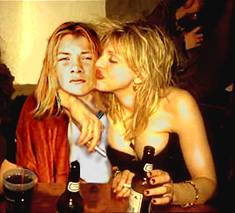 I wonder this pic are real or fake
I think itz fake
What about you guys???

From : [email protected]

Okay guys, my friend called me this afternoon wanting to fill me in on some new Hanson info. She was telling me about 16 magazine and something about Hanson Hotel. Then she told me that Hanson attended an awards show for models and had dates: Isaac-a brunette bulimic model, Taylor-Danielle Fishel (That whore), Zac-Jenny McCarthy. God it makes me so sick. To hink that those stupid girls were sitting with "our" guys.
Jenny, I have no problem with, but...ugh. Well when I get more details I'll fill you guys in. Alright?
From : [email protected]

Check this out... Its really really lame......
"Hello, and welcome to our page where we make fun of Hanson's girlfriends. Our names are Jessica and
Rebecca and we've made this page hoping to stop them from having girlfriends because it's not fair to the thousands of other girls like us who love Hanson too! Their girlfriends are ugly-ass-pricks who try to be cool. Um girls it's NOT working. Well they took our men and we want them BACK. Read more about it before
saying it's fake."
k, this site is REALLY, REALLY REALLY pathetic. they have like, Pictures Of Nicole And Shannon, Information on The Sluts *Updated every
day*, How We Know It's True/Proof,Nicole And Shannon's GAY websites! and
a bunch of crap.
These girls are REALLY really stupid!
k, here's the URL:
http://www.geocities.com/Paris/Palais/7211/index.html
-- c ya...
bella
From : [email protected]

Okay, every Hanson fan around the world that decides to participate will go outside and let a balloon go into the air!!! Particularly a red, green, or blue one!!! The balloons will have a note or Hanson picture inside. Don't you think that idea is kewl? Please pass it on to as many Hanson fans as you
can.