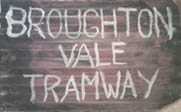 The Building of Broughton Vale Tramway
The Inspiration
After 3 years of fun helping to build, operate, and exhibit my friend's logging layout, it was time to build a layout myself. This would serve as a testbed to try some facets of modelling I had previously avoided. Having also built a number of HOn30 models to run at exhibition, they really needed somewhere to "live" between shows.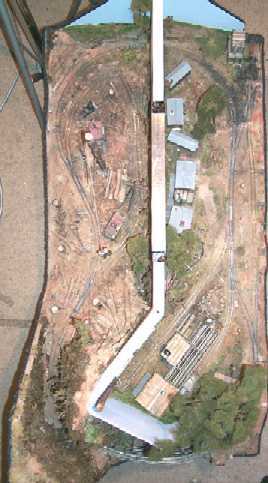 The Plan
HOn30 or HOn2.5 is HO scale, (87 times smaller than the real thing), Narrow Gauge which simulates track with the rails set 30 inches or 2' 6" apart. In HO scale, this distance comes out at close enough to 9mm, the same as N scale standard gauge track. Bearing in mind that N scale is limited to a minimum radius of 9", an oval on track nicely fits in a 2' X 4' (600 X 1200mm) space. This is also a common size for sheet foam, which was used to form the subroadbed and layout base.
The advantages of this scale/gauge combination, when teamed up with the choice of a suitable prototype such as small time logging, are many. Prototypically short and small trains, tight curves and steep grades abound. Cheap access to good running mechanisms and track, suitable for easy kitbashing or scratchbuilding into narrow gauge items is another drawcard.
Design Quirks
OK, that takes care of the mechanical and practical concerns. But isn't 2' X 4' mighty small, even for HOn30? Not if care is taken in the planning of the scenic and visual aspects of the design. Much of this R&D benefited from the perspective and experience of the group including Bruce Parker, Mark Fry, and John Cheek. Visually, the layout has been cut into three separate scenes by adding a viewblock down the centreline of the layout, and curving it around to form an end scene backdrop and alcove on one side. Three scenes were then essentially built as completely separate dioramas, one depicting a small log camp, the other side showing the operations of two steam donkeys at a log loading site, and the end acting as a separator with a crowd pleasing curving trestle scene.
Frame/Base/Subroadbed
With the plan and the design firmly in mind, it was time to start building. First stop was the frame, base, and subroadbed. The frame consists of 1" X 1 1/2" (25mm X 40mm) pine which has been bolted together with 90 degree aluminum brackets. This frame as then laminated onto four layers of 2" thick 2' X 4' extruded polystyrene foam. Experience on Swan's Crossing had demonstrated that this would provide a light yet solid, warp free base that was easy to carve away for below track level scenic areas. This foam surface also served as the sub-roadbed and roadbed for the Broughton Vale and Broughton Creek scenes. That's right, the track was laid right on top of the foam.
To keep the layout off the ground, a pair of collapsible table legs were attached to a 11 1/2" X 3' 8" (290mm X 1150mm) long length of plywood. This narrow "table" sits under the layout module in between locating blocks, to stop the layout from moving around. With just the legs attached the track height is around 3' 3 1/2" (1000mm), which is too low for most viewers. On a small layout, the lower the layout is viewed, the easier it is to take in all in one go, and thus much of it's impact is lost. My eye level is at around 1550mm (5' 1"), so using PVC pipe, wood doweling, and T-nut leveling feet, leg extensions were built to raise the overall track level up. This technique has been used on many of Model Railroader magazines recent project layouts. For exhibition work a second set of legs were also constucted to give a track height of 1350mm (4' 5"), which seems to suit both adults standing up, and children supported by their parents while standing on chairs/crowd barriers.
As mentioned above, one of the reasons Broughton Vale was built was to challenge the skills of our small modelling group. To this end PECO medium radius points were modified to closer represent narrow gauge units, and the track in between was handlaid, using code 80 rail stripped from PECO N scale flextrack. The surface of the extruded foam baseboard was used as the roadbed on the Broughton Vale and Broughton Creek scenes. Raised roadbed wasn't a consideration because prototype tramways often did not worry about such extravagances as raised roadbed and drainage. For the layout grades and elevated trackwork levels in the Woodhill Mountain scene, the current N scale modellers arsenal yielded a easy lightweight solution, Foamcore. This material is available at art stores for mounting photos. It is essentially two stiff layers of cardboard laminated to a layer of high density foam. 5mm thick sheets were cut to form several overlapping "cookie cutter" style layers , and hot glued onto the layout. In order to form the roadbed grades, the Foamcore roadbed sections were easily bent down to the surface of the base foam. Cavities were routed out of the foam with a hot soldering iron, and the Foamcore was hotglued in place, flush with the top surface of the base. Care must be taken not to bend the Foamcore too severely, or it will "kink" and not form a smooth transition from level to grade.
For more details on Broughton Vale handlaid track, click HERE.
The entire layout is wired as one electrical block, (it is only 2' X 4'), with all isolated spurs being taken care of by the power routing function of the PECO points. All points are controlled by Caboose Hobbies N scale ground throws, some connected directly to the points, others linked by brass wire in tube buried just below the layout surface. The throttle is a homemade unit on a walkaround tether. By using these systems, all need for any type of centralised control panel has been eliminated. All of the control electronics for the smoke machine, lights, fire circuits, and sound system are mounted under the Broughton Vale scene. Power for the entire layout is supplied by a 16 VAC powerpack.
Tramway logging operations can usually be summed up in two words, Short and Small. So it is with the Broughton Vale motive power roster. Geared locomotives and logging tend to go hand in hand, so at any time on Broughton Vale, you may see Class A Climaxes, or a Class A Shay, battling the grades and torturous curves with loads of logs bound for the mill. Modelling in HOn30 allows use of the current crop of smooth running diesel and steam mechanisms for all manner of conversions, and at exhibitions Broughton Vale plays host to a wide variety of motive power built by Mark Fry, John Cheek, and myself. Many of these "lokies" are scratchbuilt to depict examples of the typically indigenous prototype motive power conversions such as Steam traction engine based locos, Fordson tractor conversions, and even the failed "Harmon" loco from the Tyers Valley Tramway in Victoria.
For more details on some of the individual locos, click here.
As with the locos, the theme is Short and Small when it comes to the cars running on Broughton Vale Tramway. My first ever scratchbuilt HOn30 cars were a set of flatcars that still see service hauling logs and skidders in the bush around the valley. Since then, a fleet of disconnected log cars has appeared, which are based on Micro Trains N scale Archbar trucks. These look good running in groups of three or four pairs, especially on an empty train being pushed across Broughton Creek towards the log loading area at Woodhill Mountain. While Broughton Vale only owns a railcar for tranporting the loggers to work each day, at exhibitions passenger service is suppiled in the form of "Puffing Billy" prototype passenger cars, which have been ably scratchbuilt by John Cheek from styrene.
For more details on some of the rollingstock on Broughton Vale, click HERE.
The majority of the structures on the layout are in the Broughton Vale scene, and around half of those were ably built from the ground up by Nicole. This was her first ever attempt at structure modelling. When shopping for kits to put on Broughton Vale I kept in mind the following principle. "Think not of what it is, but what it could be turned into". When coupled with a general knowledge of a prototype you wish to replicate, useful bits and piece can show up in the most unlikely places.
As an example, the Sawmill and Blacksmith's hut demonstrate two completely different styles of model construction. The sawmill started life as a Keystone Danby sawmill kit, but was heavily redesigned and scratchbashed from prototype photos when it was discovered to be a model of an enclosed mill. In the Australian bush, buildings like sawmills were rarely enclosed, and they were often only blessed with enough corrugated iron to cover the expensive machinery. On the other hand, the blacksmiths was a European style plastic kit of a log drying deck that was rescued from the scrap box. With scale planks plating over the plastic walls, and some scale wood and corrugated iron replacing the "plastic trying to be thatching", it forms a eyecatching little scene.
To see more details of the structures in the Broughton Vale scene, click HERE.
To see more details of the structure in the Broughton Creek scene, click HERE.
To see more details of the structures in the Woodhill Mountain scene, click HERE.
I owe much of the scenery work on this layout to Angela and Mark Fry. With Angela's eye, and Mark's alternative techniques, the layout was totally sceniced in the space of around three weeks prior to it's first show. This included a number of "workshop nights", (More coffee anyone?), and even a few days off work to complete. (Mark, I owe you much!). Around 95% of the layout's scenery is natural materials, from dirt collected from around Broughton Vale itself, through to preserved lichens, mosses, and ferns. Australian scenery has a completely different color spectrum to United States or European scenery, and many of the commercial products available just don't look right. By using natural materials from the local area, we were able to easily replicate the distinctive colors of Australia without having to mix up 15 different shades of green. One of the major design goals of Broughton Vale was the elimination of any use of plaster in the scenery consturction. It's messy, heavy, and fragile. Through use of latex caulking, kitchen cloth type towels, and "Soft rocks", that challenge has been met.
To learn more about the Alternative Scenery Techniques used on Broughton Vale, click HERE.