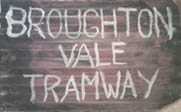 Locomotives

Here is a detailed overview of some of the motive power roster regularly seen on Broughton Vale Tramway. Apologies for it's length and load time. Enjoy.
Small Climaxes make great first time scratchbuilt loco projects. This one represents a Class A Climax style loco built by the blacksmith and "donkey doctor", or master mechanic, out of whatever was lying around. The frame and cab are built from scale wood, while the boiler is cardboard wrapped in masking tape. The tarpaper roof was formed by gluing a tissue onto a piece of cardboard, and weathering with paint and isopropyl alcohol. Details such as a Keystone whitemetal smoke stack and boiler bands were added, as were steam/sand domes. These were formed from the leftover halves of the capsules Micro Trains use to hold small springs and screws for their couplers.
This loco is powered by a Life Like N scale SW1200 diesel switcher mechanism. One of the key drawcards of HOn30 is the ease of converting such smooth running mechanisms at little cost.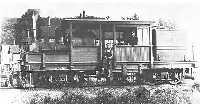 Class A Climax
The second Climax on the layout represents a "bought one" from the Climax Locomotive Co of Corry, Pennsylvania, USA. The model was bashed from one of the Roundhouse "3 in 1" Battle Mountain series kits for a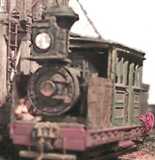 HO/HOn3 Climax. The one piece body casting in this kit was sectioned down it's length, and basically everything in between the sides was thrown in the scrap box. (Model railroaders, especially those modelling home built operations like logging, should NEVER throw things out. You never know where that next ultimate detail part may come from). The sides were shortened down to a scale 22' long, a new deck was scratchbuilt from wood and styrene, and a boiler and rear tank was fabricated from cardboard. Details such as the bell, headlight, and smokebox front were salvaged from the roundhouse kit.
This loco is also powered by a N scale SW1200 diesel mech.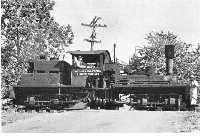 One of the favorite locos on the roster is this little brass Joe Works Class A Shay, built to look suspiciously like Mich Cal #2, which was used at Camino, California, USA. This loco is around 15 years old and is one of the rare ones that was factory assembled. The majority of these models were produced as kits. This loco is on loan from the Jerewangala Tramway, (Thanks John Cheek!). It is quite relaxing to sit back and watch this loco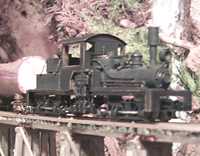 spin it's "sidewinder" driveshaft as it slowly drags a loaded disconnect log train from Woodhill Mountain, across the trestle at Broughton Creek, and through the camp at Broughton Vale.
This loco is powered by the stock Joe Works drivetrain which is very smooth and reliable. However, if they are used too much, they will wear out the gears, especially in the trucks. Between my fellow modellers here on the South Coast, we have at least two other Joe Works Shays that need complete replacement mechanisms if they are to run under their own power.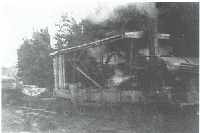 Britton Bros "Marshall" Steam Locomotive
This strange contraption is based on a prototype conversion built in Tasmania by the Britton Bros Tramway. When they needed a source of motive power, the tramway bought a second hand Buffalo Pitts traction engine, removed it's road wheels, and mounted it on a wooden bogie frame. The steam engine was geared to the wheels via a system of large spur gears, visible in the photo, sub-shafts, and chains. After five years, this engine failed it's annual boiler exam, and was condemned. The Brittons bought a second hand Marshall traction engine, rebuilt the locomotive,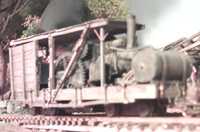 and kept on going right on into the 50's, when Brittons moved to diesel power.
This model is built on a Life Like Amtrak P32 diesel mech, (the SW1200s were too short ), and the traction engine was modified from a "Thomas the Tank Engine 'Trevor the Traction Engine'" childrens model. The balance of the scratchbuilt loco is formed from scale wood, cardboard, wire, and styrene. The prominent gearing was sourced from a Ratio British yard crane kit.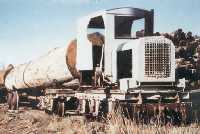 Brittons Bros Diesel #1
This has to be one of the most intriguing little machines on the Broughton Vale Tramway roster. It is based on a diesel bought by Britton Bros to replace their Marshall steam engine in 1953. It was converted from an Allport Perkins diesel loco into a bogie unit by the engineering firm of Kingstons in Smithton, Tasmania. The geared bogies were salvaged from an old Class A Climax. The rear truck of this loco acts as the first disconnect car in the train, thus using the logs weight to add considerably to the traction available.
The model is based roughly on this loco, and is powered by a highly modified Life Like SW1200 hidden inside the log.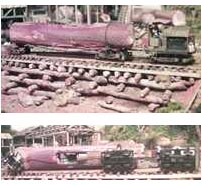 Only the rear truck of the locomotive is powered, but all of the loco wheels pickup electricity from the track. The front truck, which supports the cab and "engine", is the second SW1200 bogie, minus it's internal gearing. The cab, deck, and hood are scratchbuilt from styrene, wire, and brass strip. The roof is scale corrugated iron, and the diesel engine was scavenged from an Matchbox road roller toy.
This loco performs as well as it's full size prototype in both slow speed control and hauling capacity. Unfortunately, it cannot run "empty", but for a model inspired by a comment, "It's impossible to build powered versions of locos that small", it has achieved it's goal.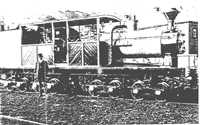 The Price 16 Wheeler was a indigenous geared loco built by AG Price in New Zealand. Only 5 of them were built to the same general design of a Class A Climax, with a twist. These locos were equipped with two trucks under each end, thus providing more tractive effort while reducing the average axle loading. This was important because the bush tramways of the time were often roughly thrown together affairs that didn't take kindly to rough riding or heavy locomotives. They were generally considered a successful design, although they were limited in top speed, and required frequent lubrication.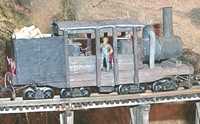 The model was built from one photo, and one basic side aspect line drawing. The frame is constructed of scale wood, as is the cab. The boiler and bunker are cardboard, and the trucks are Micro Trains N scale archbars Unfortunately, due to the extreme articulation required, it was too hard to design this loco as a powered unit. It spends it's days being pulled and pushed around by a water tank car built on a Life Like SW1200 mechanism.