CONTINUING INTO THE 21ST. CENTURY...
---
IN MEMORIAM
I just received word from Cheryl Dart at the Museum of Flight that Jack Ilfrey passed away on October 15th. and was laid to rest next to his parents, in Houston, Texas, on October 19th. I am, for once speechless...

---

I have been in contact with some great folks from across the big pond who are looking to connect Lt. Jess Carpenter with the crew of the aircraft he downed. This story will be added as soon as there is an update. I also had the pleasure of speaking with Lt. Carpenter a little while back and he seemd in excellent spirits.

I have recently been contacted by a number of people related to the 20th. FG in some way and will be including alot of new information once it arrives. I added a photograph of Royal Frey, which I received from Ann Davis, and have taken the information provided by the family of Capt. Terrence Williams and created a Biography page for him. The latter is very interesting as it contains letters from an eyewitness to Capt. Williams' downing. I also have been contacted by the family of Al North and hope to have a biogrpahy for him finished in the near future. I also recently received a book from the cousin of a downed RCAF airman who was buried in the same cemetary as Lt. Denis Allison. I am hoping to include some of this information as it superficially adds a few clues to the Alison mystery.

The granddaughter of Maj. Gen. Russell Gustke recently sent me a copy of a handwritten story he wrote, as well as a photograph, I have included them here.

Capt. Art Heiden also has passed on the news that Martin Caidin's excellent book Fork-Tailed Devil, which Heiden contributed to in many ways, will be reprinted and available again around June 1st.

I have added another great article by David Knight to the 20th. FG site. This is a tribute to Maj. Donald McAuley that he wrote back in 1986. An amazing read and another great man cut down too early in his life. In addition Jean Pierre has submitted photogrpahs of the 2002 Memorial Ceremony in McAuley's Honor, it can be found here.
---
On March 28th. I received this e-mail from the staff of Military.com: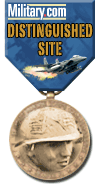 Our editors have selected your site as one of the best military sites on the Web. Military.com recognizes your website as a valued resource for the military community. We salute you and your efforts. In appreciation, we would like to present you with our Distinguished Military Site Award. Earning this award entitles you to display the award on your site for the remainder of 2001.
Not only am I honored but I am humbled to have these sites recognized in such a manner. This award belongs not to me, however, it belongs to all of the great people associated with the 20th. and 1st. Fighter Groups and to the man who inspired this site, Maj. Jack M. Ilfrey.
---
---
I received this e-mail March 2nd. from the Assistant Operations Officer of the 71st. FS:

"...I'm a co-webmaster for the 1st Fighter Association's website, and an active duty member of the 1st Fighter Wing (F-15 pilot). It seems like we have a mutual interest. I was wondering if you could post a link to our website on your site. We are at http://www.1stfighter.org. I'll post a link to your site this weekend.
"I was interesed to see your story on Stub Hatch. I met him last summer at the 1st Fighter reunion in Riverside, CA, and correspond with him regularly. I was also interested in just about everything on your most excellent website. Keep up the great work. I look forward to chatting with you in the near future (I'm just a bit worn out from our week-long exercise that had me working 12+ shifts daily).

Cheers from Langley AFB!

-LtCol Pete "Toes" Bartos, Assistant Operations Officer, 71st Fighter Squadron
---
On February 2nd.,2001 I received a letter from the 20th. Fighter Group Association informing me that, in recognition for my work on these websites, they have given me a Honorary Membership in the Association. All I can say is that I am deeply honored and humbled. Thank you all!
---
I spoke with Maj. Jack Ilfrey in January,2002 and he seems to be doing quite well after his recent illness. He told me that the next issue of the newsletter will be out as soon as he can get everything together.
---
I received a copy of the original pressing of Jack Ilfrey's autobiography "Happy Jack's Go Buggy" recently and will be making a comparison review of the two versions sometime in the near future.

Speaking of reviews, Corey Jordan has posted a review of the new version of the book on his excellent website The Planes and Pilots of WWII Internet Magazine. This same review will be appearing on a national bookseller's site as well. To view it Click Here. Corey and Carlo Kopp's article concerning the P-38 Lightning (which used extensive information provided by our own Capt. Art Heiden and some photographs from the Hudgens Collection,) is appearing in an international aviation magazine. I'll update everyone as soon as I know more.
---

MISSING 20TH.FG PILOT & P-51 INFORMATION
I received a message in the guestbook from a Kim Juhler, the Danish Representative for the 801st/492 BG concerning Lt. Harry M. Anderson of the 55th.FS., who was downed by a flakboat during a strafing mission against Esbjerg Airfield in Denmark on 27 August, 1944. She wrote:
Two P-51s stafed the airfield and one of them, Lt. Harry Moe Anderson from the 55FS, in plane# 44-13733, callsign KI-F, crashed down just outside the habour of Esbjerg after been shot down by a German flakboat. He is still Missing in action.. But we are trying to see if we can find The P-51. Is there still someone from that mission alive? If can you can, contact us!!
We will make sure, if we find the remains of airman Anderson, that he will get a proper funeral. Many days I have been thinking of Anderson`s family. We know he is out there but we only have to find him.. Please if you can help me with any information email me..
Kim
The e-mail address is

[email protected]

.

I have asked Kim to put together a story about this search for inclusion on the sites. Appearantly they have been working on this for many years.
This is the same mission where Col. Cy Wilson, Lt. Alphonso Kent and Lt. Edward Doering were also shot down, indeed another dark day in the 20th.'s history.

---

Received a nice letter from Capt.Chris Pannell in mid-October, 2000 which recounted his visit to the Glacier Girl Museum in Middlesboro, KY. While there he presented a copy of the 20th.FG History King's Cliffe to the museum for their collection. Estimated time till the "Girl" may be flying is now only 14 months...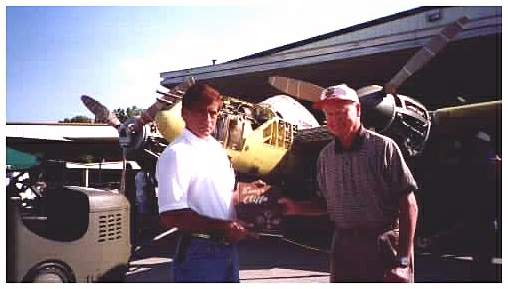 Capt. Chris Pannell presents Bob Cardin, the head of the "Glacier Girl" Restoration Group, a copy of "King's Cliffe" for the "Glacier Girl" Museum. (Photo courtesy of Capt. Pannell)

---

JACK ILFREY IN NATIONAL TV COMMERCIAL
I woke up early this morning and was switching through the channels when I paused on CNBC. Just as I did a 30 minute commercial for a video tape series came on called "Hunters In The Sky". I wondered if, perhaps this could be the series that ran back in the early 90's which featured our own Jack Ilfrey, and lo and behold I see Jack on the screen!

The series is being released as a four-video/eight episode set for two payments of 29.99 and are now hosted by tv-movie actor Cliff Robertson. An additional 16 minute video and poster are also included in the purchase price. Jack only appears in two episodes but these tapes include interviews with a virtual who's who of aces from every country involved in WW2.

The number to call and order the tapes is 1-800-545-9449. There is also an address where you can order the tapes via snail mail but I missed it.

---

On May 21st., 2002 these sites began their fourth year of existence, I would like to thank each and everyone who has supported me in this and who have been so gracious with their time and submissions. .


This just in, die-cast replica of "Happy Jack's Go Buggy", "California Cutie" and "Gentle Annie" are now available. Click the button above for more information!
Also, I have been asked about what a "short snorter" is, and as luck would have it, I found an excellent article on just that subject in the Air Force Home Page's archives.Enjoy!
I just had a look at the tracker for these sites and I am amazed by the amount of international visitors there have been, people from the following countries have viewed the sites: United Kingdom, Japan, Czech Republic, Finland, Poland, Brazil, Germany, Canada, Australia, New Zealand, The Netherlands, Belgium, Italy, Sweden, Taiwan, Luxembourg, Lithuania, Spain, Denmark and France. And this is just since April, when the tracker was added!
I have received a few e-mails regarding King's Cliffe, the outstanding history of the 20th.FG put together by Maj. Edward Steiner and Capt. H.W. Howard, and I have created a page with all of the information you need to order a copy of your own, where to get microfilm records of the 20th. and where to find Jack Ilfrey's autobiography Happy Jack's Go Buggy, simply CLICK HERE! Remember, if you order a copy of Happy Jack's Go Buggy through the site,a percentage of the cost goes toward keeping the sites going.Also, remember, Jack himself is selling autographed copies from his home, just contact me and I'll tell you how to get one!
Once again thank you to all of the individuals who have contributed to this site and their families! Your input is much welcomed and wanted!
I HOPE YOU AND YOURS THE BEST OF EVERYTHING, AND IF YOU GET IT, REMEMBER IT WAS BECAUSE OF THE SACRIFICES OF MEN LIKE JACK ILFREY AND THE MEN OF THE 1ST. AND 20TH. FIGHTER GROUPS THAT YOU HAVE THE FREEDOM TO DO SO!
- Syd Edwards, Webmaster, Honorary Member, 20th. Ftr. Grp. Assoc., 8th. AF Historical Society, Confederate Air Force, A.O.P.A. -
---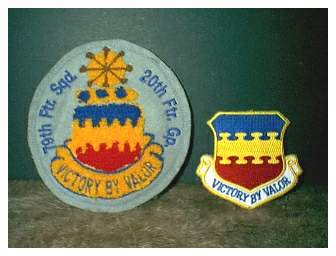 The 20th.FG patch that Max Pyles sent me and a current 20th.FW patch from my collection.


I would also like to take this chance to ask each of you who visits this site to help support the National World War 2 Memorial.
Do not let these great men's sacrifices be forgotten!

MY ADOPTED P.O.W.'s PAGE   FOOTAGE OF A JU-52 BEING DOWNED