In the beginning, the mission with these sites was simply to pay homage to a great man and a great fighter pilot. Though Maj. Jack M. Ilfrey's career was highly successful and he was considered one of the great intuitive fighter pilots and most natural leaders of the USAAF, he has been, for the most part overlooked by the history texts.

In the time since the creation of the intial site about Maj. Ilfrey the mission has gained a much wider scope, encompassing the wartime histories of the 20th. and 1st. Fighter Groups and the aircraft flown by those groups. This brought about the creation of the two adjoining sites and the purchase of additional space on the server as the stories of the personnel in both Fighter Groups needed to be preserved before it is forgotten.
In many ways these sites were created for the youth of today. I was scared to read that 40% of the high school students in America did not know who Winston Chuchill or Joseph Stalin was and I find this to be almost criminal. The quote has been said numerous times and to be honest I do not know where it originated, but "Those who are ignorant of the past are doomed to repeat it." I hope this site will help remedy that in some small way.
Incidentally, this site will not be created from the "politically correct" stance of "revisionists", it will instead present the life of this great man as it was and is. If you are offended accept my apologies but war is not glamorous and I will not present it as such.
This site is completely non-profit and we appreciate any opinions or assistance that you may care to provide, especially in the area of vintage warbird photographs, first hand accounts, reference materials, etc.
The webmaster, Syd Edwards can be contacted via e-mail below or by mail at:
Syd Edwards
P.O.Box 448
Pt. Pleasant, WV 25550-0448
"Soldier, rest! Thy warfare o'er, sleep the sleep that knows no breaking,
dream of battlefields no more. Days of danger, nights of waking."
-- Sir Walter Scott, Scottish poet, 1771-1832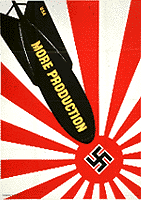 Click On The Poster To E-Mail Us!

Unless otherwise noted, all content © copyright The Art of Syd Edwards 1998,1999. All rights reserved and reproduction is prohibited.