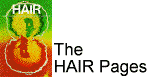 HAIR: Requests

Many people visiting the HAIR Pages are looking for specific information -- pictures, recordings, information about people, etc.

Through this page, HAIR fans can interact and share their information about HAIR! If you want to respond to an inquiry below, please email me at [email protected] so that I can develop a list of resources/answers (you'll receive credit, of course, if you'd like).

Requests
These are all questions/requests submitted from visitors to the HAIR Pages:

Looking for Information/People
Submitted by Pat Gallagher I'm currently trying to put together a home page for productions of HAIR in Australia, past, present and future. If anyone has any info, programs, pics from ANY Australian HAIR production, pro or amateur, please get in touch. I'm especially looking for stuff on the original '69 and '92 professional productions.
Submitted by Lori Reed (

[email protected]

)
I'm looking for info on Alex Harvey, founder of the 70's band, "The Sensational Alex Harvey Band".

Back in the 60's when "Hair" was going strong, Alex played in the orchestra. I would like to know if you have any photos of the orchestra at all, or info on who the members were. Alex was from Scotland, so I don't know where he would've been, NY? Chicago? CA?

Looking for those who played in the band on the Movie Soundtrack, especially the bassist.
Questions for/about the Authors
How did Ragni's death (from cancer, a few years ago) impact James Rado, Galt MacDermot, and Michael Butler?
Other Works by Rado/Ragni/MacDermot
Any information about Rado's Rainbows, Radios and Moonbeams. (supposedly "picks up where HAIR left off")
Any information about Ragni/MacDermot's show Dude.
Books
Letting Down My Hair by Lorrie Davis
"Wanted to pass the word to anybody interested that I have a copy of "Letting Down My Hair," former Hair cast member Lorrie Davis' 1973 hardcover book charting the rise and controversies surrounding the broadway musical. I have the book up for auction on the ebay auction site at http://www.ebay.com/ The item number is 24071782. Have a look if you're interested, or let another Hair fan know! Thanks! KURT"
Music
Guitar chords -- online
Lyrics -- a text version
Instrumental recording -- Hans-Peter Herberth is in search for an instrumental CD-version of the tracks.
Soundtrack -- J. Hallett is looking for a copy of the Original Broadway album on tape
Playbill
"I am looking to buy/find then buy one or two copies of the original or close to the original Broadway playbills. We will be doing Hair again this July and I want to get one for the director and one for the music director as gifts. Have you heard of any for sale or can you point me in the right direction? Thanks in advance. Jim (Berger)"
Script
Commercial (book) version (not from TAMS)
Online text version
Video Exchange
Click on each name to send email to that person. If you'd like to add your name to the Video Exchange here please send email to [email protected]. (This is listed only as a courtesy to visitors. I receive no money for these transactions and take no responsibility for what may occur when you try to establish a trade or sale. Buyer beware!)
Looking for recordings:
Have recordings to offer:
Greg
"I'm willing to make a copy of my production for anybody willing to send me one of their own. Reply via this e-mail address."

Home - Introduction - Plot/Numbers - History - Cast - Sounds/Photos - Productions - Events - FAQ - Be-In - Comments - Related Sites - More Info
---

© 1995-99 Tracy Harris -

[email protected]


Last Modified: February 22, 1999