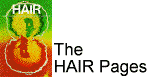 HAIR: Upcoming Events
30th Anniversary - Gatherings - Help Needed - Reunions - Tribute

HAIR 30th Anniversary Celebrations
HAIR 30th Anniversary (by Michael Butler, updated June 11, 1999) (UPDATED!)
Michael Butler, the original Broadway producer of the Musical Masterpiece "HAIR", announced today that, in cooperation with the authors James Rado and Galt MacDermot the theatrical revival of "HAIR" will be moved to open in the spring of 2001. The play is currently scheduled to be presented in a Theatrical Festival format, which will feature an atmosphere of colorful tents and street scenes reminiscent of the 60's.

This strategic move is designed to make way for a special presentation to launch in the spring of 2000. According to plan, this should pave the way for a very long run of "HAIR" in its original theatrical form.

Michael Butler comments, "In order for us to insure a lengthy run of the play, we want to introduce a new generation to the musical aspects of the show. This environment will only serve to enhance the play version and will bridge the generation gap between the older audience who loved the show and the younger kids".

Mr. Butler will now commence production on another play to open in the spring of 2000 in The Tribe Theater Festival.

For more information please see Michael's website.
Audition information and a tentative schedule are located on the Current Productions page.
HAIR 30 Reunion (Updated February 2, 1998)
Mary Davis is organizing a HAIR30 Cast Reunion. (No other details are available.)

Tribal Gatherings and Be-Ins
Candlefish Be-In (by Linda Rees, posted June 11, 1999) (NEW!)
Come to a BE-IN!

Michael Butler and the Candlefish HAIR tribe in Hollywood invite you to one final performance, especially for you.

Come to the show and stay for the be-in, in the courtyard adjoining the theatre.

HAIR on Saturday, June 19, at 4 p.m. (free) followed (about 6:30) by a BE-IN at: Candlefish Theatre, 1540 Cahuenga, between Sunset & Selma

If you're coming to the be-in, bring a simple snack to share (salsa & chips, fruit, cheese, etc.); Michael will provide beer & wine. Also, bring an instrument to play and your old HAIR photos, if you like.

This production of HAIR officially ends its run with performances tomorrow and Saturday night, June 11 & 12.

Spread the word about our BE-IN: call your HAIR contacts. (You may have numbers we don't.)

We'd like to know how many are coming, to prepare the setup, so PLEASE RSVP: Linda Rees, 323 937-6890

We're looking forward to seeing you next week!
European Gathering (by Sophie, posted October 9, 1997)
I'm in Europe, in Hungary and wanna ask you if any Tribal Gathering in my area will be organized in this year or in the future.Because I wanna be there !!!! Please, if you know any Hair fans in Central Europe...please help me ...I may could help them to organize together something Great connected with Hair.

thank you...
sophie (e-mail: [email protected])
Pittsburgh Gathering (by The Lizard Queen, posted August 18, 1997)
Interested in a HAIR raising BE-IN in the Pittsburgh, PA area? Drop me a line at

[email protected]

and we'll see what happens!! Drop acid, not babies!

Peace,
The Lizard Queen

Help Needed (by Dan, posted December 29, 1998)
Our small, as yet un named, theatre troop in Santa Cruz California is attempting to perform Hair, and our goal is to put this on next year and what we desperatly need is backing by a large company that can see that supporting these aspiring youths would benefit so many and do a lot of good for these young adults. The ages of the cast range from 15 to 18 years of age. my names Dan. peace, love, i'm out (EMAIL: [email protected])

West Cost Reunion (by [email protected], posted January 29, 1999)
I have been in contact with Kay Cole and we are going to try and put together a West Coast HAIR reunion to happen sometime Spring 1999.

"Tribute" Recording (by Michael Butler, posted September 16, 1996)
Mark Petracca (

[email protected]

) and I (

[email protected]

) are working on a recording of HAIR songs using artists of the day. The biggest problem is finding a good distributor. The term "Tribute" is a dirty word in the industry, because most "Tribute" recordings have not done well. We feel that HAIR, because of its universal following and timelessness is an exception, but don't use the "t" word.

Any thoughts on this would be appreciated by both of us.

Home - Introduction - Plot/Numbers - History - Cast - Sounds/Photos - Productions - Events - FAQ - Be-In - Comments - Related Sites - More Info
---

© 1995-99 Tracy Harris -

[email protected]


Last Modified: October 12, 1999