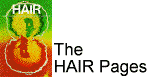 HAIR: an Introduction
About HAIR - The Original Production - Rights Information - Disclaimer

Though HAIR is known as a musical of the late 60's, it questions the standards of morality, sexuality, individualism, racism, violence, drug use, loyalty, and social acceptance which remain problems in the America of today.

Book and Lyrics by GEROME RAGNI and JAMES RADO
Music by GALT MacDERMOT
Produced for the Broadway Stage by MICHAEL BUTLER
Originally produced by the NEW YORK SHAKESPEARE FESTIVAL
Book Copyright 1966, 1969 JAMES RADO and GEROME RAGNI

Production Staff:

Executive Producer: BERTRAND CASTELLI
Director: TOM O'HORGAN
Dance Director: JULIE ARENAL
Musical Director: GALT MacDERMOT
Costume Design: NANCY POTTS
Scenery: ROBIN WAGNER
Lighting: JULES FISHER
Sound: ROBERT KIERNAN

Rights to HAIR owned by:
Tams-Whitmark Music Library, Inc.
757 Third Avenue
New York, New York 10017 (USA)
Phone: 1-800-221-7196


Disclaimer
These pages are endorsed as the Official HAIR Web Site. However, they are a purely volunteer effort, under the creative control of Tracy Harris, and as such she takes sole responsibilty for the HAIR Pages. They are designed only for the entertainment of the WWW user.

Please do not copy text or images without permission.

Home - Introduction - Plot/Numbers - History - Cast - Sounds/Photos - Productions - Events - FAQ - Be-In - Comments - Related Sites - More Info
---

© 1995-96 Tracy Harris -

[email protected]


Last Modified: August 31, 1996