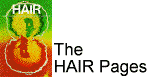 HAIR: Current Productions
U.S. - International

If you know of an upcoming or currently-running production of HAIR, please let me know.

American Tour
List of cities for The Tribe Festival with HAIR, 2001


Starting in Spring 2001 in Los Angeles.
Continuing on to: San Francisco, Seattle, Las Vegas, Denver, Washington, New York City, Boston, Chicago, Toronto, Atlanta, Miami, and New Orleans.
The venue will be our own touring theatre district, the Tribe Festival.
Florida
Pensacola

Pensacola Little Theatre
Pensacola Cultural Center
Shows: Two weekends only, Fri - Sat - Sun
Starting March 2nd, 2001
Friday and Saturday performances at 8pm, Sundays at 2:30pm
Theatre Location: 400 S. Jefferson St.
Pensacola, FL 32501
Telephone: 850-434-0247
For more information visit our website.

Tampa

M.A.D. Theatre of Tampa
Hillsborough Community College/Ybor Performing Arts Theatre
September 28, 29; October 5 - 7, 2001
Ticket prices: $9 ( group discount 10 or more) $10 ( student/senior) $12 (adult)
Box office: 813-786-6291
Directed by: Elaine Cloud Goller
For more info, visit www.madtheatre.com.
New York
Sag Harbor

The Bay Street Theatre
Sag Harbor, NY
Previews August 14, 2001
Opening Night: August 18, 2001
Closes: September 2, 2001
Director/Choreographer: Marcia Milgrom Dodge
Tennessee
Memphis

PLAYHOUSE ON THE SQUARE
October 5 - November 4, 2001
901-725-0776
Contact: Courtney Oliver
- International -
Australia
Touring.

Starting 2001. Hosted by IMG.
Austria
Vienna

The show had its premiere on 10th March 2001 and is playing at least until January 2002 in Vienna, Austria (Raimund Theater). The show is done by the "Vereinigte Buehnen Wien". Spoken words are in German, songs are in English. More info: www.musicalvienna.at
Denmark
Touring

Tickets can be reserved at BilletNet or Fredericia Tourist Agency, Denmark. App. Price will be 265 Dkr or 35 USD.
Germany
Bremen

August 2001 - 2002

Home - Introduction - Plot/Numbers - History - Cast - Sounds/Photos - Productions - Events - FAQ - Be-In - Comments - Related Sites - More Info
---

© 1995-2001 Tracy Harris -

[email protected]


Last Modified: July 24, 2001