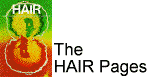 HAIR: Join the Be-In

What's a "Be-In?" Well, on the HAIR Pages it's the place where HAIR fans can really interact . . . share stories, give opinions on certain issues or questions.

If you'd like to leave your thoughts for future visitors, you can post a message on the Be-In's message board. Returning soon!
If you've got a Java-compatible browswer and would like to groove with other HAIR fans in real time, then the Be-In Chat Room is just what you're looking for.
If you're looking for a daily dose of HAIR, then you'll want to join the HAIR mailing list.

Home - Introduction - Plot/Numbers - History - Cast - Sounds/Photos - Productions - Events - FAQ - Be-In - Comments - Related Sites - More Info
---
© 1995-98 Tracy Harris -

[email protected]


Last Modified: January 28, 1999