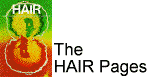 HAIR: Be-In Chat Room


Disclaimer
The views expressed on this chat room are the opinions of each author. This page is not monitored for content. The views here are not necessarily those of the maintainers of the HAIR Pages.

This chat resides on an independent HTTP server. This means that if that server is down, if the network connection is down, or if they decide to take the server down for any reason (e.g. maintenance or upgrades), the chat function will not work. In addition, there is a limit on the number of simultaneous connections to the chat server. This means that you may be turned away. We assume absolutely no responsibilty or liability for the installation, use, functioning, or any other aspect of the chat server.

If you do not have a Java-capable browser, the chat will not work. The chat won't work on the following platforms: Mac Netscape Java Beta 1, Timex-Sinclair 1000, TRS-80, or Espresso Machines. Please also note that the chat applet does not presently work behind a firewall.

Home - Introduction - Plot/Numbers - History - Cast - Sounds/Photos - Productions - Events - FAQ - Be-In - Comments - Related Sites - More Info
---
© 1995-97 Tracy Harris -

[email protected]


Last Modified: March 27, 1997