Share with us the passion for the mission
of Christ!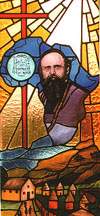 Today
The Comboni Missionaries work in
41 countries
in Africa,
The Americas, Europe
and Asia
FILIPINO COMBONI MISSIONARIES IN MISSION
Scholastic Abito B. Maglajos
Born in 1969, the youngest of the family, Abito came from Catigbian, Bohol. A graduate in A.B. Political Science in the University of Bohol, he entered the Comboni formation in June 1991, after which he also graduated in A.B. Philosophy. After the two-year Novitiate, he made his first profession with the first Filipino group of novices. After 10 days, while on his way to Bohol with two Comboni missionaries to visit his family, he died of a heart attack on May 16, 1995 in Cebu City. He was the first Filipino Comboni missionary to 'consecrate himself to God for the missions and the first who preceded us to the Father's house.
Fr. Romulo V. Panis
Born in 1964, Romulo is from Marikina City. A BS Engineering graduate from Central Colleges of the Philippines, he worked for some years. In 1991 he entered the Postulancy and graduated also in Philosophy. After the two-year Novitiate, he professed in 1995. In the same year he was sent to the International Scholasticate in Nairobi where he completed his course of theology. He came back to the Philippines helping in the Calamba community. While here, he made his perpetual vows and was ordained deacon. He was ordained priest in June 30, 2001 through the imposition of hands of Most Rev. Crisostomo B. Yalung, then auxiliary Bishop of Manila. After some vacation with his family, Fr. Romy was sent to Guatemala where he now serves as one of the Vocation Promoters in the Delegation of Central America.
Fr. Leomar H. Maranan
Fr. Leo, born in 1972, is from Victoria, Mindoro Oriental. He joined us after having graduated in BS Commerce at the University of Sto. Tomas, Manila and started his formation in 1992. During his two year-Postulancy, he also graduated in Philosophy, He then proceeded to the Novitiate and professed in 1996, In Nairobi (Kenya), he completed his course of theology. After four years, he returned home and was ordained by the Most Reverend Warlito I. Cajandig, bishop of the Vicariate of Calapan, in July 2000. Assigned to Mexico, he is presently working in a parish in Baja California. where he shares his life with the young Mexican Comboni.
Bro. Mario Jason T. Castro
Bro. Mario was born in Tarlac in 1968. He joined us in 1992, when he was studying Mechanical Engineering at the Don Bosco Technical College, in Mandaluyong City. Continued his studies while in his formation. After his graduation, he proceeded to the Novitiate where he made his first profession in 1996. He completed his preparation as a Comboni brother at the International Brothers' Center in Nairobi, Kenya where he stayed for three years. He returned to the Philippines in 1999 for some days of rest with his family and departed for his assigned mission in Uganda. He is currently in Rome, Italy to take up some studies for future assignments.
Bro. Aliberato C. Melgar
Bro Ali was born in 1970 in Kalibo, Aklan. He joined the Comboni Missionaries after having graduated as a Bachelor of Arts in 1993. During Postulancy formation he also graduated in Social work at St. Joseph's College, Quezon City. After two-year novitiate, he made his first profession in 1997. He completed his preparation as a Comboni brother at the International Brothers' Center in Nairobi, Kenya where he was for three years. He come back to the Philippines for a period of rest and is currently assigned in Eritrea, in northeast Africa, in our Seminary in Decamere.
You, too, can be a member of the Comboni family.
To contact the Comboni Missionaries in Asia:
Comboni Mission Center
7885 Segundo Mendoza Street - Sucat
1700 PARAÑAQUE CITY, M.M. PHILIPPINES
Tel. 829-0740/829-7481
Fax 820-1422
Daniel Comboni Seminary (Postulancy)
282 Roosevelt Ave., SFDM
1105 Quezon City
Tel.3725858/5859
Tel. 4143164
Novitiate
PO Box 35030
4027 Calamba City Laguna
Tel. 09176095326
Missionários Combonianos
Avenida De Venceslau de Morais, Edif. Lei Fung Kok, 13/L-M Macau-China
Tel. 0853531659
Comboni Missionaries Taiwan
Jen Ai Church
12 Lane 34,
Jen-ai Road, Sec. 3
Taipei 106
Taiwan, R.O.C.
Tel. 886227016694