Share with us the passion for the mission
of Christ!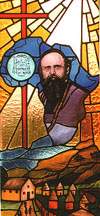 Today
The Comboni Missionaries work in
41 countries
in Africa,
The Americas, Europe
and Asia
282 Roosevelt Ave, S.F.D.M. Quezon City 1105 Philippines
Tel. 414 3164 / 3725858 – 59
E-mail: postasia@i-manila.com.ph
Dear Friends of the Missions,
I greet you in the peace or Jesus, the missionary of the rather. He calls us to become
his family and to share in his mission to bring God's message or love to all peoples.
I write to you to thank you for being part of the formation of the Comboni Seminarians and to invite you to renew your support. At this moment, as the school year 2002-2003 starts, there are six young men from different parts of the country who are ready to become missionary priests so as to share their lives with their brothers and sisters. Out of the six there are five who study Philosophy at Christ the King Mission Seminary,
while one is in the second year or Theology at Saint Vincent School of Theology,
For us to continue with their formation, we still need the support of good and generous people like you, who will assist us to meet the tuition fees and the ordinary expenses
or the seminary, I am grateful to the Lord who for more than eleven years has been providing for our basic needs through the generosity of Filipino people who have become the supporters or the formation of the Filipino Comboni Missionaries. At present there are six Comboni Filipino priests and two brothers working in Asia, Africa and America.
Be sure that you, your family and your personal intentions will be remembered in our Tuesday Eucharist when we pray in special way for our friends, relatives and benefactors.
May God bless you. I remain truly yours,
Fr. Miguel G. Llamazares, mccj
Rector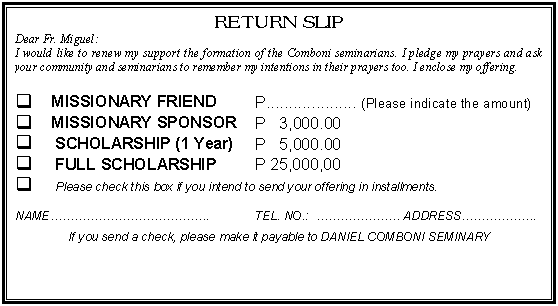 You, too, can be a member of the Comboni family.
To contact the Comboni Missionaries in Asia:
Comboni Mission Center
7885 Segundo Mendoza
Street - Sucat
1700 PARAÑAQUE CITY M.M. PHILIPPINES
Daniel Comboni Seminary (Postulancy)
282 Roosevelt Ave., SFDM
1105 Quezon City
Tel.3725858/5859
Tel. 4143164
Novitiate
PO Box 35030
4027 Calamba City Laguna
Tel. 09176095326
Missionários Combonianos
Avenida De Venceslau de Morais, Edif. Lei Fung Kok, 13/L-M Macau-China
Tel. 0853531659
Comboni Missionaries Taiwan
Jen Ai Church
12 Lane 34,
Jen-ai Road, Sec. 3
Taipei 106
Taiwan, R.O.C.
Tel. 886227016694