This page is viewed best at 640x480 or 800x600
Chief
Daniel J. Satiacum
Puyallup Tribe of Indians
My interests are not limited too: camping, golf, fishing, hiking, swimming, surfing the big blue waves & cyberwaves, dancing, billiards, darts, and photography. I enjoy doing almost anything that is legal to do. I like to count my blessings when things aren't going so well.
My Father wanted me to be a lawyer and I didn't want to be a lawyer. My studies were: Business Law, Constitutional Law, International Law, Business Administration, Accounting, Computer Programming, and several other fields of interests. I did receive a degree in Business Administration. I was a "Dean's List" and "Presidents List" student. I also tutored a lot of students.
There are pictures of "me" throughout this site. This page has a few pictures of me. That way if you really interested in finding out more about me... take a tour of this monsterous site.
My family chose me to take my fathers position as the next Chief. I may be able to accomplish some of the things my Father wanted to do, but ... to match or better what he did for all the Indian people will be a difficult job.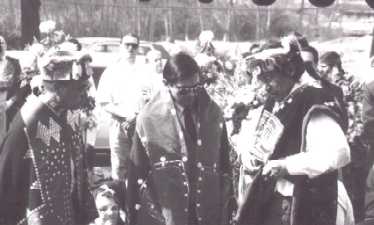 My birthday in 1995. Each of my daughters has a page of thier own.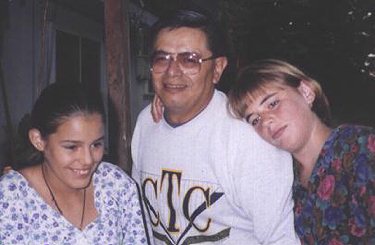 Merrilee Rush & Chief Satiacum at a 1998 New Years Eve Party. The Kingsman and Merrilee Rush were the two bands performing for us rockerz' that evening. Check out the PLAY page for more rockin pictures.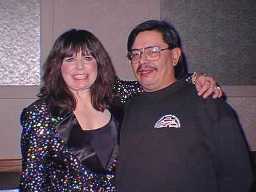 I created a photo album for Las Vegas. I took too many pictures the in Vegas to keep them all to myself, so I chose to share them with you here. This picture was taken at the Harley Davidson Cafe in Las Vegas. Check the Play pages for more pictures.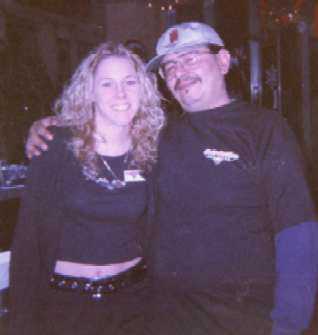 This picture was taken in 1985 at my college graduation. It was scanned from an old newspaper.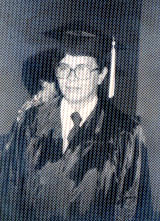 I like the "Ted Nugent Bowhunters" cap. I gave it to my brother Ty. He will keep it and cherish it. The cap was signed by Ted Nugent in 1995 at Anchorage, Alaska. Ted came to speak to the Native American Fish & Wildlife Society. Ted even sang a few songs for us at the evening banquet, sorry he didn't sing "Cat Scratch Fever".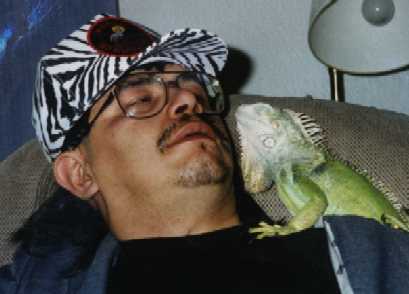 More of my great golf pictures are in the PLAY pages. This picture was taken at a benefit golf tournament I was in. This benefit helped some of the charities providing help and food for the homeless people in the surrounding areas.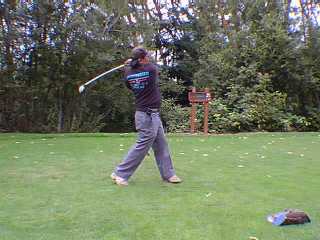 Dakota, my Wolf-Puppie. Dakota was smarter than any animal that I previously owned. Click on the picture link to go to his page. I won an Award for this Page.
Chief Satiacum checking the water at Waikiki, Hawaii in 1995. I didn't get to go surfin' because I was a tour guide for a lot of friends that were there on business.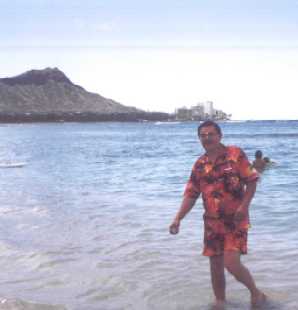 I have a personal-ad site that indicates my search criteria for a wife. The name I used for that ad, is 4chief4 and it is found at Match.com.
Sign New Guestbook

View New Guestbook
View Archived Guestbook 1
View Archived Guestbook 2
View Archived Guestbook 3
View Archived Guestbook 4
View Archived Guestbook 5
View Archived Guestbook 6
View Archived Guestbook 7
NO
smoke signals...
Send E-Mail

This page hosted by

Get your own Free Home Page