Welcome to our site. This complete online guide for backpackers visiting Australia presents photos, links and information about cities, towns and attractions, backpackers hostels and other accommodation, transport and tour operators, food and dining, entertainment and where the best parties are at! Choose from our many pages on Australian highlights and why not print the pages and take them with you on your backpacking holiday to Australia?
PAGE INDEX


Katoomba
Near Melbourne
Mornington Peninsula
Mount Dandenong
Philip Island
Lorne
Apollo Bay
Port Campbell
Warrnambool
Portland
Ballarat
Bendigo
Echuca
Swan Hill
Mildura
Near Adelaide

Adelaide Hills
Barossa Valley
Fleurieu Peninsula

Photo: Sydney, New South Wales

Photo: Great Ocean Road, Victoria

Cape Tribulation, Near Cairns, Queensland

Photo: Ayres Rock, Northern Territory

Arkaroola, Fliners Ranges, South Australia

Photo: Liffey Falls, Tasmania






OVERVIEW OF FEATURED LOCATIONS

Australia is a big country with a big variety of things to see and do. Some of the highlights are endless beaches, modern cosmopolitan cities, lush tropical and sub-tropical rainforests and the world's longest and most spectacular coral reef. Inland are vast cattle stations and arid lands known as the "outback" with dramatic rock formations at the "red centre".

VICTORIA

Melbourne is the large sophisticated capital city of this cooler southern state with many graceful old buldings from the 1880s gold rush set amongst the glass skyscrapers of modern Melbourne, tree lined streets and many parks and gardens. The city has a Eurpoean feel with an abundance of imported European trees, a multicultural heritage and an abundance of outdoor cafes along the streets and laneways.
Mount Dandenong is a large lush green area of native ferns and gum tree forests. Located just one hour from Melbourne by road makes it a popular escape from the city.
The Yarra Valley is an attractive grape growing region and has numerous quality wineries open for generous tastings. Loacted one hour from Melbounre by road and close to Mount Dandenong.
Phillip Island is well known for the fairy penguins come ashore after dusk and the bus loads of Japanese and other tourists that come to see them. Loacted 90 minutes from Melbourne by road.
The Great Ocean Road hugs cliffs along a treacherous and spectacular western coastline with excellent surf beaches in a number of places. It is probably the mian natural attraction in Victoria. Along the way are the towns Lorne and Apollo Bay and Port Campbell.
The Far West Coast is windswept and often cold. The two largest towns in the region are Warrnambool and Portland, both originally established as whaling towns.
Wilsons Promontory is a very large area of unspoilt beaches and long hikes through the Australian wilderness and forests where the scenery totally changes every couple of kilometres. It includes the most southerly point of mainland Australia. Located 3 1/2 hours southeast of Melbourne by road.
Old goldfield towns are numerous around the region about one hours drive northwest of Melbourne. The largest of these towns are Ballarat where there is a recreation of an 1860s Australian gold mining town and Bendigo where there are underground mine tours.
Old riverboat country. The Murray river is dotted with river port towns from Australia's early days. Paddle steamers once plyed the rivers collecting wool from farms and delivering it to one of the railheads for transportation to Melbourne for export. The towns of Echuca, Swan Hill and Mildura have retained historic their historic river ports and offer paddle steamer trip.
The Grampians National Park is loctaed 4 hours west of Melbourne.
Victorian Alps. The ski field are located 3 to 6 hours by road from Melbourne at Mount Buller, Falls Creek and Mount Hotham. Enough snow falls for a short winter ski season. Refer http://www.ski.com.au

QUEENSLAND

Cairns is a small city in far north Queensland, a major tourist destination and has developed into a scuba diving and snorkelling mecca. The immense 2,000 kilometre long coral reef called The Great Barrier Reef that runs much of the length of the Queensland coast is at its best offhsore from the nearby upmarket resort town of Port Douglas. From Cairns, tours also go into the lush green rainforests that surround the city, including the tranquil Daintree Rainforest and Cape Tribulation World Heritage Area and up into the Atherton Tablelands around Kurunda and the remote Cooktown and rugged undeveloped Cape York. Access to Lizard Island, Fitzroy Island and Green Island is from Cairns.
Mission Beach is a quiet, isolated and pretty area with houses dotted between a couple of long beaches and dense rainforest inhabited by the endangered large flightless Cassowary bird. Loacted 2 hours south of Cairns by road. Access to Dunk Island.
Townsville is a port city in north Queensland that services a vast inland agricultural and mining area. Access to Magnetic Island.
Bowen is a town with no tourist attractions but has seasonal fruit picking work. Located 2 hours south of Townsville by road.
Mackay is a sugar cane town where backpackers may need to spend the night on the way to Airlie Beach. Located 1,000 kilomteres north of Brisbane. Access to Brampton Island is from Mackay.
Airlie Beach is a small town loacted 130 kilometres north of Mackay that is extremely popular with backpackers for scuba diving and snorkelling access to the Great Barrier Reef. The added attraction is to join an organised yacht charter and sail around the numerous small Whitsunday Islands for a couple of days. Most of the islands are unihabited and a quite a few have resort hotels. Islands with resorts of various standards are Long Island, Hook Island, Daydream Island, South Molle Island, Hamilton Island with multiple resorts and airport and the upmarket Hayman Island and Lindeman Island.
Rockhampton is a beef industry town situated on the Fitzroy River exactly on the Tropic of Capricorn in 650 kilometres north of Brisbane. Access to Great Keppel Island is from Rosslyn Bay outside nearby Yepoon.
Gladstone is an industrial town with a major coal export port. Loacted 550 kilometres north of Brisbane. Access to Heron Island.
Bundaberg is an agricultural town with seasonal fruit and vegetable picking work. Located 350 kilometres north of Brisbane. Access to Lady Elliot Island.
Fraser Island is the world's largest sand island and lies just off the southern Queensland coast. It is an almost unspoilt rugged wilderness and an exciting trip to tackle in a four wheel drive vehicle tour organised from one of the nearby beach towns on the mainland, such as the relaxing Hervey Bay or upmarket Noosa Heads on the Sunshine Coast. Hervey Bay is 6 hours north of Brisbane by road and also has seasonal whale wataching. Noosa Heads is loacted 4 hours north of Brisbane by road.
Brisbane is the state capital and Queensland's largest city. The city is located near the southeast corner of the state.
The Gold Coast is highly developed with a jungle of high-rise apartments and hotels and multitude of nightclubs and bars at Surfers Paradise and three impressive nearby theme parks with exilarating rides. Loacted one hour south of Brisbane by road.

NORTHERN TERRITORY

This is a remote and sparsely populated region where the native Aboriginal culture and art is most prevalent. The Northern Territory is still very much a frontier territory and prices are high, even double in places.

SOUTH AUSTRALIA


Adelaide is the state capital and has developed a big outdoor cafe culture and distinctly Australian cuisine. It has also retained many of the distinctly South Australian style colonial stone buildings giving the city a timeless feel.
Adelaide Hills. Mount Lofty overlooks Adelaide city and the old Lutheran German town of Hahndorf takes advantege of its history and is filled with craft and souvenier shops and German restaurants. Loacted thirty minutes from Adelaide by road.
Barossa Valley is the Australia's most famous wine making region, made mostly by German descendants. Many wineries are open for tastings. Loacted two hours from Adelaide by road.
Fleurieu Peninsula makes an easy day trip from Adeliade if you have your own car. There are a number of wineries and Victor Harbour on the peninsula has a horse drawn tram to Granite Island.
Port Augusta is a road and rail freight service town at the crossroads of major Australian highways and rail lines loacted 400 kilometres north of Adelaide. Inevitably you will pass through the town if you are in the area.
Flinders Ranges are a dry mountain range northwest of Port Augusta in arid lands. In summer it is scorching hot. The best time to visit is in early spring after heavy rain when the whole region is alive with colourful wildflowers. The main activity to do is bushwalking.
Coober Pedy is a remote opal mining town in the desert on the Stuart Highway to the Northern Territory. The surrounding lunar landscapes and that most of the town is built underground makes it interesting. Loacted 850 kilometres from Adelaide by road. Our Cooby Pedy page includes all roadhouses on the Stuart Highway between Port Augusta and the Northern Territoy and the military town of Woomera.
Oodnadatta Track. The adventurous who want to get off the main Stuart Highway to the Northern Territoy can take this track through the desert insteady and Lake Eire, the world largest dry salt lake. Due to the extreme isolation of the area and intense hot dry weather it is essential to take proper safety precautions. This really is about as far into the Outback as you can get!
Eyre Peninsula has a number of tiny sleepy fishing villages. At the tip of the peninsula is the pleasant beachside holiday town of Port Lincoln. The main industry here is tuna fishing and aquaculture for export to Japan.
Kangaroo Island is Australia's third largest island with lots of wildlife, sand dunes, eucapypt forest, scrub land, cliffs and lighthouses. There are no large toens on the island.

TASMANIA

Tasmania is a small island state south of Melbourne in Victoria. From a tourist perspective the state is best known for its lush wet, cool temperate forests and the quiet old world charm. Many of its towns have retained their colonial buildings, some dating back to the early 1800's when Tasmania was a penal colony. The beautiful Lake Saint Claire is in Cradle Mountain National Park in central Tasmania. The Overland Track in the National Park is spectaculer hike to do over few days in the warmer months. Hobart is the state capital and Launceston the other major town.

This guide does not cover the state of Western Australia, though we hope to do so in the future.
---
Suggested itineries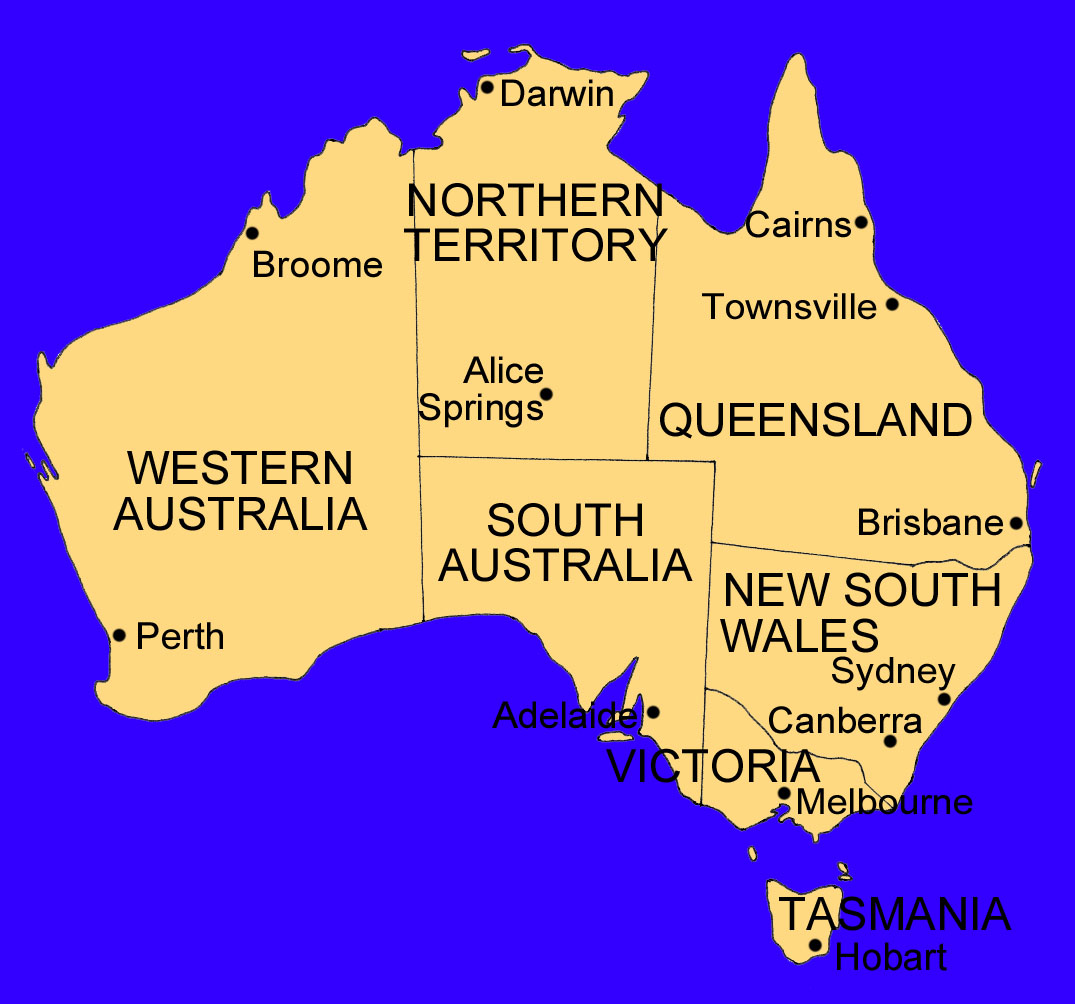 Different people have different interests, but the following are popular itineries.
Sydney and Cairns: Two weeks

If you only have two weeks, fly from Sydney to Cairns and split your time between them.
Sydney to Cairns: Five weeks
The most popular backpacker itinery is to spend at least a few days in Sydney then travel by bus along the east coast to Cairns in far north Queensland. To look at Sydney, spend a day or two at the nearby Blue Mountains and then travel the 3,000 kilometres to Cairns stopping only at the highlights along the way for a reasonable time, allow five weeks. It can be done in four weeks by skipping some highlights, or six weeks orlonger if you prefer a more leisurely pace. Of course there are many more things to see than just he highlights and you could spend months.
Add on Melbourne
Many backpackers also visit Melbourne. Allow a few days or a bit longer if also travelling along the nearby Great Ocean Road.
Add on Darwin and Kakadu
From north Queensland, a reasonable number of backapckers travelthe long distance to Darwin at the northern end of the Northern Territory, visiting wetalnds of the Kakadu National Park along the way. Access by road to the Northern Territoy from the Queensland coast is from Townsville, not from Cairns. Alow two weeks.
Add on the Red Centre
South from Darwin is Alice Springs and Ayres Rock in the centre of Australia, known as the Red Centre. Allow two weeks.
Full circuit
By combining all of the above, a number of backpackers travel from Sydney to Cairns, then across to Darwin, then through the centre to Alice Springs and Ayres Rock and continuing onto Adelaide in the south and Melbourne before retrning to Sydney. Allow at least 3 months.
Add on Tasmania
From Melbourne you could add on a two week trip to the nearby small island state of Tasmania.
---
Backpackers Hostels
Listings and details about backpackers hostels are included with each city, town and locality featured on this site. Select a featured location listed at the top of this page.
All prices are quoted in Australian dollars (AUD). For current exchange rates we recommend http://www.oanda.com
As a rough guide a bed in a dorm costs $27 and a single, double or twin room with shared facilities in a backpackers hostel costs $75. Staying is a central location is ofen convenient as it will save you travel time and transport costs to visit the attractions each day.
Prices often increase in beachside towns around Christmas and during January, sometimes double, and vacancies may be very difficult to find. Caravan parks at beaches will more than likely be booked out at peak holiday times. Bryon Bay in particluar has an acute shortage of accommodation.
---
Saftey Precautions
Emergency phone number
The emergency phone number in Australia is 000.
The following list of precautions is not comprehensive.
Driver fatigue

Australia is big and road distances between places are often very long. Driver fatigue is major source of fatal car accidents. Government authorities recommend that drivers stop for a break at least every two hours
Snakes
Watch for snakes on walking tracks and in long grass in the bush. Australia has 9 of the world's 10 most venomous snakes. Australian snakes will almost always slither away if they hear you coming. Do not accidently stand on one or get too close before it can get out of your way as it will probably bite you.
Crocodiles
There are two types of crocodiles in Australia. Salt Water Crocodiles are big and eat people and animals in the water and next to the waters edge. They are found in northern Australia. Despite their name Salt Water Crocdiles do not just live in and around the sea, and in fact are more often found in rivers. Obey warning signs, even if locals or tour guides do not. The smaller Freshwater Crocodile is found far up rivers in northern Australia.
Drowning at surf beaches
People inexpereinced in swimming in the surf are more likely to get into difficulties. Dangers include being smashed into submerged rocks, undertoes and rips that wash swimmers out to sea. Surf life savers patrol beaches between the red and yellow flags that you will see at almost every popular beach. Signs at beaches advise people to always swim between the flags. Surf boards are not allowed between the flags.
Jellyfish
Due to the presence of deadly box jellyfish, beaches in northern Australia are closed to all swimming in summer months except in netted areas. The potentially deadly irikandu jellyfish is very small and fits through nets. Vinegar is kept in a box at many affected beaches to douse on jellyfish stings.
Dingo
A dingo is a wild dog that lives in much of the Australian outback, beyond the dingo fence built to protect the livestock in the more fertile areas, and on Fraser Island. Dingoes are usually a dusty orange colour and about the size of an alsasion or german shepperd, but a lot more vicious. Though instances of dingo attacks are rare, they have been known to kill children and babies. If approached by these dogs, stand up. They tend not to attack if you look taller than them. Keep younger children and babies with adults.
Bushfires
Australian vegetation burns easily and on every hot day large bushfires are likely to breakout and sweep across bushland areas. Walkers and people in cars are particularly at risk. To reduce bush fires, some days are declared as total fire ban days.
Sunburn
There is a hole in the ozone layer in the earth's atmosphere over Australia. Skin can get sunburnt in just fifteen minutes or less, especially in tropical places where the sun is overhead. You can get sunburnt on a cloudy day too. Fair skin burns easier. Goverment authorities recommend that people apply high rating sunscreen, wear a hat, good quality sunglasses and keep out of the midday sun.
Heat exhaustion and dehydration
Many parts of Australia are hot. People unaccustomed to hot weather should generally try and keep cool, stay out of the sun and drink more water.

Crime

Australian cities and towns have relatively low crime rates though normal big city precuations should be taken, such as being wary of your surroundings at night. Hitch hiking and giving lifts in your car to stangers is not a good idea, particularly so in remote and isolated locations and at night. Begging is illegal in Australia but there are still a few aggressive beggars that are a nuisance in the big cities, particularly in the vicinity of major transport locations in the early evening.

---

CONTACTING US
Email: [email protected]
The development of our site depends not just on our experience. Feedback and information from other travellers and businesses who cater for backpackers will be much appreciated.

Tell us about your business
If your business caters for backpackers, or if at least some backpackers would be interested in it, please tell us about it. We would be delighted to put in a brief summary and a link to your website for free. Please provide us promotional details about your business including name of your business, information about what you provide, what is good about it, cost, operating hours, address, telephone number, email, website address (if you have one) and photos if you desire. If your business is featured on our site but you are unhappy with our summary please let us know so we can fix it
---
WEBRINGS
This Australian Travel Websites site owned by Backpackers Guide to Australia.
[ Previous 5 Sites Previous Next Next 5 Sites Random Site List Sites ]
The Backpackers traveling ring
[ Previous 5 ] [ Previous ] [ Next ]
[ Next 5 ] [ Random Site ] [ List Sites ]
JOIN the Ring!
This site is owned by austtravel.

This *****All International Travel&Tourism Sites Web Ring***** site owned by austtravel.
[ Previous 5 Sites | Previous | Next | Next 5 Sites | Random Site | List Sites ]
This Travelring site owned by

[email protected]

.
[ Previous 5 Sites | Skip Previous | Previous | Next | Skip Next | Next 5 Sites | Random Site | List Sites | Want to join Travelring? ]