AIRLIE BEACH (1,125km north of Brisbane)

Airlie Beach, although a small town, is the main access point for the many Whitsunday Islands. The whole town is geared for tourists and boating. Most boats to the islands leave from Shute Harbour 8km east of town. Some leave from Able Point Marina 1km west of town.


Tourist Information Offices

There are numerous privately operated tourist information offices in Airlie Beach along the main road to Shute Harbour. The government run tourist information is on the Bruce Hwy near Proserpine, phone 4945 3711.

Whitsunday Islands Camping Permits

The Department of Environment office 3km from Airlie Beach towords Shute Harbour deals with Whitsunday island camping permits. Open weekdays 8am to 5pm, weekend hours vary.

Companies that offer 5 to 7 day diving certificate courses are Oceania Dive (phone 1800 075035), True Blue (phone 1800 635889), Pro-Dive (phone 1800 075035), and Kelly Dive (1800 063454). Costs vary from $250 to $500. Cheaper courses spend more time in the classroom. More expensive courses spend more time diving.

All hotels and hostels have booths at the main bus stop and tout for business. Accomodation outside the centre of town run coutesy buses.

Magnum's Backpackers is a massive party place with tropical garden, two pools, bar, eatery and activities each night. Phone 4946 6266. Dorm $12-$14.

Club 13 Begley has good views from up the hill. It is converted three-bedroom modern apartments, each with 2 bathrooms, kitchen, laundry and some with spa. Beds are $14 per person. Includes breakfast.

Beaches Backpackers is a big converted motel with great party atmosphere, bar and restaurant. Six beds rooms in have their own bathroom, TV and airconditioning. Beds are $14 per person. Pool and kitchen. Phone 4946 6244. Recommended.

Whitsunday Bunkhouse is a basic converted motel. Phone 1800 683566. Dorm $10, double $30. Basic cooking facilities. Phone 1800 683566.

YHA Club Habitat is friendly. It is also a converted motel. Each unit has a bathroom. Beds are $15 per person, twin room $35. Pool, kitchen, lounge. Phone 4946 6312.

Koala Beach Resort has units with own bathroom and airconditioning. $14, double/twin $36. Phone 4946 6001.

Major National Youth Hostel Chains

YHA - Youth Hostels Australia (Hostelling International) http://www.yha.org.au
VIP Backpackers http://www.vip-backpackers.com
Nomads Backpackers. Phone 1800 819883 or http://www.nomads-backpackers.com

Whitsunday Wanderers Shute Harbour, 8km east of Airlie Beach. 4 pools, 2 spas, tennis courts, gardens, bar, restaurant. Melanesian style units are $38-$54 per person. Phone 4946 6446.

Club Crocodile Canonvale, 2km west of Airlie Beach. 2 pools, gym, tennis courts, spa. $55 person. Includes breakfast. Phone 1800 075125.

Several bars have live music most nights.

Two nightclubs are Tricks, above the newsagent, and Stingers above the postoffice.

Airports are at Proserpine on the highway and Ansett's Hamilton Island. Otherwise Airlie Beach aerodrome, 6km towards Shute Harbour, has operators that fly to the islands in light planes. Island Air Taxis flies to Hamilton Island for $45 and Lindeman Island for $55. Phone 4946 9933.

Most Greyhound Pioneer and McCafferty's north-south coaches detour in from the Bruce Hwy to Airlie Beach. The main bus stop is in the carpark between the shops and the beach. Brisbane is 18 hours $103. Cairns is 11 hours $59.

Sampson's runs local buses from Proserpine on the highway, through Airlie Beach to Shute Harbour daily from 6am to 7pm. Sampson's meet all flights at Proserpine airport.

Several rent a car agenices have offices on Shute harbour Road.

For Whitsunday Taxis phone 1800 811388.
---
Long Island
Long Island is close to the coast and has lots of rainforest and 13km of walking tracks. The island is 11km long.
Club Crocodile is a modern place on a tropical beach. 2 pools, cafe, restaurant,tennis courts, water sports, disco. Cheap rooms with communal facilities and no airconditioning are $50 a double. Includes transfers. Phone 1800 075125.
Long Island Palm Bay Hideaway This quiet place has Melanesian style cabins with kitchen and bathroom. Double $146-$224. Breakfast $10, lunch $17 and dinner $19. Phone 4946 9233.
Whitsunday Wilderness Lodge is a quiet eco resort. Beachside cabins are $1290 per person per week including transfers and daily guided boat and walking trips. Phone 4946 9777.
---
Hook Island
Large island covered in rainforest with 450m high peak.
Hook Island Wilderness Resort is basic. Dorm $14, double $55. Restaurant, communal kitchen and bathroom. Phone 4946 9380.
---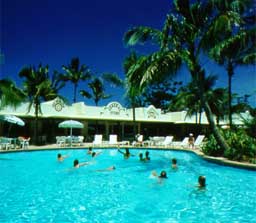 Daydream Island
The tiny 1km long daydream Island is close to Shute Harbour.
Daydream Island Travelodge Resort is modern and caters mainly to families. Room from $123 per person include transfers, meals, use of pools, tennis courts, gym, and water sports gear. Phone 1800 075040. http://netlondon.hotelbook.com/static/welcome_26873.html
The daytrippers section at the south end of the island has pool, bar, cafe and water sports gear for hire. The return trip from Shute Harbour is $22.
---

South Molle Island
Most of this large island is rainforest and long beaches. It has many walking tracks and a 200m high peak. You could spend a day walking around the island. Return ferry trip to Shute Harbour is $22.
South Molle Island Resort is where the boats arrive. It has old motel style rooms, pitch and putt golf course, gym, tennis courts and water sports gear. $310-$370 per person. Includes breakfast and activities. http://www.southmolleisland.com.au
---
Hamilton Island
Hamilton Island Resort is a large modern resort complex with high rise towers. The island accomodates 2000 people and is expensive. Airport, 200-boat marina, shops, 9 restaurants, bars, nightclub, minigolf, laundry, helicopter joyrides, parasailing, cruises, scuba diving, squash courts and fauna reserve with koalas, crocodiles and wombats. Prices range from $200 per double up to $1675 for the penthouse overlooking the ocean. Phone 1800 075110. http://www.hamiltonisland.com.au
Day trippers can use all resort facilities. The return ferry trip from Shute Harbour is $36. The airport can be used for island hopping. Ansett flys to Hamilton Island Airport from Brisbane ($322), Cairns ($254), Sydney ($453) and Melbourne ($540).
---

Hayman Island
Rainforest covered island with hills and beaches quite a distance from Shute Harbour.
Hayman Island Resort is exclusive. It faces a big shallow reef that is exposed at low tide. Rooms from $460 to $1500. The resort is owned by Ansett airways. http://www.whitsundays.com/index.html
---
Lindeman Island
The rainforest covered island has 20km of walking tracks, a 200m high peak and lots of little beaches in secluded bays.
Club Med Resort Pool, restaurants, bar, golf course, tennis courts and water sports. From $200 plus $50 membership fee. Includes all meals and most activities. Phone 1800 807973. http://www.clubmed.com
Lindeman Island is a long way from Shute Harbour. Day trips by boat cost $108. Better is to fly. From Airlie Beach it is $55, $65 same day return. From Mackay it is $95.