Peter Paul Rubens (1577-1640) spent eight years in Italy (1600-1608), working at the
ducal court of the Gonzaga family in Mantua and improving his baroque mastership.

It was principally Rubens who introduced this new evolution in arts - the Baroque - into the
southern Netherlands. Here he worked for its Kings (the Spanish Habsburgs), for its regents,
for ROCKOX , the Antwerp mayor, for many guilds and corporations, for rich merchants,
for abbeys and convents, for churches (altarpieces) etc. etc.
Also he painted for his own family and for his own collection: portraits of his wife and children,
landscapes...


Most important links:

---
ACTUAL!: A painting with a SECRET...

---

"A day in the life of Rubens"
Sneak into his diary!
---

to the Quick Links Table
---
Work by Rubens can be admired now in some Antwerp churches and chapels, such as
the CATHEDRAL , Saint James' church, Saint Paul's church (of the Dominicans' monastery), Saint Charles Borromeus' church (of the JESUITS ); in Antwerp museums
such as the State Museum of Fine Arts, the Plantin-Moretusmuseum (famous printers!),
Rubens' House(where he lived and worked), the museum Mayer-van den Bergh.
Important collectors of paintings, by Rubens and others, are banks: the "Kredietbank" (KB)-
collection in ROCKOX' HOUSE- and the Paris-Netherlandsbank in Osterrieth House.
---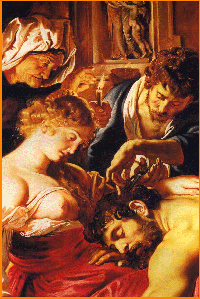 Rubens had many pupils that also became excellent baroque masters.
A.VAN DIJCK for instance, whom he called "my best pupil".Who else was working with Rubens:
Pay a visit to the "Antwerp School !"
This painting, 'Samson and Delilah' (see fragment), property of the National Gallery, London, is now believed to be painted by one of Rubens' pupils rather than by himself ...
Where is the original painting ? CLICK on the fragment!

Some Antwerp painters made so-called cartoons (coloured drawings) for tapestry weavers; Jordaens, Teniers...Rubens also; he was excellent in Greek-Roman mythology and composition was his strength. No wonder that amongst Brabant tapistry (workshops in Brussels, Mechelen, Antwerp..), series prepared by Rubens are of the greatest value.
---
......... by the way, were you ever on the 'Rubens Market? ..... (guess not) .........
---
IMPORTANT! Due to improvements on the security system (highly necessary, see the theft of the Petel statue - Rubens' diary 3 pm), part of the Rubens House in Antwerp may be closed for a while ...
Some (external) links:
Museum Rubens' House
Rubenshuis
Rubens in Antwerpen (in flemish only)
Het Leven van Rubens (biography, in flemish only)
Houses of Pieter Paul Rubens
WebMuseum: Rubens, Pieter Paul

or still, download some nice paintings at:
Rubens Paintings
Last update April 6th 2005.
---