ROCKOX' HOUSE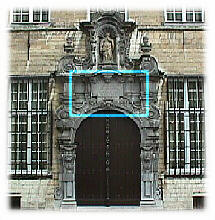 "In dit huis woonde NIC.ROCKOX
burgemeester dezer stad 1603-1640"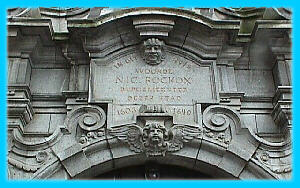 ("In this house lived NIC.ROCKOX
mayor of this city 1603-1640")
Nicolas Rockox (1560-1640) was a humane, philantropic and intelligent, several times re-elected mayor of Antwerp. One of his good friends was P.P.Rubens. Both were collectors of classical antiquities, coins, renaissance and baroque paintings.


Rockox possessed about ninety works painted by famous flemish masters of the Antwerp School, such as Metsijs, Brueghel, Snyders, RUBENS, VAN DIJCK.

This painting below, by Brueghel, called
'Flemish proverbs', is one of them.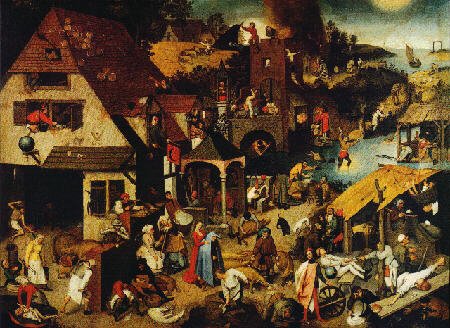 Furniture in the many rooms of his large house in the 'Emperor's street' ("Keizerstraat", still a street with nice old dwellings) was splendid and of local origin. All this riches was publically sold in 1715.

---
***** Also read about the unsolved mystery of the "Samson and Delilah",
which was once decorating this chimney piece...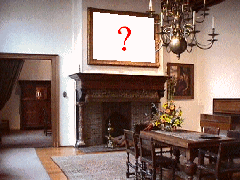 ---
The present owner of Rockox' house, the KB ("Kredietbank"), restored it carefully and refilled the rooms with numerous paintings by important 16th and 17th century masters and with rich Antwerp furniture of that period, such as extraordinary "cabinets of art", a very appreciated Antwerp article of export.


Down here you see an example of what a
17th century Antwerp "Cabinet of art" looked like: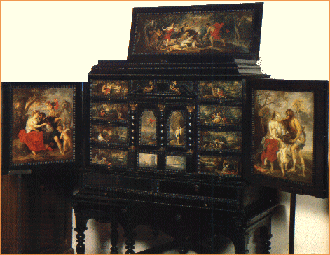 (This one, in fact, stands in the Rubens' House.
The paintings on the drawers, the doors and the lid are mythological scenes as described
by Ovidius; they are painted by an Antwerp baroque master, a follower of Rubens.)
---
Rockox' house, now a splendid museum owned by KB, lies in the neighbourhood of the Saint-Charles Borromeus Church, once the rich temple of the JESUITS and near the Royal Academy of Antwerp, once the Minorites' Abbey.
---
Planning a VISIT to Antwerp, Belgium? Ask for the 'Grote Markt' (Grand Market) and, starting from there, use the 'self guidance information' at this page!.
---
Return to the

Quick Links Page.


Latest update April 6th 2005.
---
This page hosted by
Get your own Free Home Page