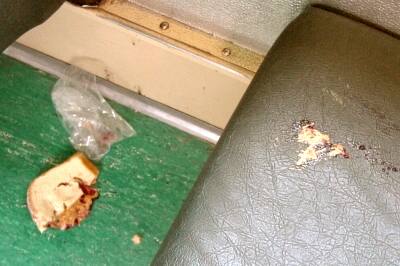 Free Photo
Use this 2safeschools image free in school or transportation newsletters, school bus safety brochures, on websites, in press releases and school bus safety adds. Use free in books and school bus drivers manuals with permission from 2safeschools. To save to file on your computer, right click mouse, click 'Save Picture As' and follow prompts.
Click Here for more free photos at 2safeschools Yellow Tin Can.
Danger: Food found on the school bus
Death by food?
The struggle over not allowing kids to eat on the school bus has prompted many debates from kids, parents and school staff often considering the bus driver too picky. The risk of choking and the mess kids can make when eating on the school bus are probably sufficient to ban the activity. However, recent information has prompted far greater concerns than these issues.

By James Kraemer.
Presenting this story is not an endorsement by 2safeschools membership 'for' or 'against' this issue. Kraemer's commentary is provided for educational and informational purposes only.
©2004, All Rights Reserved. May be reprinted with permission from 2safeschools.

The Nation - A few years ago nine-year-old Nathan Walters was on a field trip with about 50 third-graders from Spokane's (Wash.) Logan Elementary School. For lunch he was handed a sack full of peanut products. This happened despite teachers knowledge of his allergy to peanuts.

Nathan handed back the peanut butter-and-jelly sandwich and mixed nuts to his teacher, but ate what appeared to be a sugar cookie. The cookie contained peanut ingredients.

The Seattle Times reported that Nathan also suffered from asthma, used his asthma inhaler and was put on the bus to rest. When his condition worsened one of the chaperones, a licensed practical nurse, and another adult volunteer, began driving him home. During the trip home his condition continued to worsen and emergency help was sought. Too late in treating the reaction Nathan apparently died of his condition.

CHECK THAT BUS!

• Find out how to safety check a field trip bus before allowing it to depart with kids on board.
Click Here

• FREE School Bus Safety Video
Click Here

• 2SAFESCHOOLS Transportation Policy Recommendation


Click Here

Jodi Ward, a 37-year old Canadian bus driver who suffers from severe allergic reactions, including reactions to airborne particles, couldn't breath after a student boarded eating toast coated with peanut butter. Students helped administer EpiPen, a quick but temporary remedy for severe allergic reactions. She was rushed to a nearby hospital and has reportedly recovered from her ordeal.

And in Massachusetts the Cape Cod Times recently reported that first grader Tony Locantore's bus driver must wipe off the child's assigned seat daily. Tony has a peanut allergy, as well as allergies to other nut products, including soy, which could kill him in as little as five minutes. Even peanut shells and residue on jar labels and on bags can cause a reaction.

The Cape Cod Times story reports that, "Nationally, food allergies among children have increased 55 percent in the past five years. There are 2.5 million children suffering from food allergies in the United States, according to the Food Allergy & Anaphylaxis Network, a clearinghouse organization for children and adults who must deal with such conditions. Between 150 and 200 deaths in the United States are attributed to severe food allergy reactions each year, according to the food allergy network. Accidental reactions occur most often at schools, according to the state DOE study. Top food allergies: Milk, Eggs, Peanuts, Tree nuts (walnut, cashew, etc.), Fish, Shellfish, Soy, Wheat. The nut allergies are particularly dangerous, accounting for 92 percent of severe and fatal reactions, according to the food allergy network." --Click Here for story, "Severe reaction," By K.C. Myers, Times Staff Writer.

Worse yet, some kids can have a severe reaction to certain airborne food particles and food residue left on the school bus seats. Since school bus drivers seldom know what kids are affected by this growing anomaly - about 1 in every 125 children suffer from food allergies - it makes good sense not to give out even so-called healthy crackers, or even candy and the like. Food sensitive kids comming in contact with certain food residues left behind on seats and the floor can be nearly as severe for some kids as would be eating that food.

Dr. Ray Turner, Special Education Transportation Coordinator, Northside ISD, San Antonio, (TX), offers some common sense advice for school bus driver's and transportation providers:

"NO FOOD ON THE BUS AT ANY TIME
UNLESS IT IS [contained] IN THEIR BACKPACKS."

COMMENT ON THIS STORY in the forums -or- COMMENT BY EMAIL.

FREE Special Allergy Alerts via E-mail | Food Allergies and School Buses: Finding a Safe Balance
K.C. Myers, Cape Cod Times Staff Writer Email
Fight over Snickers - Driver Accused | Dr. Ray Turner's Website