Dateline Reports: When vans are used instead of traditional school buses, is your child's life at risk? Dateline NBC conducted a year-long investigation examining the safety issues of transporting students in large passenger vans rather than school buses. (Photo ©2002 NBC NEWS) (Click Here) for story.

CBS reports: Rollover. Did you miss the CBS 60 Minutes II report on school vans? Click here to view the story.
15-Passenger vans are not school buses!
Schools use them. Daycare centers, churches, retirement facilities, and nursing homes use them. Yet, 15-passenger vans are among the most dangerous vehicles on the road when used for the purpose of transporting groups of school children and adults. When transportation providers add undertrained, unskilled drivers or improper hiring practices to the mix
the danger escalates!

By James Kraemer

Helping to save one child's life is a monumental task James Kraemer takes seriously. His popular school bus safety Websites consume an average four hours each day of volunteer time, up to seven days a week. He writes an average of two or three commentaries three days a week and provides preliminary research to requests from the nation's press. Two days each week he responds to emails from parents, bus drivers and others requesting help addressing school bus safety issues. He is a member of the National Safety Council and author of the book, "Dangerous School Buses - What school bus drivers, school staff and parents must know to help keep kids safe," expected to publish in 2003. Kraemer, a veteran school bus driver and founder of 2safeschools.org, often presents unique opinions that can sometimes be in conflict with school bus industry and related government agencies views. The opinions expressed in his commentaries are his own and are not necessarily those of 2safeschools sponsorships or other participants related to 2safeschools school bus safety education activities.

By James Kraemer
The Nation - Why do schools and other transportation providers use vans and undertained drivers to transport children when school buses are much safer?

Vans used for transporting schoolchildren

POLL


Non 2safeschools members can participate in this poll by clicking on GUEST
at login.

CLICK HERE

The most predominant reason is simply to cut costs. This Low-Budget Busing strategy works until one of the vans crashes and an attorney points out: The provider should have known how dangerous these vehicles can be when used to transport students and other groups.

Hidden costs can escalate into the millions when "cost-cutting" -- sometimes including desperate hiring practices, inadequate training or poor maintenance -- become priorities in competition with childrens safety.

This past April (2002) in Tennessee, a 15-passenger Ford E-350 day care van gradually left the road and crashed killing the employee and four of his young passengers. According to the story, "Driver in day care fatalities had pot," in the Commercial Appeal, marijuana was found on the body of the day care van driver Wesley Burnett Hudson.

Investigators are awaiting toxicology reports on Hudson from the Shelby County Medical Examiner's Office. Hudson was 5 feet, 10 inches tall, according to his driver's license, and weighed nearly 400 pounds, according to police.

Hudson had pleaded guilty to a marijuana possession charge in December 2000. "Under state regulations, the conviction should have barred him from tending or driving day care youngsters," the newspaper reported.

May 4, 2002, the Boston Globe (Mass.) ran a story on page B5 reporting that the owners of the Mattapan day care van service threatened with losing their registration surrendered their fleet's license plates to the Registry of Motor Vehicles. One of Mattapan's vans was involved in a crash that killed a Hyde Park woman and her daughter.

Only three of Johnson & Johnson Transportation Service's five vans had school bus plates, which are legally required to carry children - even though all of the vehicles appear to have been used to transport children, Registry officials said. And none of the vans in Johnson & Johnson's fleet met another state requirement for child transport: flashing lights or "School Bus" markings, reported the Globe.

The risk of criminal prosecution is increasing. A spokesman for Suffolk District Attorney Daniel Conley said prosecutors are still considering filing criminal charges against Johnson & Johnson's owners, Leon and Lula Johnson of Mattapan, for hiring Franklin Speed Jr., 27, of Dorchester - a convicted felon and repeat offender with a history of drug use and traffic violations - to drive the children. State law requires that companies transporting children hire drivers with the necessary special licenses and training.

More schools are rethinking van use. Lamar School District (Colorado) spent $132,000 last year on three 15-passenger buses that meet all the safety standards of school buses. Total cost for the buses was about $60,000 more but may save money on the liability side of using vans. For Lamar Schools and a growing number of Colorado school districts that use 15-passenger vans, safety and liability concerns are growing too large to ignore, reported the Denver Post in Jan 2002.

Helping things along in Colorado might be an insurance pool that provides coverage to 130 of the 178 school districts in that state. The Colorado School Districts Self Insurance Pool (CSDSIP) has approved a plan that will curtail the use of non-conforming vans for student transportation.

According to a School Bus Fleet Magazine story, CSDSIP voted to stop adding new or used 15-passenger vans (used for transporting students) to its policies beginning July 1. Coverage of 15-passenger vans put into service before July 1 will continue until 2007, but with

CHECK THAT BUS!

• Find out how to safety check a field trip bus before allowing it to depart with kids on board.
Click Here

• FREE School Bus Safety Video
Click Here

• 2SAFESCHOOLS Transportation Policy Recommendation


Click Here

a minimum surcharge of $1,500. After Jan. 1, 2007, the pool will not insure any 15-passenger vans.

The National Highway Transportation Administration (NHTSA) has reissued an advisory to specifically alert summertime users of 15-passenger vans. The agency also has prepared a flyer on 15-passenger van safety available on the Web. The agency also is considering the potential benefits of an additional warning label about rollover and seat belt use that would be visible to the driver and passengers of 15-passenger vans, respectively.

Low-budget busing using vans to transport schoolchildren can eventually include in the mix inadequate hiring and driver training practices, failure to enforce wearing seatbelts, improper tire pressure and other mismaintenance.

When transportation providers decide these unsafe cost-cutting practices will end may be dependent on when our society has had enough and finally demands these practices end. (jk)

A copy of the NHTSA analysis of the rollover characteristics of 15-passenger vans can be found by clicking "Research Notes". | Click Here for the new consumer advisory now available from NHTSA. Click here to comment on this story.

Featured School Bus Website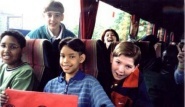 Photo Courtesy RAF Lakenheath, DoDDS

Royal Air Force Station Lakenheath, United Kingdom: RAF Lakenheath is the largest U.S. Air Force-operated base in England and the only U.S. Air Forces in Europe (USAFE) F-15 fighter wing. Located 70 miles northeast of London and 25 miles from Cambridge, nearly 5,000 U.S. military personnel and 2,000 American and British civilian employees are assigned to the base. The DoDDS Isles School District provides pupil transportation services to nearly two-dozen schools in the area. Their Website contains excellent information to parents about student and parent responsibilities to help keep the school bus environment a safe place for kids and adults. The students welfare on the bus is a shared responsibility: "School and military officials are responsible for providing a safe transportation system. Parents, however, must take primary responsibility for the behavior of their children while using the system." The service is modeled after U.S. transportation providers. Welcome | Discipline Policies | Main | More Websites/Comments
---
Yellow Tin Can


Free Template

Letter promotes bus stop safety and bus driver's authority: Students on the bus must not be so loud as to distract the driver from concentrating and hearing what is happening outside the bus at bus stops. This free parents letter template in PDF format informs parents what behavior is expected at bus stops while waiting, boarding and after departing the bus. Behavior of students on the bus at bus stops is mentioned. The letter is from "the bus driver" to help promote the bus driver's authority on the bus. Click here for free template.

More Nonconforming Vans Info


Jacob's Law Website

"On July 12, 1994, my beloved six-year-old son Jacob died in a school van that had been sold illegally to his school and did not meet minimal safety standards for vehicles used to transport school children." --Lisa Strebler

Jacob's Law Website includes abundant info on nonconforming vans issues. Questions or suggestions are welcomed regarding the removal of nonconforming vans as a method of transporting school children. Click here to visit the Website.

Stop Arm Camera



Records Violators

Silent Witness cameras have been installed in over 100,000 buses throughout North America. Now the cameras can be focused outside the bus to target motorists who illegally pass when children are loading and unloading. The bus driver can focus on the safety of the kids while the camera takes video notes. Click here for more information. | More School Bus Technology/Comments.

Training Slides



Target: Middle School to Adult.

A stop sign and flashing lights are wrongly assumed by some adults and kids alike to mean safe passage. Slide show presentation promotes respecting the danger zone when around school buses. Slides can be download for presentations. Free Slide Presentation.

After veiwing this slide show, please click here to give your comments.


Adult To Adult
Hassles on the School Bus?

You're not alone. Kids, Parents and bus drivers speak out about the hassles on the school buses. By Beth Bruno. Click here for story.


Virus Alerts


Mcafee

Updates & More
Virus Alerts
Recently Updated Threats
Virus Hoaxes
AVERT Home Page
Trend Micro Free Virus Scan