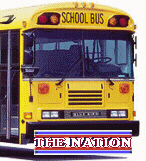 New year offers parents/school staff opportunity to focus on school bus safety
Top Priority!

POLL
What "should" be the school bus driver's top Priority?

Non 2safeschools members can participate in this poll by clicking on GUEST
at login.

CLICK HERE

This story from The School Bus Information Council compares the safety of the school bus to kids driving cars, riding bikes and walking to school. -JK

From The School Bus Information Council. First published by The School Bus Information Council, original story title, "Back-to-School Means Much Greater Safety Risks For Children Who Don't Ride the School Bus," August 16, 1999, Copyright ©1999, All Rights Reserved. Posted by permission.


The School Bus Information Council
Albany, NY - Recent incidents in some of the nation's schools have appropriately focused attention on new ways to improve school safety for America's children. Often overlooked in the discussion, however, is the safety of children as they travel to and from school. A deadly, yet little noticed trend is increasing as more and more children stop riding school buses, and instead choose more dangerous alternatives such as private autos, bicycles or even walking, according to the School Bus Information Council.

"As children across America are headed back-to-school, parents need to ask themselves, 'is my child getting to school in the safest manner possible?' If their children aren't riding school buses, the answer is clearly, no," said Mike Martin, a spokesperson for the School Bus Information Council. He added, "The number of students who ride the bus to school has dropped off in recent years. In fact, nationwide, barely over half of students ride school buses. The rest are using less-safe means of transportation. It is up to parents, school boards, legislators and the students themselves to promote safety in all circumstances, and the best place to start is on the bus."

CHECK THAT BUS!

• Find out how to safety check a field trip bus before allowing it to depart with kids on board.
Click Here

• FREE School Bus Safety Video
Click Here

• 2SAFESCHOOLS Transportation Policy Recommendation
Click Here

A recent survey conducted by the research firm Wirthlin Worldwide, found that about one-third of respondents believed that driving their children themselves was the safest way for children to get to and from school – but statistics prove otherwise.

According to the National Highway Traffic Safety Administration (NHTSA), between 1987 and 1997, the number of school-aged children killed in passenger cars on a weekday during school hours compared to children killed while riding a school bus during the same hours was 80 to 1*.

Almost half of those surveyed believed that alternate means of getting to and from school, whether is was walking, riding a bike, a student driving a student or an adult driving a student, were safer then riding a school bus. "The cruel irony here," said Dr. Dee Alsop, Senior Researcher for Wirthlin Worldwide, "is that those parents who thought they were doing the most to ensure their children's transportation safety were actually putting their children at greater risk."

A modern school bus (those manufactured after April 1, 1977) must meet more Federal Motor Vehicle Safety Standards than any other vehicle on the road. The size of the school bus alone gives it an important advantage in all but the most catastrophic circumstances, since larger, heavier vehicles provide excellent protection to their occupants.

In addition to school bus design and equipment considerations, school bus transportation requires numerous other measures to help to ensure the safety of children who ride a school bus. For example, school bus drivers must hold a special license, called a Commercial Driver's License (CDL), that is required by the Federal Highway Administration. NHTSA has also developed driver training for both new and experienced drivers, as well as maintaining the School Bus Driver Instructional Program which provides pupil transportation managers with educational materials to teach core skills to school bus drivers. Continued on Page Two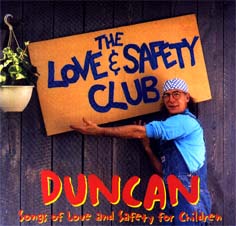 Creator Duncan Wells
The Love & Safety Club
In-Class Safety Education Program
The Nova Scotia Children's Music & Story Production Company is offering elementary schools an innovative child safety program to help connect kids with the need to develop basic safety awareness.
Duncan Wells, creator of The Love & Safety Club In-Class Safety Education Program said, "The program is designed so teachers can have the freedom to offer creative input to the program themselves."
The Love & Safety Club is different from other safety education programs due to the fact that it uses music and a child's natural ability to commit fun words to memory in order to reinforce those basic safety skills that are important to children on a day to day basis. This program is effective, entertaining and, best of all, fun for both teachers and students, Wells said.
In order to properly conduct this fun and effective safety education program in your school a copy of the Love & Safety Club music CD or cassette recording is needed, along with enough membership cards for each child in your class. The first time purchase of these materials means, with proper care, you will never have to purchase it again. The only continued cost will be purchasing inexpensive membership cards.
For more information about the program and how to purchase The Love & Safety Club In-Class Safety Education Program Package write: Duncan Wells, The Love & Safety Club, 291 Champlain Avenue, Sydney, Cape Breton Island Nova Scotia, Canada B1P 6P9, or Click Here to visit the Love & Safety Club Web Site.
NOTE: 2safeschools does not charge producers to review and present selected and innovative safety programs. Producers of childerns' safety or bus driver training programs who would like 2safeschools to review and present your program to our membership please E-Mail 2safeschools for submission information - Subject: Safety Product.