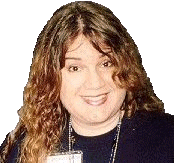 Teri Sue Wood was born on April 21st, 19?? (didn't think I'd risk her killing me just so you could know her real age eh?). Her name came from a horse.

Yup.

From Wandering Star #7 I got the story. Here it is in her own words.


It all started a long time ago on a planet far, far away...
Sorry. Just couldn't help myself.

Anyway, the story, okay.

Mom and I were sitting around the house one day and I asked her, "Mom, was I named after anybody?"

She regarded me for a minute and said, "Why do you ask, Teri?"

"Well," I said, "Toby was named after a football player and Mary was named after you, so I was wondering, ya know? Was I named after anybody?"

There was a long pause. "Sort of."

"'Sort of'?"

"You were named after a horse."

"A HORSE??? I was named after a HORSE? I don't believe this! How come I'm named after a horse?"

And so my mom, forever calm, told me the story. You see, my dad was quite a gambler in his day, and one evening while he was in bed reading the racing paper next to his very pregnant wife, he suddenly said, "Hey, look, Dear! There's a horse named 'Teri Sue'! What a pretty name! If we have a girl we'll call her that."

And that's how it happened.

"Wait a minute," I said. "Thats it? Isn't there some happy ending where Dad played a fiver on "Teri Sue" and won a bundle or something?"

"No, he didn't bet anything on her. He said she was a lousy horse, but she had a pretty name."

"Oh, great."

So, that's the story, kiddies. Inspiring, isn't it?

Ya'll go to sleep now and have pleasant dreams.