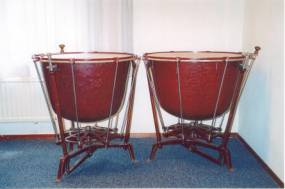 The
European
Timpani
TUNING GAUGES
---
TUNING GAUGES :
Nick Woud - 'Keep the ears open all the time [on calf skin], also with plastic. In some fast tuning passages it is better to feel than to look.'
Many timpanists see the tuning gauges set to the side of each timpani as a helpful piece of equipment in their profession – it provides useful information about the current pitch of each drum, allowing attention to be put towards other tasks – but ultimately not really necessary. In modern repertoire, where tuning changes are constant, they provide an important reminder, but still a reminder only. Even when using these gauges effectively, the ears must still be in constant use, and the simple message is : 'Never trust them!'; the player must always be ready to make adjustments.
If the tuning gauges are treated as giving only an accurate indication of at least where the pitch was, which for many players is their primary purpose, they can also act as an indicator, with natural skins, of how the skin is reacting to weather conditions, and perhaps also changes in the pitch of the orchestra or ensemble as a whole, if the skin itself is stable. But to notice such changes in pitch, the player must still use their ears. Small changes with the fine tuning handle can move the pitch up or down as is needed and make the gauges once again accurate, at least until the next time a discrepancy is noticed.
Back to top On to Timpani Setup Back to home