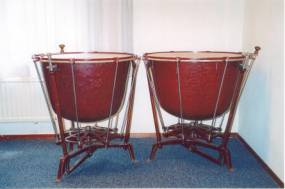 The
European
Timpani
SPECIAL DRUM SIZES
---
SPECIAL DRUM SIZES :
A few timpani parts in the orchestral repertoire are famous among timpanists not only because of their musical content, but also because of the range of notes required on the timpani, in particular Stravinsky's 'Le Sacre du Printemps' and Janacek's 'Sinfonietta' which ask for notes as high as b and c. A 20" timpani however - considered to be of 'regular' size, that is a size easily available from manufacturers - is capable of playing these notes. It is the compositions which go even higher, such as Milhaud's 'La Creation du Monde' which, along with 3 regular sized timpani also asks for notes in the treble register (d and f#), that require something from outside the standard timpani sizes. The Concertgebouw Orchestra uses an 18" Schnellar rotary piccolo timpano – pictured on the right - to achieve such pitches (a rotary timpani is one where the kettle is rotated to change the skin tension). James Blades suggests on the other hand instruments of not more than 16" in diameter to achieve these notes[1]; often substitute instruments such as roto-toms (shell-less drums which are capable of producing definite pitches and are also rotated to alter the skin tension) are used to play these passages.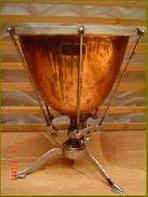 Schnellar 18" rotary piccolo timpani of the Concertgebouw Orchestra
Concerning notes in the low register, that is, D and below (although most 32" timpani are capable of this pitch), both the Wiener RSO and the Munich Philharmonic possess a 34" Aehnelt timpano and the Concertgebouw Orchestra a 41" drum from the Dutch maker van den Hoek. It is for the symphonies of Mahler that these drums are most often called into use, as well as in many contemporary compositions. When the Concertgebouw recorded Mahler's 7th Symphony for the London/Decca label, this drum even received special mention in the CD liner notes.
Back to top On to Timpani Weight Back to home