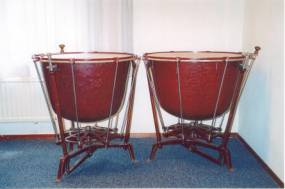 The
European
Timpani
FORWARD
---
FORWARD :
The aim of my thesis was to conduct research into what types of timpani are being used in many orchestras across (western) Europe, and for what reasons each has been selected. To obtain this information I made contact with a number of professional timpanists in an effort to discover their thoughts and ideas on what types of timpani they use in their orchestras, for what repertoire and periods of music these instruments are played, in what performance situations they are used, and the reasons these timpanists have for making all of these decisions.
As an exercise in simply gathering facts this may seem a simple and straightforward task (although sometimes obtaining responses by email or phone from these busy musicians is an effort in itself) but from such simple beginnings my aim was to go deeper and discover the reasons behind all these facts, and how this affects, and in some cases dictates, various aspects of performance style.
All orchestras have a history, and after one timpanist has retired or moved elsewhere, the timpani of the orchestra will remain, and so a tradition of timpani sound and style is established in each orchestra. In which case new timpanists, who may have developed their style on one make or design of instrument, finds themselves having to rapidly adjust to a new instrument, an instrument which forms the central part of their career with the orchestra. As a student, one focus of this current research was to prepare myself for such situations and to assist as much as possible in my future career.
To obtain the primary source material contained within the thesis, I wrote to many professional timpanists across Europe, asking a series of questions about the timpani, covering all possible aspects of the drums, beginning with makes, sizes, skins, tuning system etc. that are used in their orchestras, and going on to individual player opinions about how each of these factors affects the sound of the instrument, when and why they would use each set of timpani in the repertoire, how different timpani are chosen to match the sound of the orchestra, and also touching on a few performance issues, such as how timpanists cope with problems of weather and acoustics. Two areas I tried to avoid are questions relating to choice of mallets, and also specific playing techniques. Both of which, while important aspects of the timpanists art, would require separate papers of their own in order to address these topics sufficiently. However as all of these aspects of timpani playing are interconnected it is impossible to discuss one without at least touching on the others. The responses that I received have been reprinted in full in the responses section of this site.
This research would not have been possible without this information, gathered from many knowledgeable and skilful timpanists. My thanks goes out to all of them, in particular Dieter Dyk of the Tonhalle Orchester in Zürich, who gave a unique perspective on how timpani traditions have been preserved in that orchestra for over a century, and Nick Woud of the Koninklijk Concertgebouw Orkest - also my teacher at the Conservatorium van Amsterdam - who helped with many early drafts of my thesis as well as providing his own information and thoughts as a timpanist.