A SITE ABOUT TIMPANI -
AND THE PEOPLE WHO PLAY THEM :
This site contains research I did while a student at the Amsterdam Conservatorium in the Netherlands : research about timpani, about the drums, the players, and how timpanists use their instruments in the orchestra.
In August of 2002 I arrived in Amsterdam, ready to begin a Masters degree at the Conservatorium. Two years later in June of 2004 I presented my final exam / recital and completed the degree. While the focus of the study was primarily practical, a large component of the written work was a thesis or research paper. Given the rich timpani tradition in Europe, I started looking into why many timpanists use the instruments that they do in their orchestras.
Why choose one design of timpani over another? What options do different drum sizes offer to the players? How many timpani does each player have at their disposal? How does the repertoire affect the choice of instrument? How does the the orchestra, its sound, its style, influence the choice? What are the benefits of natural skins over synthetic skins?
What follows is more or less word for word what I wrote for my course, plus a few ideas of where I might take the idea of this web page in the future. The final page on the site is a personal one, and contains some pictures of my final exam at the Conservatorium in June 2004
In mid 2005 I was offered the position of Principal Timpanist with the Macao Orchestra, and since September I've been living in Macau and playing with the orchestra. This is my first full time orchestral job, and many of the things I learnt writing my thesis I've been able to put into practise here.
It's been almost two years since I researched and wrote this material, but the ideas of the players are still fresh and always relevant to the art of timpani playing.
Scott Weatherson, March 2006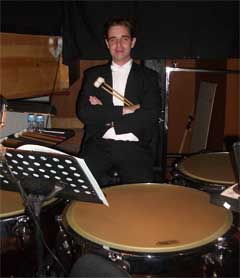 In the pit for the Macao Orchestra production of Puccini's Madame Butterfly
for the 19th Macao International Music Festival
Back to top On to Forward Back to home