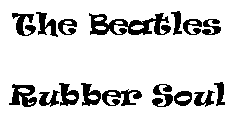 <![if !supportEmptyParas]> <![endif]>
<![if !supportEmptyParas]> <![endif]>
~ 40th anniversary page ~
<![if !supportEmptyParas]> <![endif]>
<![if !supportEmptyParas]> <![endif]>
Forty years ago the Beatles' 6th album, Rubber Soul, saw the light for the first time. This page is intended to be a humble tribute to the Beatles and this folk rock masterpiece.
<![if !supportEmptyParas]> <![endif]>
<![if !supportEmptyParas]> <![endif]>
<![if !supportEmptyParas]> <![endif]>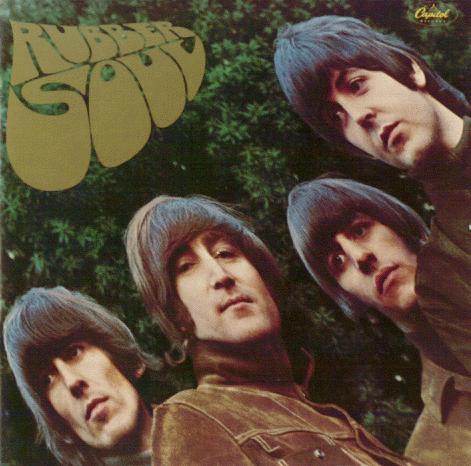 <![if !supportEmptyParas]> <![endif]>
<![if !supportEmptyParas]> <![endif]>
A-side:
<![if !supportEmptyParas]> <![endif]>
1. Drive My Car
2. Norwegian Wood (This Bird Has Flown)
4. Nowhere Man
6. The Word
7. Michelle
<![if !supportEmptyParas]> <![endif]>
B-side:
<![if !supportEmptyParas]> <![endif]>
1. What Goes On
2. Girl
4. In My Life
5. Wait
<![if !supportEmptyParas]> <![endif]>
*Click on the song titles to see detailed info*
<![if !supportEmptyParas]> <![endif]>
<![if !supportEmptyParas]> <![endif]>
Rubber Soul (1965) may not be considered the best album ever (neither the best Beatles album), but it certainly is a many music fans' favorite, including myself. Actually, aside from aging very well, I think that this record is getting more recognition with the time. In 1995, respected British magazine Mojo placed Rubber Soul at #27 in their list of the '100 Greatest Albums' of all time; VH1 placed it at #6 and Rolling Stone at #5 in similar kind of lists. During a good number of years, after the 1960's and the Beatles were over, Sgt. Pepper's Lonely Hearts Club Band (1967) was considered the best Beatles album by most people in the music environment. During the 90's and until today that title seems to be given to another fabulous album: Revolver (1966), Rubber Soul's sister, actually. Maybe there's going to be a time when Rubber Soul will be considered the best Beatles record.
But beyond these rankings and subjective opinions, there're more profound things that we could say about this album. I think that one key-point that makes Rubber Soul be so loved (brilliant songwriting and performances aside) is that it sounds different (for good!), not only among the Beatles albums but also in the rest of the music world. And the reason is, I think, that it's in a 'safe place' between the lovely but relatively simple pop of the early Beatles records (A Hard Day's Night and most of Help!, for example) and the more complex sound of the later period (since psychedelic records like Revolver). But I wouldn't call Rubber Soul a transition album, as it is usually called; in my opinion, it was the first peak of the 4 or 5 peaks the Beatles had during their career.
The album is a magnificent collection of different styles and sounds, and perhaps the most innovative Beatles record. The experimentation includes the first use of the exotic Indian sitar in a rock record ('Norwegian Wood'), the first use of fuzz bass ('Think For Yourself') and the first time that the Beatles tampered with tapes an effect (a piano played at double-speed in 'In My Life'). Full of tasteful guitars, melodic bass lines, inventive drumming and some of the best harmony vocals the Beatles ever recorded. They're also using more keyboards and acoustic guitars, not to mention the tambourine. Of course, there's also a more matured songwriting, especially by John Lennon, who was arguably at the peak of his whole career (true gems like 'Norwegian Wood,' 'In My Life,' 'Nowhere Man' and 'Girl'). In fact, Rubber Soul is the last Beatles album where we find John as the true leader of the band, when he still wasn't tired of being a Beatle; Paul McCartney would dominate during the later albums. About Paul, he was improving his songwriting too with songs like 'Drive My Car,' 'Michelle' and 'You Won't See Me,' though his lyrics pale in comparison to John's. George Harrison started to show that he was able to write very good songs too with his two compositions: 'Think For Yourself' and 'If I Needed Someone.' Finally, Ringo Starr's percussion is excellent everywhere, proving that sometimes you can say more with not so complicated work.
Maybe the biggest influence that made the Beatles record an album like this, apart from Bob Dylan's songwriting (of course), was the Byrds' debut album Mr. Tambourine Man (folk rock at its best!), released before during the same year, in 1965. The Beatles were getting a favor back, since the Byrds were highly influenced by the 12-string guitar that George had played before, especially during A Hard Day's Night in 1964. Rubber Soul was influential for other artists too, and the most important response was maybe the Beach Boys' peak album Pet Sounds (1966), the biggest inspiration for Sgt. Pepper's according to Paul. Brian Wilson admitted the influence and said that he loved Rubber Soul since the first time he listened to it.
The title 'Rubber Soul' was a (Paul's) pun on the phrase 'plastic soul,' as an old blues guy had called Mick Jagger. The album was amazingly recorded in just a little more than four weeks (since October 12 until November 11, 1965) at Abbey Road studios, using a four-track recorder. It was released in December 3, 1965 simultaneously with the double A-side single 'We Can Work It Out'/'Day Tripper'; both the album and the single reached #1 in both UK and US. The American version of the album, though, was quite different, since it included two songs from Help! ('I've Just Seen A Face' and 'It's Only Love,' both of them fitting with the folk rock spirit of the album), but omitted four tracks from the original British version: two classics ('Drive My Car' and 'Nowhere Man'), George's best song ('If I Needed Someone') and the tune sung by Ringo ('What Goes On'). These four songs were included in the American Yesterday And Today, released 6 months later. Moreover, six tracks from Rubber Soul ended up on the Beatles compilation known as the Red Album (1973), being the official Beatles album with more songs in the Red and Blue collections; and both of George's songs were later included in The Best Of George Harrison (1976). So Rubber Soul alone could be also considered a kind of 'greatest hits collection.'
John would call Rubber Soul the beginning of the group's 'self-conscious' period, which according to him lasted until Magical Mystery Tour, at the end of 1967. These are some other comments by the band members and their producer George Martin:
<![if !supportEmptyParas]> <![endif]>
John: "We were getting better, technically and musically. We finally took over the studio. In the early days, we had to take what we were given; we had to make it in two hours, and one or three takes was enough and we didn't know how you could get more bass - we were learning the techniques. Then we got contemporary. I think Rubber Soul was about when it started happening."
<![if !supportEmptyParas]> <![endif]>
Paul: "The album cover is another example of our branching out: the stretched photo. That was actually one of those little exciting random things that happen. The photographer Robert Freeman had taken some pictures round at John's house in Weybridge. We had our new gear on - the polo necks - and we were doing straight mug shots; the four of us all posing. Back in London Robert was showing us the slides; he had a piece of cardboard that was the album-cover size and he was projecting the photographs exactly onto it so we could see how it would look as an album cover. We had just chosen the photograph when the card that the picture was projected onto fell backwards a little, elongating the photograph. It was stretched and we went, 'That's it, Rubber So-o-oul, hey hey! Can you do it like that?' And he said, 'well, yeah. I can print it that way.' And that was it."
<![if !supportEmptyParas]> <![endif]>
George: "Rubber Soul was my favourite album, even at that time. I think that it was the best one we made; we certainly knew we were making a good album. We did spend a bit more time on it and tried new things. But the most important thing about it was that we were suddenly hearing sounds that we weren't able to hear before. Also, we were being more influenced by other people's music and everything was blossoming at that time; including us, because we were still growing."
<![if !supportEmptyParas]> <![endif]>
Ringo:
"Grass was really influential in a lot of our changes, especially with the writers. And because they were writing different material, we were playing differently. We were expanding in all areas of our lives, opening up to a lot of different attitudes. I feel that we made it on love songs (all the initial songs were love songs). Now we get to Rubber Soul and begin stretching the writing and the playing a lot more. This was the departure record. A lot of other influences were coming down and going on the record."
<![if !supportEmptyParas]> <![endif]>
George Martin: "[Rubber Soul] was the first album to present a new, growing Beatles to the world. For the first time we began to think of albums as art on their own, as complete entities."
<![if !supportEmptyParas]> <![endif]>
So Rubber Soul also occupies an important place according to its creators...
<![if !supportEmptyParas]> <![endif]>
<![if !supportEmptyParas]> <![endif]>
*Links*
<![if !supportEmptyParas]> <![endif]>
<![if !supportEmptyParas]> <![endif]>
Questions, comments or suggestions: [email protected]
<![if !supportEmptyParas]> <![endif]>
"It's so fine, it's sunshine, it's the word LOVE."
<![if !supportEmptyParas]> <![endif]>
Andrés L. Márquez
<![if !supportEmptyParas]> <![endif]>
December 3, 2005
<![if !supportEmptyParas]> <![endif]>
<![if !supportEmptyParas]> <![endif]>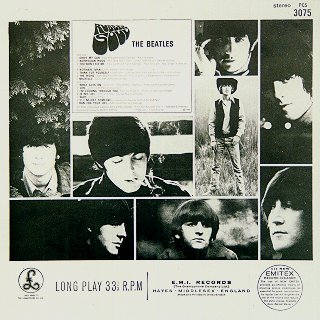 <![if !supportEmptyParas]> <![endif]>
***Made in Argentina***
<![if !supportEmptyParas]> <![endif]>