"There Could Never Be Anyone
For Me But You"


I am sure this is how most of us remember Jonathan Crombie.
As pictured here as Gilbert Blythe in "Anne of Green Gables".
I have been looking a lot around the WWW to find things on
Anne of Green Gables, Gilbert and Jonathan Crombie. I couldn't
find too much on Jonathan Crombie, But I will share what I
have found on this page. I think Jonathan is a wonderful actor
and I think just by looking at him you can tell he is definately
a Kindred Spirit. He has done a few movies since "Anne of Green Gables"
and its sequel "Anne of Avonlea", but he is mostly into acting
on the theatre stage rather than the big screen.





Hello Everyone!! I will try and keep up with my Geocities page
but I have actually started a new improved web page that is basically
just for Anne of Green Gables and Avonlea!! I am very excited about
this new page. I have done a lot of work to it and will be doing even more.
So please check it out and let me know what you think!! I will be doing
new things with this page as well so please keep visiting me
here as well. I thank you for your support!!!

To visit this page Click Below on Avonlea Addicts Button.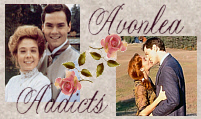 ATTENTION ALL ANNE AND GILBET FANS
They are now airing the third Anne Of Green Gables
movie. This is definately a happy event in my life :)
If you would like to know more about this upcoming event
Just click below.
Anne of Green Gables Returns



                    Jonathan Crombie

Born: October 12, 1966

Birthplace: Toronto, Ontario, Canada

Trivia: Son of former Toronto Mayor David Crombie, Graduated from the University of Toronto's Victoria College in 1995.

Other Works: Member of the Comedy Troupe "Skippy's Rangers" (1996)

What he is doing now: Playing Speed in "The Two Gentleman of Verona" at the Stratford Festival.
(July-November, 1998)


Pictures of The Past, Present, and Future




Sign My Guestbook     View My Guestbook









I found this background and dividers at Moyra's Web Jewels.



---
This page hosted by
Get your own Free Home Page