Megan Follows did a remarkable job as Anne Shirley. She made
the novel known world wide. I know if I had never seen the Anne
of Green Gables movies with her in them I would never have
discovered the beautiful world of Lucy Maud Montgomery.



The World of Anne With An E


I need to do some more research on Megan Follow, so that I can
tell you were she is now and what she is doing. I will post the
information as soon as I find out.



Hello Everyone!! I will try and keep up with my Geocities page
but I have actually started a new improved web page that is basically
just for Anne of Green Gables and Avonlea!! I am very excited about
this new page. I have done a lot of work to it and will be doing even more.
So please check it out and let me know what you think!! I will be doing
new things with this page as well so please keep visiting me
here as well. I thank you for your support!!!

To visit this page Click Below on Avonlea Addicts Button.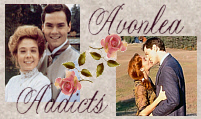 ATTENTION ALL ANNE AND GILBET FANS
They are now airing the third Anne Of Green Gables
movie. This is definately a happy event in my life :)
If you would like to know more about this exciting event
Just click below.
Anne of Green Gables Returns



If you would like to see some links to other Megan Follows
and Anne of Green Gables Homepages, Click below.
Anne of Green Gables Links




Please feel free to email me. I would love to hear from you.
Don't forget to sign my guestbook before you leave also. :)
If you come across any information on Anne of Green Gables
or Gilbert (Jonathan Crombie), please email me.




I found this beautiful background at Rosebudd's Graphics.

---
This page hosted by

Get your own Free Home Page