F/J/M Body Torsion Bars
This page is very graphic intensive...please be patient as it loads....
All F/J/M Body Mopars share the transverse torsion bar setup. The bar is anchored opposite the the affected wheel and runs parallel across the K-member through a "Pivot cushion bushing", turns and continues to the lower control arm.
The height of the front suspension is determined by turning the adjustment bolts. The important thing to remember is that the right bolt adjust the left side and the left bolt adjusts the right side. Any time the suspension height is changed it affect both the camber and caster and should be re-aligned.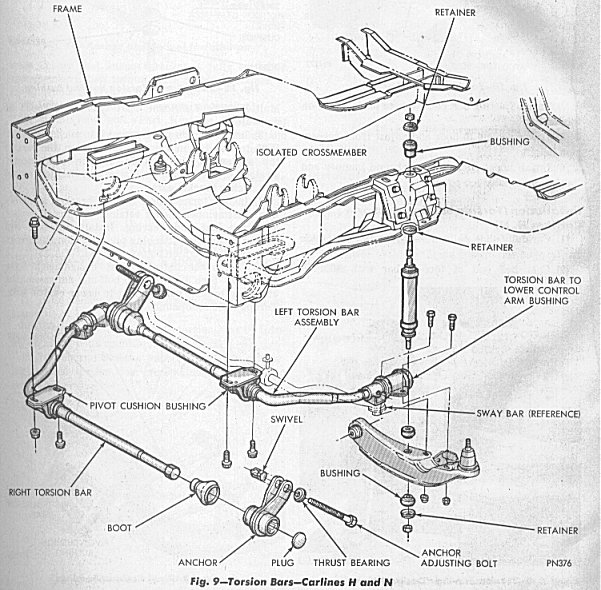 Torsion Bar Removal
Remember that the torsion bars are not interchangeable between sides. They are marked with the letter "L" and "R"
Place the car car on jackstands (and block the back wheels) so the front suspension is hanging with the wheels off the ground.
Remove the anchor adjustment bolts so that the tension is taken off the torsion bars.(turn counter clock-wise)
With a jack, raise the lower control arm so that there is a 2 7/8 inch space between the crossmember ledge and the torsion bar end bushing. (This height is set by the factory to equal three passenger in the vehicle on the ground). Place jack stands under the control arms at this height. This will help with alignment of the suspension components when reassembling and will set the ride height.
Remove the sway bar to control arm attachment bolts and retainer
Remove the two bolts that attach the torsion bar pivot bushing to the crossmember.
Remove the torsion bar and anchor assembly from the crossmember.
Remove the torsion bar from the anchor assembly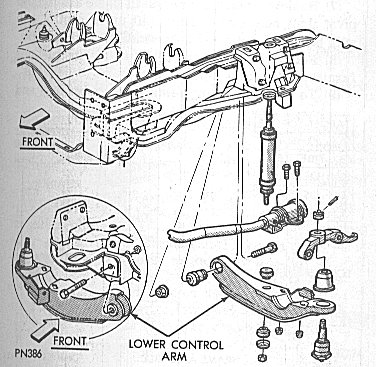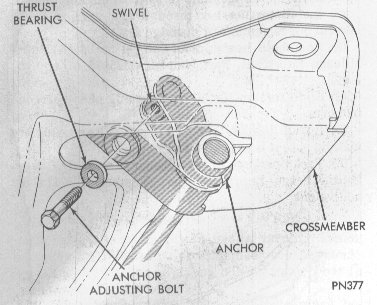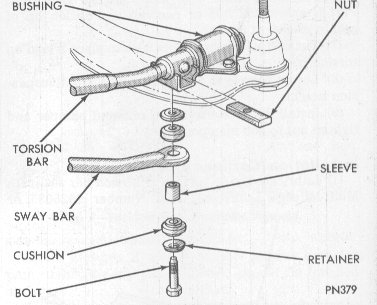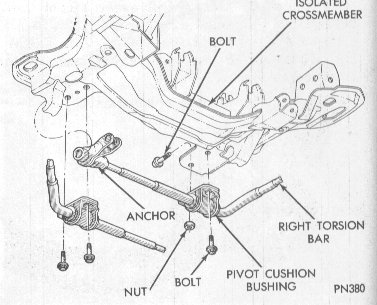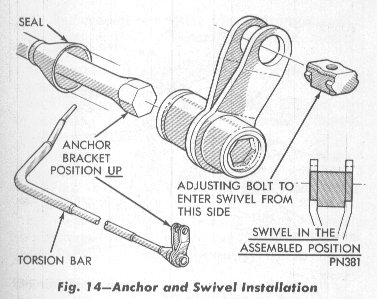 Tightening Specifications
| | |
| --- | --- |
| Adjusting Bolts(Upper Control Arms) | 150 ft/lbs |
| Ball Joint to Upper Control Arm (Upper) | 125 (min) ft/lbs |
| Ball Joint Stud Nut (Upper) | 100 ft/lbs |
| Ball Joint Stud Nut (Lower) | 100 ft/lbs |
| Rebound and Jounce Bumpers (All) | 200 in/lbs |
| Pivot Shaft | 75 ft/lbs |
| Steering Knuckle Bolts/Nuts (Lower) | 160 ft/lbs |
| Sway Bar Link Retainer Nut | 100 in/lbs |
| Sway Bar Strap Nut | 30 ft/lbs |
| Tie Rod Ends (All) | 70 ft/lbs |
| Tie Rod Sleeve Clamps | 40 ft/lbs |
| Torsion Bar Pivot Cushion Retainer Nut | 75 ft/lbs |
| Shock Absorber (Upper) | 25 ft/lbs |
| Shock Absorber (Lower) | 35 ft/lbs |
Back to Jasons' Aspen/Volare Club