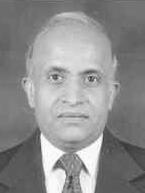 C.S.R. Prabhu
Senior Technical Director
State Informatics Officer
National Informatics Centre, Ministry of Information Technology, Govt. of India.
Chivukula Sree Rama Prabhu, Senior Technical Director, National Informatics Centre (NIC), Hyderabad obtained his Masters Degree with specialization in Computer Science from the Indian Institute of Technology, Bombay in 1978. He has worked in various capacities at Tata Consultancy Services, CMC, TES and TELCO before joining NIC.

He has teaching and research experience at the University of Central Florida, Orlando, Florida. He has guided a large number of student research projects at masters level and has several papers to his credit. At NIC, New Delhi he was responsible for the Computerization of the Ministry of Programme Implementation and at NIC, Hyderabad, he was Head of the Software and Training Division.

As the National Coordinator of GISTNIC (General Informatics Service Terminal, National Informatics Centre), he has developed a large number of public databases in areas such as tourism, education, economy, census, rural and traditional technologies.

He was State Informatics Officer for Tamil Nadu where he coordinated the development of software for a generalized Block Information System and also Taluk Information System. He also organized a National Seminar on `Data warehousing in Government' in Chennai.
He was consultant to Florida Savings and Loans, Orlando, NASA at Cape Canaveral, Florida and Hughes Aircraft Corporation, Irvine, California, on various assignments in database application areas.

He has authored three books in frontier databases areas: Semantic Databases Systems: A Functional Introduction and Object Oriented Database Systems : Approaches and Architectures and 'Data warehousing Concepts, Methodologies, Products and Applications'.
He was the Chairman of Programme Committee and Editor of the Proceedings of the 9th International Conference on Database Systems (COMAD 98). He was the editor of Proceedings of National Conference on Mobile Computing held at Hyderabad in 2000. He was event Chairman of National Conference on Mobile Computing, held at Hyderabad in December, 2000.