The first OAV covered the story which Kenshin told his friends. It is all about his relationship with Yukishiro Tomoe, a girl which saw Kenshin assassinating someone. She fainted in the middle of the rain and Kenshin took her to an inn and took care of her.
I won't spoil the story here. I suggest you watch the OAV itself. See the statistics of the movie below. If you want info about the characters, go to the characters section.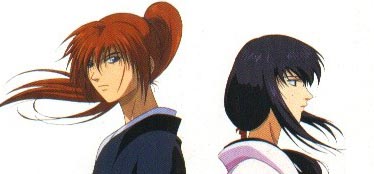 Himura Kenshin and Yukishiro Tomoe
Title: Rurouni Kenshin: Tsuioku Hen (4 episodes)
Rating: R (violence, blood and gore)
Comments: Not for the weak-hearted. Very satisfying to watch if you've been a fan of the series. It had a different touch of animation but it was alright. I prefer Nobuhiro-san's animation though.