Fan Arts
Here is the fan art section. Show how much you can draw from Rurouni Kenshin. Whether you're an amateur or a pro, you'll be accepted here.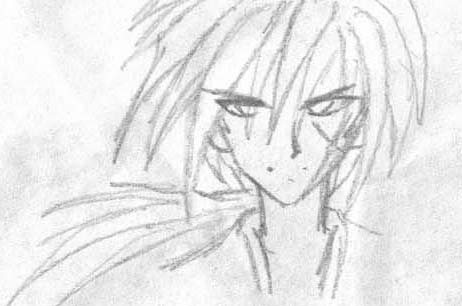 Here's a sample of my drawing. Just send in those drawings!
Submit your work!
You may submit to this site your fan arts, fiction or doujinshi for other fans to see. Show what talent you have.
Here are some rules:
General

E-mail your submissions at [email protected]
Send only one attachment per submission. If you send 2 files in a message, it will automatically disqualified.

Fan Arts

Your images must be either JPG or GIF format. Please just set JPG's at Medium quality. Maximum size is 800 x 1100 pixels or bond paper size. No exceptions!
If possible, compress your files using Winzip or other compressing tools.

Fan Fiction

You may use Text, Rich-Text Format or Microsoft Documents for your submissions.
Zip your files! Some e-mail programs tend to mess up text attachments.

Doujinshi

Send files ONLY in JPG format.
Compress your files in one ZIP file. Maximum of 500 KB per ZIP file. If you have multiple pages, send one message per file.

2-5-2002
Uploaded new layout for site.
1-24-2002
Started making the site.

Rurouni Kenshin is copyrighted by Nobuhiro Watsuki and Sony Entertainment. This site does not in any way profit and only wants to please fans. All items related to Rurouni Kenshin are used without permission.
Hitokiri no Ken: A Rurouni Kenshin Shrine v2.0 © 2000 Battousai X. All Rights Reserved.