1860 photo taken 4 days after Mr. Lincoln visited Lincoln, Illinois, for the last time. Info at 3 below.

This President grew;
His town does too.
Link to Lincoln:
Lincoln & Logan County Development Partnership

Site Map
Testimonials
Abraham Lincoln Bicentennial Commission of Lincoln, IL
1.
Abraham Lincoln and the Historic Postville Courthouse,
including a William Maxwell connection to the Postville Courthouse
2.
About Henry Ford and the Postville Courthouse, the Story of the Postville Courthouse Replica, Tantivy, & the Postville Park Neighborhood in the
Route 66 Era

3.
The Rise of Abraham Lincoln and the Founding of Lincoln, Illinois,
also the founding of Lincoln College, the plot to steal Lincoln's body, and memories of Lincoln College and the Rustic Tavern-Inn

4.
Introduction to the Social & Economic History of Lincoln, Illinois, including poetry by William Childress & commentary by Federal Judge Bob Goebel & Illinois Appellate Court Judge Jim Knecht
5.
"Social Consciousness in William Maxwell's Writings Based on Lincoln, Illinois" (an article published in the Journal of the Illinois State Historical Society, winter 2005-06)
5.a.
Peeking Behind the Wizard's Screen: William Maxwell's Literary Art as Revealed by a Study of the Black Characters in Billie Dyer and Other Stories
6.
Introduction to the Railroad & Route 66 Heritage of Lincoln, Illinois
7.
The Living Railroad Heritage of Lincoln, Illinois: on Track as a Symbol of the "Usable Past"

8.
Route 66 Overview Map of Lincoln with 42 Sites, Descriptions, & Photos
9.
The Hensons of Business Route 66
10.
The Wilsons of Business
Route 66, including the Wilson Grocery & Shell Station
11.
Route 66 Map & Photos Showing Lincoln Memorial Park (former Chautauqua site),
the Historic Cemeteries, & Nearby Sites
12.
Route 66 Map & Photos Showing Salt Creek & Cemetery Hill, including
the highway bridges, GM&O bridge, Madigan State Park, the old dam (with photos & Leigh's memoir of "shooting the rapids" over the old dam), & the Ernie Edwards' Pig-Hip Restaurant Museum in Broadwell
13.
The Historic Logan County Courthouse, Past & Present

14.
Route 66 Map with 51 Sites in the Business & Courthouse Square Historic District, including locations of historical markers
(on the National Register of Historic Places)

15.
Vintage Scenes of the Business & Courthouse Square Historic District
16.
The Foley House: A Monument to Civic Leadership
(on the National Register of Historic Places)
17.
Agriculture in
the Route 66 Era

18.
Arts & Entertainment Heritage, including the Lincoln Theatre Roy Rogers' Riders Club of the 1950s
20.
Cars, Trucks & Gas Stations of the Route 66 Era
21.
Churches, including the hometown churches of Author William Maxwell & Theologian Reinhold Niebuhr
22.
Factories, Past and Present
23.
Food Stores of
the Route 66 Era

24.
Government
25.
Hospitals, Past and Present
26.
Hotels & Restaurants of the Railroad & Route 66 Eras

27.
Lincoln Developmental Center
(Lincoln State School & Colony in the Route 66 era), plus debunking the myth of Lincoln, Illinois, choosing the Asylum over the University of Illinois

28.
Mining Coal, Limestone, & Sand & Gravel; Lincoln Lakes; & Utilities

29.
Museums & Parks, including the Lincoln College Museum and its Abraham Lincoln Collection, plus the Heritage-in-Flight Museum
30.
Neighborhoods
with Distinction
31.
News Media in the Route 66 Era
32.
The Odd Fellows' Children's Home
33.
Schools
34.
Memories of the 1900 Lincoln Community High School, including Fred Blanford's dramatic account of the lost marble fountain of youth
35.
A Tribute to the Historians and Advocates of Lincoln, Illinois
36.
Watering Holes of the Route 66 Era
37.
The Historic 1953 Centennial Celebration of Lincoln, Illinois
38.
The Festive 2003 Sesqui-centennial Celebration of Lincoln, Illinois, including photos of LCHS Class of 1960 dignitaries & the Blanfords
39.
Why Did the State Police Raid Lincoln, Illinois, on October 11, 1950?
40.
The Gambling Raids in Lincoln and Logan County, Illinois,
During the Late Route 66 Era (1950-1960)
_______
Pages in this section tell about Leigh Henson's Lincoln years, moving away, revisits, and career:
About Lincoln, Illinois;
This Web Site; & Me
A Tribute to Lincolnite Edward Darold Henson: World War II U.S. Army Veteran of the Battles for Normandy and the Hedgerows; Brittany and Brest; and the Ardennes (Battle of the Bulge)
For Remembrance, Understanding, & Fun: Lincoln Community High School Mid-20th-Century Alums' Internet Community
(a Web site and email exchange devoted to collaborative memoir and the sharing of photos related to Lincoln, Illinois)
Directory of Email Addresses of 168 Mid-20th Century LCHS Alums

Leigh Henson's Pilgrimage to Lincoln, Illinois, on
July 12, 2001
Leigh Henson's Review of Dr. Burkhardt's William Maxwell Biography
Leigh Henson's Review of Ernie Edwards' biography, Pig-Hips on Route 66, by William Kaszynski
Teach Local Authors: Considering the Literature of Lincoln, Illinois
Web Site About
Leigh Henson's Professional Life
__________
Pages in this section are about the writing, memorabilia, and Web sites of other Lincolnites:
A Tribute to Bill and Phyllis Stigall:
Exemplary Faculty of Lincoln College at Mid-Twentieth Century
A Tribute to the Krotzes of Lincoln, Illinois
A Tribute to Robert Wilson (LCHS '46): Author of Young in Illinois, Movies Editor of December Magazine, Friend and Colleague of December Press Publisher Curt Johnson, and Correspondent with William Maxwell i
Brad Dye (LCHS '60): His Lincoln, Illinois, Web Site,
including photos of many churches
Dave Armbrust's Memorabilia of Lincoln, Illinois
Leigh Henson's Review of Dr. Barabara Burkhardt's William Maxwell Biography
Leigh Henson's Review of Ernie Edwards' biography, Pig-Hips on Route 66, by William Kaszynski
Leigh Henson's Review of Jan Schumacher's Glimpses of Lincoln, Illinois
J. Richard
(JR) Fikuart
(LCHS '65):
The Fikuarts of Lincoln, Illinois, including their connections to the William Maxwell family and three generations of family fun at Lincoln Lakes
Jerry Gibson (LCHS '60): Lincoln, Illinois, Memoirs & Other Stories
Dave Johnson (LCHS '56): His Web Site for the Lincoln Community High School Class of 1956
Sportswriter David Kindred: Memoir of His Grandmother Lena & Her West Side Tavern on Sangamon Street in the Route 66 Era
Judge Jim Knecht
(LCHS '62): Memoir and Short Story, "Other People's Money," Set in Hickey's Billiards on Chicago Street in the Route 66 Era
William A. "Bill" Krueger (LCHS '52): Information for His Books About Murders in Lincoln
Norm Schroeder (LCHS '60): Short Stories
Stan Stringer Writes About His Family, Mark Holland, and Lincoln, Illinois
Thomas Walsh: Anecdotes Relating to This Legendary Attorney from Lincoln by Attorney Fred Blanford & Judge Jim Knecht

A Tribute to Robert Wilson (LCHS '46): Author of Young in Illinois, Movies Editor of December Magazine, Friend and Colleague of December Press Publisher Curt Johnson, and Correspondent with William Maxwell, including excerpts from Young in Illinois and from Maxwell's letters to Robert; family photos and information from Robert's only child, Sue Young Wilson; commentary from Literary Critic Lee Walleck; and memoir by Curt Johnson
Leon Zeter (LCHS '53): His Web Site for the
Lincoln Community High School Class of 1953,
including announcements of LCHS class reunions

(Post yours there.)
__________


Highway Sign of
the Times:
1926-1960
The Route 66
Association of Illinois
The Illinois State Historical Society
Illinois Tourism Site:
Enjoy Illinois

Internet Explorer is the only browser that shows this page the way it was designed. Your computer's settings may alter the display.

April 24, 2004: Awarded "Best Web Site of the Year" by the Illinois State Historical Society
"superior achievement: serves as a model for the profession and reaches a greater public"

Marquee Lights of the Lincoln Theater, est. 1923, Lincoln, Illinois
36. Watering Holes of the Route 66 Era: Entertainment in the Fast Lane
Downtown Watering Holes

The Hotel Lincoln had a cafeteria, banquet room, and "tap room" -- not a bar--, the classiest watering hole in downtown Lincoln during the Route 66 era. More information about the Hotel Lincoln is presented at 26. Hotels & Restaurants of the Railroad & Route 66 Eras.

36.1: Hotel Lincoln in the early 1960s

(Photo provided by D.D. Welch, caption by Norm Schroeder)


36.2: Photographer Charles Stringer Parodies Mussolini in the Hotel Lincoln Tap Room

(Photo taken by Mark Holland and provided by Stan Stringer, true "Lincolnite at Heart" and honorary member of the LCHS Class of 1952)

With Stan Stringer's permission, I emailed the above photo of the Hotel Lincoln bar scene to 160 mid-20th Century alums of Lincoln Community High School.

Bob Goebel wrote in response: "I did get your pic of bar scene at Hotel Lincoln and sent it to my mother, who, with assistance from her husband, Dr. Jim Aldendifer, and Emil Moos, came up with the following: L to R in front of the bar, former Lincoln Mayor, Ed Malerich, Fanny Metelko, Virginia Moos Cummings, Dan Cummings, Dorothy Field(?), Homer Holland(?) or Howard Loeber(?), Mark Holland's father, and Charles Stringer. Behind the bar, Eva Edgell (who ran the Hotel Lincoln so ably for many years), her husband, Percy Edgell, and John McGowan, father of our 1960 classmate, Sara McGowan Hinman.

Respond to Bob at [email protected].

Judy Malerich Cortelloni wrote to add, "On the identification of the Hotel Lincoln: the Ed Malerich pictured at the end of the bar is the father of the former mayor."

Respond to Judy at [email protected].

If only walls could speak.

Clyde Camp emailed Stan Stringer in July, 2007, to give his views on identities for the people in the above photo:

Dear Stan; You don't know me, but I am a 1940 graduate of LCHS. I have been looking at Henson's very interesting website about Lincoln. I refer to the picture of the people at the bar in the Hotel Lincoln. Mark Holland's party. I can't identify all the people but I take exception to number 4 and 5. That is not the way I remember Dan Cummings. I think number 4 is Leander Hake, a regular frequenter of the hotel and for whom I worked at the Oldsmobile Garage for 6 Years. Number 5 is, I believe, his wife Mildred. I agree that number 3 is indeed Virginia, Dan's wife. Just thought you might be interested in hearing another opinion. Respectfully, Clyde W. Camp [email protected]

Stan Stringer explains the above photo:

"The party was a welcome home party for Mark Holland shortly after he returned from Europe. When Mark returned, like other veterans, he brought some souvenirs home. Included in this was the blouse, metals and hat of an Italian Fascist party member.

My dad got a kick out of this, and as I recall Mark had dad dress up in the outfit and several portraits were taken with dad mimicking Mussolini. As far as I know, those photos are lost, but the night of the party dad donned the outfit again for the benefit of Mark's friends. On the left, next to the pseudo El Duce is Mark's father. Unfortunately, I can't identify anyone else in the photo, and if you're asking where's Mark. He's taking the picture.

While I hadn't seen the picture for years, I received it via e-mail from Mark's youngest son, Steve Holland. Steve had seen the article I wrote for the LincolnDailyNews.com about Mark buzzing Lincoln. We exchanged emails for a while about Mark and my father's friendship and a war experience Mark told dad when he visited us on his return.

The pictures appearing in Paul Gleason's book, Lincoln: a Pictorial History, were given to him by Marcella, Mark's wife. I learned this spring that Marcella died this past May of cancer. Steve Holland assured me that Marcella had read and enjoyed my story about Mark buzzing Lincoln."

Respond to Stan at [email protected].

Fred Blanford replies:

"I loved his pic from the bar in the old Hotel Lincoln. If it was post WWII (and I have every reason to believe it was) -- it had to have been a very small window in time before Saunders Devine and Tom Walsh [4th from the left] (two confessed "naturalized citizens" after their 25 consecutive years of local residence) took up their reserved seats on the front (near in the pic) corner of that bar. Both were WWII veterans who took up residence here after the resolution that conflict."

As a member of the LCHS alums' online community, Gwen Lisk Koda asked whether Fred had any information about Mr. Walsh. In response, Fred sent along the following memoir and photo of Mr. Walsh:

"I became acquainted with Tom while I was still in HS. I'm not sure of the circumstances of the first meeting but the many that followed were welcomed by me as Tom was surely one of the most interesting people I have ever met. He was at once not only a practitioner at law, but also a student of literature, music, history, chemistry and most of all the human condition. He introduced me to the works of Ambrose Bearce and H.L. Mencken -- not the sort I had ever encountered in HS.

The following was pulled quickly from a Mencken site on the net -- offered only for insight on Tom if you are not familiar with Mencken.

'We live in a land of abounding quackeries, and if we do not learn how to laugh we succumb to the melancholy disease which afflicts the race of viewers-with-alarm... In no other country known to me is life as safe and agreeable, taking one day with another, as it is in These States. Even in a great Depression few if any starve, and even in a great war the number who suffer by it is vastly surpassed by the number who fatten on it and enjoy it. Thus my view of my country is predominantly tolerant and amiable. I do dot believe in democracy, but I am perfectly willing to admit that it provides the really really amusing form of government ever endured by mankind.'


According to the lore -- Tom had been at various times: a professional football player, professional baseball player, umpire for "big league" baseball, AND also an officer in WWII who had functioned at a high level in the Manhattan Project -- primarily acting (in his words) as a courier between Stagg Field and the TVA installation. I offer none of this as fact -- but make the list to emphasize his skill as a raconteur. In listening to Tom's stories -- it never occurred to question his veracity. I was given to understand his undergraduate (and/or graduate) training had been in chemistry -- which could have explained his involvement with the Manhattan Project.

All the while Tom lived in Lincoln, his wife resided in Macon County. I had known him years before I ever knew he had a wife. In fact, I found out about the wife when I ran into Tom at a Lincoln Hall Theater (Chambana) performance of HMS Pinafore where he was accompanied by a daughter (or two--memory fades) which led me to ask about "where" she/they had come from. It was in his much later years that I (one time only) met his wife. She was in charge of cleaning up his "studio" (read office -- a term he never used to refer to it) for the first, last and only time that was ever done.


36.3: Lincoln Attorney Thomas Walsh

(Photo by Larry Shroyer from the 1950s)

I believe divorce was never a question -- Catholics didn't do that -- and it is my belief Notre Dame was his alma mater and he sang in the choir at St. Pat's every week.

I recall Tom relating to my father-in-law how the "lost was now found." He had been unable for some time to locate his Oxford Unabridged Dictionary. It was on his desktop. On my first visit to his studio -- I followed the "path" through the accumulated piles of documents, legal tomes, files and miscellany to the second room of the studio. There -- he cleared a chair for me to sit and he remained standing the whole time. I had gone there to get a pleading he was to file in a case I was involved in -- and he informed me he would type it up while I waited. I found that a curious statement as I didn't see a typewriter anywhere. After moving some more piles of papers, files etc., -- there it was -- an IBM selectric -- front and center on his desk. He was quite accomplished with the two-index-finger method of typing.

I shared many pleasant hours with Tom in places where "libations" could be had. The Hotel Lincoln was one of his favorites -- although he often found himself standing at the bar in Dehner's (Heinie&Poopie's--not Cork's). When you walked in -- you knew Tom was there. He smoked Picayune cigarettes (which Pfau's Drugstore ordered in especially for him) and there was no mistaking the "bouquet." He told me and I tried -- they were like eating Limburger -- if you smoked them (they were a very mild cigarette) you didn't smell them. My wife put her foot down with my first/last pack.

Gwen mentioned The Mikado. There were those years in my early life when there was a Community Theater group. The more recent version (I did participate for a few years in the 70's) is not a continuation but a resurrection. Both then and now -- the success of such enterprises depends on a great deal of volunteer work from some very energetic people. My ceasing to participate was a combination of loss of energy and a jealous regard for how I would spend my free time. In the 50's many of the energetic volunteers were also talented. That is not to suggest the current version lacks talent -- it just seems they had a larger group to draw from back then.

I believe I mentioned Tom and Saunders Devine in a previous email. They both settled in Lincoln about the same time and swore you had to be a resident for 25 consecutive years before the "locals" would stop referring to you as a foreigner and consider you a naturalized citizen. That was one of the threads they shared. Voice was another. Saunders had performed professionally (on/off Broadway I don't know) prior to coming to settle in his wife's hometown. Both were part of the Community Theater of the 50's.

As noted previously, when a jpg has an LBS as part of the moniker -- the pic is scanned from the Shroyer archives at the Lincoln Public Library."


Route 66 had its famous (and infamous) taverns and bars from Coonhound Johnny's to the Tropics, the Blu-Inn, and the Logan Lanes Bowling Alley. Downtown Lincoln also had its bars of distinction, with a few depicted here. Besides the tap room of the Hotel Lincoln, others included the Illinois Tavern, the "L," and the Empire Tavern. A curious fact emerges from looking at the photos: Some brands of beer have disappeared along with the taverns.


36.4: Illinois Tavern Flanked by Two Other Sangamon Street Businesses, with the
World-Famous Humongous Ball of String in Dutz's Window

(Photo provided by D.D. Welch with caption by Norm Schroeder)

Note the brick pavement that characterized Lincoln's downtown streets of the Route 66 era.

36.5: Inside the Illinois Tavern

(Photo from Gleason, Lincoln: A Pictorial History, p. 64)

The caption reads, "The Illinois Tavern was located at 111 South Sangamon Street and was owned by Grover Field. It was also the location of the Illinois Hotel and the Cigar Store. Grover's [grand]daughter, Susan L. Fuhrer, currently operates the establishment, called the Blue Dog Inn. The unique metal ceiling remains in place. The building was located in the block which was known as 'Dutch Row' when the buildings were first erected" (p. 64).

Fred Blanford responds to the paragraph above (8-2003):

"My guess on the Illinois Hotel (Tavern whatever--now the BlueDog) bartender would be that--If it is Grover Field--he is probably daddy to Bobby Field (who I have known for years--used to play a trombone in the Legion Band) and Bobby Field is daddy to Sue who now owns/operates the Blue Dog. I say Bobby because that's what my dad always called him. He is Robert. . . ."

36.6: The Blue Dog Inn (Blue-and-White Striped Awning) on Historic Sangamon Street

(Leigh Henson photo, 12-01)

Visit the Blue Dog Inn Web site at http://www.bluedoginn.com/.

36.7: The "L" Tavern at
Broadway and Chicago Streets

(Photo in Gleason,
Lincoln: Pictorial History, p. 23)

36.8: The Empire Tavern on Chicago Street, with Hamms Beer Sign Overhanging

(Photo provided by D.D. Welch)


Photo 36.7 shows an interurban stopped for passengers. The Alton & Chicago (GM&O) depot was to the left of the interurban car. The depot served both lines apparently. Photo 36.7 also shows one of the glorious five-globed streetlights of the early 20th century -- installed circa 1913 -- and a Griesedieck beer sign above the cut-away corner entrance to the "L" tavern. Was the "L" for the shape of the long side and shorter front or for "Lincoln" or both? This building later housed Vic and Geraldine Thudium's Lincoln Office Supply Company.

36.9: Wall Art Surviving from the Past and Naming Three Things Gone from Lincoln: Sinky's, the 121, and Griesedieck Bros. Beer

(Photo provided by Fred Blanford)

36.10: Wall Art Restoration by
the Wall Dogs in 2004

(Photo from The Courier of Lincoln, Ill.)

Note that the 2004 version has omitted Sinky's Tavern and made some other modifications. Perhaps the next time around Sinky's can be restored.

The location of the 121 Tavern sign is 515 Broadway on the east side of Lincolnite Attorney Warren Peter's office.

36.11: Original, Premium, and
De-bitterized--and Defunct

(Ad from Lincoln Evening Courier, April 2, 1953, p. 5)


A Rare Neighborhood Tavern

Lincoln, Illinois, has seen dozens of neighborhood "mom and pop" grocery stores come and go, but Lincoln has never had very many neighborhood taverns, probably because of Lincoln's small size. Most of the taverns were downtown.

The photo at the right shows an exception--a contemporary neighborhood tavern in the 1200 block of north McLean Street. In the 1930s, this place was owned by Fred Gardner.

This photo was taken mid-day in June of 2004, and by the several vehicles in the parking lot, it looks as if business is good. As I note in other places in this Web site, sometimes the past surprises and delights (as well as informs and "nostaligizes"). The photo shows lighted beer signs for Stagg, Pabst Blue Ribbon, and Old Style. Pabst is still brewed, but I'm not sure about Stagg and Old Style. Like other signs shown in this Web site, these signs, then, are remnants of a lost civilization.

36.12: North Lincoln Neighborhood Tavern

For more information about north Lincoln's social history, see 4. Introduction to the Social & Economic History of Lincoln, Illinois and A Tribute to Robert Wilson (LCHS '46).

The Maple Club

During Prohibition (1919-1933), "the hey day of the 'moonshiners' and the 'bootleggers' and making of home brew and 'White Mule' became a way of life for 14 years. Along came the 'road houses' in the rural areas: "Andy's Corner' south on old route 4 [my father, Darold Henson, showed exactly where it was]; Lee's place west on the Fifth Street Road; the Maple Club on the Pulaski Road" (Larry B. Shroyer, in Paul Beaver, History of Logan County 1982, p. 13).

36.13: Francine Jereb's Mother Standing in the Door of the Old Milwaukee Tavern on
Broadway-Route 121, Far East Side of Lincoln, Illinois

(Photo provided by Francine Jereb, Lincoln Community High School, Class of 1954)

Francine at my request for information about the photos of 36.13 and 36.14 responded by email on April 14, 2003, with the following information:

"I came by the picture of the Old Milwaukee because my parents and I came from Milwaukee in about 1939. I was 3 years old at the time. My father and mother started the Old Milwaukee Tavern, and I am sure it was named after my father's hometown. My mother was from Lincoln and moved to Milwaukee years before, met my father, got married and when my grandparents got into financial straits, my parents came to Lincoln to bail them out. In exchange they received the building that was to become the Old Milwaukee.

The building had been built originally to house an auto repair shop that was to be my uncle's shop. He failed at the business, and since my grandfather had gone in debt to build it, he found himself in serious debt. My father died shortly after coming to Lincoln (early 194) to start this venture leaving my mother to run the business which she did until she, too, died in 1947. She is the lady you see standing in the doorway of the building when the picture was taken. By whom, I do not know. When was probably in the early 40's. Same with the Maple Club. My mom was friends with the owner of the Maple Club.

I don't know what his real first name was as I only knew him as Bubby Brelsford. There were good times early on. Pinballs were still in the bars. The Old Milwaukee was the first bar in town to have Schlitz on tap. That was a big deal then. The man who was responsible for putting the pinballs in the local establishments then was Slick Foutch. Don't know what his first name was either. I spent a lot of time in the bar as we lived in one room in the building for some time. What else can I tell you? It was different."

I told Fred that I have more pics in the basement. Just have to find the time to go thru them. My mother was notorious for taking and collecting pictures. Mostly of vets who patronized the place.

36.14: Maple Club on Route 121, East of Lincoln

(Photo provided by Francine Jereb. Respond to Francine at [email protected].)

Mr. Gleason's book says that the Maple Club dates to the Prohibition and Big Band Era and was the site "where all political dinners in Lincoln were held. A large house which once stood on the premises has been removed. Rumor had it that at one time a tunnel connected the stage and the house" (p. 62).

36.15: The Maple Club on Route 121, Southeast of Lincoln

(Photo from Gleason, Lincoln: A Pictorial History, p. 62)

Of the various Lincoln-area roadhouses in the Roaring Twenties, the Maple Club remains as a historic structure with renovations and can be rented for parties and other special occasions.



36.16: Enlargement of Ad for Maple Club in Our Times, Winter, 2002 (inside back cover)

According to Sanford Patterson, Logan County had its share of bootleggers. Patterson quotes an old local joke that said "there were so many bootleggers in Logan County, they had to wear badges so they would not sell to each other" ("The Prohibition Era in Logan County" in Beaver, p. 26). Prohibition brought gangsters from Chicago to sell beer and liquor to local bootleggers: "The local bootleggers did not like it, but they became a part of the Chicago based Capone mob" ("The Prohibition Era in Logan County" in Beaver, p. 26).

Post-Prohibition Gang-Related Armed Robberies at the Maple Club

Early in 1947, gangs robbed the Maple Club at gun point twice within a few weeks. The first made the Courier headline:

36.17: Courier Headline of February 4, 1947

The Courier ran the following: "A gang of six to 10 bandits, each masked and each with a gun and a blackjack, took over the Maple Club, a half-mile east of Lincoln on State Route 121, shortly after midnight Monday night, tied up 15 or 20 patrons or employees in the old club house and escaped with an undetermined amount of cash and jewelry. Rough estimates placed the loss in excess of $2,500 to $3,000.

First word of the holdup was learned when "Bud" Sparling and Bill Przykopanski, drivers of the Lincoln Cab Company who had gone in the club to pick up a fare about 2 a.m. Tuesday and were picked off by the bandits loosened their bonds and came into the police station to report to Floyd Kennedy, police radio operator, at 2:30 a.m. [italics original].

When Sheriff C.L. Kief and Deputy Sheriff Joe Blickem arrived at the club most of the patrons who had been tied had been freed and departed. Albert Jones, state highway patrolman, investigated.

Sheriff Kief, after an investigation, said it was his opinion that at least 10 men were in the gang. Questioning employees at the club, he said he learned that five men bound the hands and feet of the men and women patrons and employees and laid them on the floor after which they frisked them for money and jewelry. Several wrist watches and rings were said to have been taken.

Members of the gang were rough and one is reported to have hit Harry Goldsmith, a patron, on the head and another to have slugged a Chicago man with a gun [italics original].

Herbert C. Wilmert, club employee, reported that he was robbed of $1,000 in cash, the "bank roll" of Harry Brelsford, proprietor of the club, as well as $125 of his own money. Several of the bandits invaded the Wilmert apartment upstairs, bound his wife and took a diamond ring and wrist watch from her.

Diamond Overlooked

The bandits are said to have failed to recognize Brelsford, tied him up and put him along with the rest of the victims and overlooked getting a valuable diamond ring off his finger. He had turned the ring so the stone was inside his hand.

Mr. and Mrs. Herman Ireland, customers, are also reported to have saved their valuables. Ireland stuffed his watch in a sock and his wife saved her billfold by hiding it in her blouse. One patron is said to have saved his billfold containing $350 by tucking it in the inside the top of his trousers.

One of the gang is reported to have threatened Jack Roberts, an employee of the club, when he told them he didn't have any money.

Despite apparent nervousness, the gang took its time in the raid and was believed to have been in the club more than an hours.

A Decatur couple missed a chicken dinner which had just been served when the gang entered the place with drawn guns.

Bud Sparling on going into the club was caught and tied and one of the bandits then went out to the parking lot."

Second Armed Robbery of the Maple Club in 1947

"Five Bandits Raid Maple Club; Get Over $300 Cash" (Courier title of 3-21-47)

"Five armed men, well dressed and unmasked, held up the Maple Club 1 1/2 miles south of Lincoln on Route 121, at 8:30 p.m. Thursday, and escaped with between $300 and $400 in change and $10 bills. The bandits entered both of the Maple Club buildings. This is the second hold-up at the Club in less than two months.

According to reports to Sheriff C.L. Kief and Deputy Sheriff Clair W. Smith, who investigated, the five robbers drove into the club grounds just as Raymond Sengotta, an employee, was carrying a bag of change from the old club to the new, preparatory to opening for business.

They forced Sengotta into the car, took the money from him, and while one man stood guard, two of the bandits entered the old club where most of the activity took place, and two entered the new club [italics original].

Flourishing their revolvers, the bandits, who had been drinking, lined up the employees and Harry Brelsford, proprietor, and searched them. One of the men was reported to have asked Brelsford for his diamond ring, which received publicity when it was missed by ten masked bandits in the Feb. 3 holdup. There were no patrons in either building.

Slug Proprietor

Brelsford no longer wears the diamond, having placed it in a bank safety deposit soon after the other robbery. When he failed to produce the ring, one of the robbers is said to have struck him over the head with a revolver and then fired a couple of bullets into the floor.

Another of the bandits became angry when one of the bartenders had no money, and struck him across the face.

The men opened the cash registers but did not molest the slot machines. Before leaving, they cut the telephone and light wires.

Forcing Brelsford to go with them, the bandits left the old club and went outside. There they told Brelsford to 'get over there behind that shed.'

As he started to obey their order, one of the bandits said, 'and we mean in a hurry.' Then shots were fired into the cinders around his feet to 'make him hurry.'

The men re-entered their sedan car, which was described to be new and either very dark blue or black, and sped south on Route 121.

Employees told Sheriff Kief that the man who was apparently leader of the gang, answered to the name of 'Blackie.' He was described to be about 5 feet 7 inches tall, of medium build, square shouldered, and about 45 years of age. He was said to have a 'hard look' and was drunk. He took a quart of whiskey with him as he left the club.

Description of Others

Another of the men was said to be about 5 feet, 10 inches tall, weighing around 175 to 180 pounds, and with sandy hair. He was wearing a light tan overcoat, a tan sport shirt with no tie, dark trousers, and a hat. He was the bandit who struck the bartender.

One of the men was said to be 'an old fellow' wearing a black overcoat. He had black hair, weighs around 140 pounds, and is about 5 feet, 7 inches tall.

A fourth bandit wore a 'bluish' suit. He was said to be short and to weigh around 150 pounds. He wears glasses and has a thin-lined mustache. Descriptions of the men varied a great deal.

No trace had been found of the men Friday morning."


John "Coonhound Johnny" Schwenoha's Roadhouse on Route 66

The most celebrated figure of the Prohibition era in Logan County was John Schwenoha (pronounced schwin-uh-haw), known as Coonhound Johnny. William Maxwell mentions that during Prohibition his father had "bought rotgut whiskey from a bootlegger named Coonhound Johnny. . ." (So Long, See You Tomorrow, p. 18).

Special introductory note: Several years ago when I published the first information on this page about Coonhound Johnny, I wondered whether he became legendary because he may have been a sort of Robin Hood folk hero, but it was not until after I added Joyce Ogden Gibson's material (early in March, 2009) to this page that I got some information from Dave Armbrust, LCHS Noble Class of 1960, that offered some testimony supporting the Robin Hood folk hero aspect of the Coonhound Johnny legend. Dave emailed me this interesting/important testimony on March 3, 2009, and I gratefully quote it here:

"Another Coonhound Johnny story from my Father (Raymond Armbrust)-- My dad worked for his Uncle Fred Armbrust in his grocery store and on several occasions when my dad was present Coonhound would appear and request a basket of groceries be delivered to some address where a family was having a hard time. 'Don't tell them who sent them just deliver the groceries.' Harry Gehlbach of Gehlbach Hardware (we attended church with the Gehlbachs) had similar stories of Coonhound coming in to buy either a cook stove or a heating stove and requesting it be delivered without fanfare to someone with a houseful of kids and suffering through a bad winter. It is no wonder many of the locals looked the other direction."

Then Dave emailed me another amazing Coonhound story: "Disclaimer: I personally heard this story from one of the people involved but hesitate to keep getting other folks involved. The following ramblings kind of set the scene.

On Sunday mornings after church my dad and I would go to a local drug store on Pulaski street (427 I believe) next door to Bushell's tavern (corner of Pulaski & Kickapoo). As a kid I pronounced the name Firebrackers when in reality I believe it was spelled Feurbacher. We would pick up a Chicago newspaper, medications and other supplies (my first razor) among other things before going home to one of Mom's wonderful Sunday dinners.

On one occasion Howard Bushell (tavern owner) came in and for whatever reason the subject of Coonhound Johnny came up, and Howard told this story: Coonhound came to Howard and asked if he might have access to the room over the tavern for a couple of days (room was used by various unions for meetings). It seems he had received news via the grapevine that someone was going to rob the First National Bank across the street. According to Howard, Coonhound sat upstairs for a day or two with a high-powered rifle keeping watch on the bank. Howard's take on this was that Johnny didn't want the Feds coming into Lincoln over a bank robbery and stumbling over his bootlegging operation.

Nothing ever happened at the bank. Is this true? I don't know but I heard it first hand. . . . I do not know where fact becomes legend or legend becomes fact."

Email Dave at [email protected]. (Use the following link to see Lincoln-IL-area photos of vehicles from the 1920 Coonhound Johnny bootlegging era that Dave contributed to this community history Web site: http://www.geocities.com/findinglincolnillinois/davearmbrust.html).

Besides owning and operating a roadhouse on Route 66 just north of Lincoln (near the present interchange of Business I-55 and I-55), Johnny was a long-time breeder of high-quality hunting 'coon' dogs. He kept the dog pens behind the roadhouse. Even before that, he kept dog kennels behind his home on Ottawa Street (address in Polk's Lincoln City Directory 1934-35, p. 155). Thus, Mr. Schwenoha gained his nickname. (Scroll to photos of him and his dogs below.)

Many locals knew Coonhound Johnny as the owner of the roadhouse seen in the photos below. (John's son, Vince, known as "Little Coonhound," pursued a somewhat different business career when he founded the Tropics restaurant in 1950.) The caption for the two photos of Mr. Coonhound's roadhouse reproduced here from Paul Gleason's book says, "After Prohibition in 1933, 'Coonhound Johnny' built his roadhouse establishment north of Lincoln along the Route 66."

According to Sanford Patterson, the local "conventional wisdom" was that Coonhound Johnny was the Chicago mob's organizer of bootleggers in Logan County. Why was Coonhound chosen for this role? My father, Darold Henson, said that Coonhound was a sociable, clever guy who knew the hot entertainment spots in central Illinois where he could take his big-city business associates to amuse and impress them.

Most likely, these places included Havana, Illinois where gambling was rampant, and such nearby backwater rustic retreats as Goofy Ridge on the Illinois River. Goody Ridge! Now there's a place for you. If you have never been there, you are missing a most curious adventure. Back around 1980 I went there to an auction because I was intent on buying an old oak ice box. Before the auction, my ex-wife and I sat in a local bar -- the community had many more bars than churches -- and had a beer, listening to the locals' banter. I recall one elderly lady complaining about the "stroke in the head" she had suffered. PS I did buy the old oak ice box and spent many hours refinishing it, but not nearly as many days as I spent refinishing an ancient, oak horseshoe-shaped bar that came from a tavern in Kingston Mines, south of Pekin on the Illinois River. The bottom of that bar was badly stained black from the boots of countless coal miners who had bellied up. But I digress.

Back to Prohibition in Logan County. Larry Shroyer describes law enforcement's attempts to control bootlegging: "Hardly a week passed without law enforcement 'cracking down' on stills and bootleggers. One such raid was made by Sheriff A.G. Alberts in 1920 and the confiscated corn liquor, in 55-gallon drums gathered from numerous hideouts in the county, was brought to the courthouse and covered the concrete walk from the steps to the street" (Beaver, p. 13).

Shroyer continues: "Another raid staged by Federal Agents and local officers on 17 places led to the arrest of 17 men on September 16, 1924. Two bootleggers, Coonhound Johnny Schwenoha and Dave Hobert, were jailed after resisting the 'Feds.' U.S. President Calvin Coolidge gave Schwenoha a pardon and he was released from jail due to ill health, the only 'bootlegger' ever to get a Presidential pardon" (Beaver, p. 13).

The prevailing view is that bootlegging gangsters killed those who failed to cooperate and comply with their impositions. This social history gives rise to certain questions: were murders and other crimes committed in Logan County and central Illinois as a result of bootlegging and mob activities? Seems I recall a gambling "mover and shaker" from Havana, Illinois, named something like Fay Raleigh (sp?), who disappeared one day, along with his new [1953?] Cadillac, and both have never been found despite numerous searches of gravel pits and strip mine pits in Fulton County.

Did Mr. Coonhound and his employees participate in the "strong arm" activities associated with bootlegging? Or, did they take a more genteel approach (higher moral road), leaving the unpleasant physical methods to their big-city associates? I have always wondered whether there were any murders in Logan County associated with bootlegging.

36.18: Well-Heeled and Well-Wheeled Big City Businessmen Visiting Central Illinois

(Photo courtesy of Joyce Ogden Gibson of Monrovia, CA)

36.19: Coonhound Johnny's Roadhouse on Route 66 North of Lincoln, Illinois

(Photo from Gleason, Lincoln: A Pictorial History, p. 179. Notice both Schlitz and Budweiser beer signs. Clearly, this was a day and age before exclusive marketing agreements.) In 1947, the roadhouse was moved downtown to Clinton Street across from Washington Park and became the first recreation center for high school youth in Lincoln. . . " (p. 179).

36.20: Coonhound Johnny's Spacious Interior

(Photo from Gleason, Lincoln: A Pictorial History, p. 179)

The bartender, drinking on the job, hoists a cold Schlitz or Bud. Is he even old enough to drink?

Coonhound Johnny, His Canine Companions, and Their Trophies

In February, 2009, Joyce Ogden Gibson of CA provided two rare photos of Coonhound Johnny found in her family papers, and she sent them to me for publication here. Respond to Joyce at [email protected].


36.21--36.22: A Young Coonhound Johnny, Canine Friends, and Their Shared Trophies

Click on above photos to access larger sizes. Various pelts include those of raccoons. Photos are courtesy of Joyce Ogden Gibson, LCHS Class of 1959, now of Monrovia, CA.

36.23: Three Hunting Companions with Trophy Fox

(Photo courtesy of Joyce Ogden Gibson)

Click above photo for larger version suitable for printing.

36.24: Dog Tag Denoting Proud Source

A memorabilia gift to Leigh Henson gratefully received from Bob Olson of Springfield, IL. The tag is heavy metal measuring 4" x 1 1/2". When I asked Bob how he came to know about Coonhound Johnny, he replied: "when I was in high school at LCHS (1973--1977), people like Thomas Beaver [an English teacher] still talked about him, and many people slightly older than me talked about the old "Rec," which of course had been Coonhound's roadhouse & tavern. Email Bob Olson at [email protected].


Jerry Ogden: Coonhound Johnny's Dog Customer and Hunting Companion

My email correspondent and good friend, Joyce Ogden Gibson (LCHS Class of 1959) of Monrovia, CA, writes that her father, Jerry Ogden (b. 1910), was a friend and customer of Coonhound Johnny: "my dad was very vain about his shooting and handling of dogs. I know he always bought his pups from Coonhound Johnny, and his name was heard in our house from forever. My dad and Johnny used to hunt together. I think there is a pic of my dad, standing with a rifle and a man on his haunches over to the left. I imagine that is Johnny. My dad always trained his own dogs. Lady, the white hunting dog in a few pictures, was uncannily intelligent. She was also my baby-sitter when I was tiny."

As the photos below indicate, Joyce's mother, Jennie (b. 1909) also enjoyed hunting. James and Jennie Ogden also owned and operated the J & J Tavern on Pulaski Street in downtown Lincoln during the 1930s and 1940s, as depicted later on this page.

36.25: Jerry Ogden with New Car


36.26: Jennie Ogden with
Dog Lady and Pheasant

The photos of Mr. and Mrs. Ogden immediately above and below are courtesy of their daughter, Joyce Ogden Gibson.

36.27: Jerry Ogden and
Unidentified Hunting Companion

36.28: Mrs. Ogden with Lady


36.29: Joyce Ogden Gibson with Lady, "My Babysitter," October, 1942

(Photo courtesy of Joyce; respond to her at [email protected].)

Keep scrolling to later sections for more information and photos from Joyce about her parents' business activities.


Rte. 66 Pig-Hip Restaurant Owner Ernie Edwards Remembers Coonhound Johnny and Al Capone

In 2006, William Kaszynski wrote a biography of Ernie Edwards titled Pig-Hips on Route 66, and the book is based on interviews with Mr. Edwards. In this biography, Ernie tells of his encounters with Coonhound Johnny and Al Capone, and I quote that account below with the generous permission of Mr. Kaszynkski:

"One local character that Ernie became involved with was a man known as 'Coon Hound Johnny.' He often wore a brown hunting hat and was apparently given his nickname because he liked to hunt raccoons at night with his four very ferocious hunting dogs. However, Johnny had hobbies other than huntin' coon, namely moon shining. Johnny had an ingenious scheme to keep from getting caught by federal revenue agents that kept him in business for years. He drove an old pickup truck that he outfitted to haul corn whisky undetected. Johnny cut a hole in the bed of the truck with enough space to fit eight 5-gallon tin cans of illegal liquor. He covered the hole with a canvas tarp and placed four wooden cages to cover the hole with the whisky cans. He drove around with one dog inside of each cage that he built himself of wooden slats. He made the cages so that the slats were just wide enough for the dogs to be able to poke their heads out to deter anyone who approached. He covered the cages with a tarp and was stopped on several occasions by revenue agents who patrolled busy highways such as Route 66. Each time they attempted to inspect his cargo, the dogs would snap at them and the agents would let Johnny proceed."

"Johnny lived in Lincoln and would drive south approximately 60 miles to Macoupin County to an area know as Macoupin Bottoms to pick up moonshine whisky and transport it back to Logan County. Macoupin Bottoms is in the vicinity of Carlinville, on Illinois State Route 4, which was the early alignment for U.S. 66 from 1926 to 1930. Times were still tough even in the 1940s and people had to resort to almost any means to earn a dollar. Farmers sometimes only got ten cents for a bushel of corn and a few corn farmers found that trafficking in 'white lightning' was a lucrative way of making some extra income, so they made corn whisky and sold it to 'runners' like Coon Hound Johnny. The terrain in central Illinois is basically flat prairie, while the land in Macoupin County is honeycombed with hills and hollows, making it an ideal location for the moonshiners to hide their whisky stills. One night, two agents stopped Coon Hound Johnny in the Macoupin Bottoms as he was heading north back to Lincoln. They asked Johnny what he was doing in the area and he replied, 'Coon hunting.' The agents noticed several rifles in the pickup, which Johnny always kept in the truck to complete his disguise. They lifted back the canvas tarp and asked, 'Are these your dogs?' Almost immediately, the dogs began barking and one lunged at one of the agents. The frightened agents left Johnny alone and let him proceed on his journey. Coon Hound Johnny's business went on for years and he was never caught."

[Leigh's note: earlier on this Web page, I quote Larry Shroyer's account of how Coonhound was once apprehended, jailed, but later pardoned by President Calvin Coolidge because of Coonhound's poor health. Coonhound lived to be only 48 as indicated on his tombstone in Holy Cross Cemetery just south of Lincoln. For a photo of Coonhound's stone showing his dates, scroll to #11.60 at 11. Route 66 Map & Photos Showing New and Old Union Cemeteries (William Maxwell family stones) and Lincoln Memorial Park (site of Kickapoo Indian Village and of Illinois's Largest Chautauqua Village)].

"Coon Hound was known for his pleasant and easy-going disposition and got along well with the local law enforcement. He did favors for them and gave away turkeys to the chief of policy, the sheriff and other police officers at Thanksgiving time. Rumor had it that he had paid off the Logan County Sheriff. He acquired a tavern and installed a few slot machines and had a regular business supplying slot machines to places like stores and gas stations. Johnny convinced Ernie to rent a few machines for extra income. The slots took nickels, dimes and quarters and the profits, especially the quarter machines, helped Ernie pay his bills. Slot machines were legal in the U.S. until the late 1940s until most states (except Nevada) outlawed them. They were declared illegal in Illinois around 1947, but Coon Hound stayed in business. Ernie hadn't heard of the change in the law and Johnny continued to stop by the Pig-Hip once a week to collect $2.00 for each machine. Ernie thought that he was paying a license fee and later read an article in the Chicago Tribune newspaper describing police raids on places with slot machines."

"Coon Hound curried the favor of some local law enforcement authorities and was able to tip off his customers if he learned of an impending police raid. One night, Coon Hound called Ernie and told him that the state police were about to make some raids in the area. [Note: during the administration of Governor Greene, there were rumors of corruption in the Illinois State Police, so someone in that force may have tipped off local authorities when raids were scheduled. Governor Stevenson reformed the State Police and conducted raids.] He told Ernie to hide his machines, so Ernie moved them to his basement. Soon thereafter, several squad cards swept through the front drive of the restaurant but continued south, leaving off one officer. The trooper came in and ordered everyone not to leave the building and that they were all under 'house arrest.' He looked around a bit and muttered that he was from Chicago and had no idea where he was. Confident that the lone trooper wasn't going to be much of a problem, Ernie decided to play a practical joke. As one of his regular customers was sitting quietly at the end of the lunch counter, Ernie whispered to the trooper, 'See that guy over there? you better watch him. He's with Capone's outfit.' The trooper put his pistol on the counter and everyone froze. However, the trooper ended up leaving without making any arrests but confiscated two 'punch boards,' another gambling item that Ernie purchased for 37 cents each (they were similar to today's 'pull tabs.'). The trooper was picked up as the squad cars headed back north and taken back to Chicago. After the incident, Ernie called Johnny and said he wanted no more to do with the slot machine business. Johnny calmly told Ernie that he'd take care of everything and arranged for a laundry truck to stop by and pick up the machines."

"The loss of the slot machines meant a loss of steady income, so Ernie had to go back to earning a living 'the hard way.' Johnny and Ernie remained friends, however, and he could always count on Johnny for a short-term loan if he needed any money."

[Leigh's note: the State Police raid referred to above could not have been among the most famous State Police raids conducted in 1950 as ordered by Governor Stevenson because according to Coonhound's headstone he died in 1944.]

"Ernie's association with Coon Hound Johnny led to his meeting one of the most notorious criminals of the century. The Chicago gangster, Alfonso 'Al' Capone, was released from prison in 1939 and lived out his final years at his luxurious estate in south Florida. Most people believed that he left his life of crime after leaving prison, particularly since he was suffering from the advanced stages of syphilis. Ernie heard that Capone went to Hot Springs, Arkansas, to visit the steam baths on occasion. Ernie traveled to Hot Springs hoping to meet Capone but never found him. In any case, 'Big Al' still made it back to Illinois once in a while for some illegal activity. On several occasions, Coon Hound Johnny called upon Ernie to take him and Capone to Springfield. Ernie didn't ask any questions and didn't know the manner of Capone's business but nevertheless acted as their driver several times. Ernie would drive to Coon Hound's home five miles north of Lincoln to pick the two up and take them to the Cloverleaf Restaurant on the corner of Fourth and Jefferson in downtown Springfield. He was instructed to drop the pair off on the corner and pick them up in a half hour. These trips seemed to coincide with the state legislature's regular sessions."

"Capone and Coon Hound rode in the back seat of Ernie's car and hunkered down for much of the journey to keep from being recognized. Capone had aged considerably since his gangster days and appeared frail. He was usually very quiet, dressed plainly and always wore a felt hat that he kept pulled down almost over his eyes like most hoodlums of the time. He didn't display his wealth and was quite congenial, except once in a while he'd get angry and pound his fist. While en route to Springfield, they often stopped at a Standard filling station in Lincoln on the southwestern corner of the intersection of Route 66 and Illinois State Route 121. [Also, Illinois Route 10, intersecting from east-west, and this intersection is the famous "Four Corners."] A family named Werth owned the station and they lived in a house about 40 feet behind the building. They had a pear tree in the yard and one time, a couple of Capone's men tried to pick a few pears. A woman, probably the owner's wife, came out and chased them away with a butcher knife. Other than that, most trips to Springfield were uneventful. Today, Werth's is an oil changing and lubrication business. . . ." [pp. 63-65).

36.30: Standard Filling Station Referred to in Coonhound-Capone Anecdote Above

(Photo courtesy of Dave Armbrust, LCHS Class of 1960)

Reminiscence from John Dean Wilham, Herb Ayers, and J. Williams

Note: Thanks to Joyce Ogden Gibson for forwarding Leigh the following emails:

From: John Wilham <[email protected]>
Date: Tue, Mar 24, 2009 at 6:16 PM
Subject: Fw: I was too young to remember

Note to interested parties. I am John D. Wilham and do genealogical research for my own enjoyment. Coonhound Johnny has always been an interest as both my wife and I are from Logan County originally. To give you some idea of my interests, I was born on May 28, 1939 in the front bedroom of a farmhouse about 1/2 mile north of Lake Fork on the "Primm Road" (which still exists). I went through the school system in Mt. Pulaski, and operated two businesses for over 35 years. One, a construction company, the other a design and sales company. Our main focus was on building and maintaining inland river ports (barge loading/unloading). I am related to many families in Logan County. Surnames such as Wilham, Wines, Lucas, Copeland, Erlenbush, Ayers, Phillips, Crozier, Green, Kilhoffer, Shanle, Dill, etc. My genealogy database is well over 3,500 people.

My wife, Sara Lynn Lolling Wilham, grew up on farms about 2 to 3 miles from "Tom's Lodge". Her father's first farm was demolished in a tornado about 1950, and they took shelter in the chicken house (I think I have the Lincoln Courier from the following day). Sara's father, Henry Simon Lolling, worked one of the Scully farms nearly all his life.

Leigh, certainly, you can utilize any material I sent. Some of the material, of course, is "hearsay" passed down or witnessed by me when I was very young. Leigh, thank you for the "Coonhound Johnny" history. Many people in Lincoln or Hartsburg had never heard of Coonhound. There are still many people alive who could add to this history I'm sure. My cousin, Keith Wilham (85) of Mt. Pulaski has an excellent memory and might be a good one to interview.

Most of the population were working people and during WWII did enjoy a few beers or other drinks at many colorful local bars. In the letter I failed to mention "The Maple Club" and "Harry's and Marys". In the text of this letter to a relative (Herb Ayers) who resides in an assisted living facility in California and is E-mail and computer literate (born 02/December/1919). Besides my first cousin once removed, he is my friend. The Lincoln Courier article sparked the following E-mail to Herb.

When I was about 5 years old, my dad took me out to Coonhound Johnnie's home and bought a 50 lb sack of black market sugar. This must have been 1944 as Coonhound died in 1944 and had I been any younger I doubt that I could have remembered. One of the things that sparked my memory is out front of Coonhound's cabin was a little shed full of cages of raccoons. I think when a visitor hunter came, that they would release a coon to get the dogs to run.

I also remember when mom and dad lived on a small farm near Buffalo Hart, that "Shavey Mason" worked for the state and would mow the rt. 54 right of way, putting up his horses in our barn and staying the night (for which my parents were paid). I remember Dad telling me that both Shavey and George Mason were "Coonhound Johnnie's" right hand men. "Coonhound (John Schwenoha). I remember that my mother complained that Shavey always peed out the upstairs window staining the side of the house. There was a rumor that "Coonhound's" money built the "Tropics" in Lincoln.

In 1963, I had sold a grain dryer at Hartsburg Grain Company. When we started it up, along came George Mason hauling a wagon load of ear corn pulled with a pair of horses. I guess they were just opening up their fields and hitched up the horses.

When I was 5 or 6 (1944/1945), my dad and mom would go dancing at "The Crawdad Hole", down by Dawson, just a few miles from our farm. One of the things I remember was all the chewing gum stuck under the tables and the bar. Did you ever go there? I remember that they had a 4:00AM license. I remember some of the jukebox songs from there ("Bell Bottom Trousers") ("Sioux City Sue") (Oklahoma Hills), and some of the "big band" stuff. Do you remember any other popular songs of that era?

Herb, I know you had mentioned that you had worked for the munitions plant at Illiopolis, IL during that time. I would be interested in anything you can remember about those times. I also remember that my parents danced to "big band" music at the "Old Pioneer" tavern in Lake Fork, IL. Again, at 5 years old, I remember my father digging the well there. Jobs were hard to find, and the men who were digging the well made 3 times the money that the workers above made who cranked up and took away the earthen spoil. Somehow, I remember the drummer's name "Hank Letterle". I remember that a family named Coats ran the bar for several years and that their daughter who was in my 3rd grade at Mt. Pulaski passed into a coma and died of died of unsuspected diabetes.

Harry's and Mary's was a busy place during the 1940's, and I remember being there with my father. It has gone through several owners including David Dinger and ran as Dinger's place for several years. Davey works at Stahl Furniture a quarter mile down the road. He may have heard some stories over the years of that place. I can't confirm it, but I understand that the "Mary" from "Harry's and Mary's" tended bar at Tom's Lodge for several years. I think her name was Mary Houchins. "Harry's and Mary's" has reopened under new ownership recently (it has a Sunday license).

Maybe Herb Ayers, my nearly 90 year old cousin will have something to add.

One time at "The Old Pioneer" in Lake Fork, my father and me stopped and we were the only customers in the place. I was about 5-1/2 and this was 1944. There was one of those old fashioned punchboards and a male doll as a prize. The board was about punched out, and after a few "no wins", my dad bought the 32 remaining punch-outs (these were little paper tickets were "accordianed" to where they were only about 1/8" square when in the punchboard). NONE OF THEM WERE WINNERS, so the bartender had to give my father the doll.

When I was 18 to 25, a couple named Lou & Bev Johnson owned and operated the Tropics. Lou's sister worked there too. Across the old Route 66 was the "Blue Inn" and I think was operated by Lou's or Bev's brother....Can't remember his name. I heard at that time that "Bev" was the grandaughter of Coonhound (whether Coonhound or Coonhound Jr., I don't know).

Somewhere on route 10 west of Lincoln and off to the south about a quarter mile, a man named Arthur Park (A.M. Park) hired my father to sink a coalmine shaft. This would have been about 1953 or 1954, I think. For whatever reason, work was stopped and never restarted. I also remember that about a half mile west of the Wurth gas station there was an airplane hanger and a grass landing strip. I think that the proprietors were named Seaman.

Herb didn't remember much more than I did, but I had forgotten a couple of other night clubs that he mentions: The "Subway" at Riverton, IL. Herb mentions "Goofy Ridge" where I have heard that Al Capone's chums went to hunt ducks and drink the nights away. I had a belly laugh when I read Herb's last sentence. He is 90 and has the right to mispell!

JOHN DEAN WILHAM

From: Herb Ayers
To: John Wilham
Sent: Friday, March 27, 2009 1:46 PM
Subject: Re: Herb: I was too young to remember

i realy enjoyed your mail about all the bootleggers. i hazve visited all of them when as a tgeenager and just exploring. i also knew or was told that young coonhoud built tjhe tropics. he was not like his father in far as the company he kept. we my wife and i would go to the old pioneer and dance sometimes. i remeber when it burned as i was on the fire department .one of our favorite places to dance was the subway at riverside. i remember one nite when we had to leave as it was their closing time and i ask the bar keep where we could go that would be open and he said you might try church. we also went to the place near dawson. it was quite a rundown place and had no indoor facilities. you needed to be careful where you wsalked as i got pretty muddy out back the crawdad hole. i've been to goofy ridge one time with johnmartin when we were in havana duck hunting. the maple club was going great back in my younger days and i went when i could afford it. didn't have much money then and was going to lincoln collage. i rember one nite i was coming home fro a dance at the collageand i driving a 1929 ford coupe. it stalled just in front of the club i went in and found someone from mt.pulaski and he said he would pull me home if i had a tow rope. i said that i would find something so i went across the highway and twisted a piece of barbed wire fro the fence it was realy cold but i got me and the car home. water in the gas line had frozen. sorry for all the errors and spelling but i' starting to get old. Herb

From: <[email protected]>
Date: Thu, Apr 2, 2009 at 6:30 PM
Subject: T Edward Hickey

Greetings, my grandfather, Ed Hickey, often spoke about Coon hound Johnny and his silent tracking coon hound. Grandpa said "We wouldn't get the guns out of the trunk and that dog would have a coon in treed. He (the dog) wouldn't make a sound until the coon was in the tree." I can remember a couple of the stories. Maybe not the names, but enough to figure them it out. One night they were playing cards and one of the players showed up late. He said he ran into someone. No one asked thought it was talking to an old friend. They played cards and finally someone asked "Hey, who'd ya run in to? Reply, "I didn't know who he was. He walked out in front of my car as I was going down (street north of Pulaski) and ran him over and killed him." This guy played cards all night didn't say a word. Do you know or do you know someone that would know anything about Ed Hickey. I think he must have been something when he was younger. I know he was when he was older. He raised me, I'd like to know more. Thank you for your time. J Williams

36.31: John Schwenoha Headstone in Holy Cross Cemetery, Lincoln, Illinois

Photo by Leigh Henson

I stumbled across this headstone while hiking-roaming through Holy Cross Cemetery. This former bootlegger did not have a long life, but perhaps it was a happy one. The headstone is located on the west side of the cemetery, just above the Route 66 cut (ravine) in Cemetery Hill between Holy Cross and Old Union Cemeteries. His final resting place is an appropriate location because he drove Route 66 between Lincoln and southern Illinois countless times in obtaining his contraband product from that part of the state. Also, this location is near the Salt Creek bottoms, which Coonhound must have hunted in countless times as well.

Note: Coonhound Johnny's son, Vince, was known as "Little Coonhound," and he founded the Tropics restaurant in 1950. Information about the tropics is found in this site at http://www.geocities.com/findinglincolnillinois/rte66overview.html.


Email Discussion of Coonhound Johnny (email addresses may be obsolete)

Coonhound Johnny's post-Prohibition roadhouse became the subject of several email exchanges among Lincoln Community High School alums of mid-20th Century:

Email from Fred Blanford (b. 1941--d. 2008) (sent to 160 mid-20th Century LCHS alums on October, 2002):

"With Leigh dividing his site into categories, I figure Arts & Entertainment would probably be one important group. For all as have moved away, IL does still participate in "politics as entertainment" -- how else to explain its long history. The subcategory I wish to deal with today goes back to the late 40's early 50's. My memory is hazy.

I can remember playing penny and nickel slot machines in many locations in Logan Co. They were not as much fun as the pinball machines which (my memory recalls) did pay off also if a certain level of accomplishment was achieved. Since such activities have garnered mixed press over the years, I dare not name names (individuals or locations) lest some might to this day be offended. While a chair was too high, a beer case was about the right height for me to play the machines. Lincoln's involvement continued into the 60's as I recall reading about the seizure of a truckload of slots in Lincoln -- reported in a Chicago newspaper while I was resident in Champaign.

The entertainment/politics angle goes back to the night (40's-50's) my dad came home -- said get in the car we're going out -- and we drove to various locations in town to watch as the machines were hauled out of various establishments (to the County Fairgrounds as I recall) where a photo-op was created for someone to take a sledge to some of them. The only name I will name is C. Marvin Hamilton -- Mike's dad. Even way back then Mike was a friend of mine -- so his dad's involvement stuck with me while the involvement of other adults that were unknown to me did not make a lasting impression. Marvin was either State's Attorney or an Assistant SA at that time and was involved in any prosecutions that may have taken place.

Over the years I heard the phrase "Good Government" that referred to a rather looseknit group that had organized and exercised some influence in Lincoln around that time. I DO NOT know which side of that group Mr. Hamilton may have come down on. I am given to understand that there were a few prosecutions --very few is the usual summary -- may have been no convictions -- and apparently a lot of hard feelings. As an adult, when I asked various people that I had been given to understand were part of
the affray (one side or the other) to tell me about it -- I was unable to get anyone to tell me anything further. To this day, while I may know a lot of names that were ostensibly involved -- I have never been able to ascertain who all was involved -- who was on what side -- what occasioned the divide -- and what the results were. I have found no one who was there and knew what was going on that wanted to talk about it.

Artifact: An object produced or shaped by human craft. . . of archaeological or historical interest.
Affinity: A natural attraction, liking, or feeling of kinship.

In the past I have demonstrated to many folks a certain affinity for worthless old things (a kinship no doubt) which might be considered artifacts. As a result, a few years back a friend gave me what I can
only describe as three "mint" rolls of "artifacts." The items are marginally smaller in diameter, thinner and naturally lighter weight than a nickel. With no hands-on knowledge of the use, purpose or intent
of these items, I am left to speculate. I can only observe that to merit the cost of production --the use must have been fairly institutionalized at the time."

The image below of the "artifacts" (slot machine slugs from the K of C) was provided by Fred. His image includes the coins for size perspective.

36.32: Slot Machine Slugs

Sue Phillips' response:

"Back to slot machines (only because I just read what Fred wrote tonight). I cannot remember much & I do know I had to have been younger than 11 years old because my parents were not divorced yet, but I do remember a restaurant that was torn down many years ago & I was there with my parents one night & everyone was quiet & just not acting like they usually did, & my dad told us to not go out back because the slot machines r there waiting for "them" to pick to them up. I did not really know what that meant but I do know I was always afraid of what was "out back" at that restaurant & never wanted to go back there because the adults were so quiet & whispering & just acting different than usual & so I thought that whatever was out there must be awfully scary."

Respond to Sue at [email protected].

Ted Allison comments:

"I have a rather clear recollection that the slot machine raids were conducted by the state police during the time that Adlai Stevenson was Attorney General of Illinois, and that this was his initiative. Which may
help to explain why Stevenson never was very popular after that!"

Respond to Ted at [email protected].

Dan Gaydosh had written to Fred:

"You are thinking about the Good Government Council. This was quite a time in the county during the early 50's. Issues from this era divided Lincoln into two groups. One group was made up of the circuit and county judge, the state's attorney, the county treasurer, the sheriff, the police magistrate, the newspaper, politicians, and others. The GGC was made up of prominent businessmen, local clergy, a lawyer who became a future mayor of Springfield and a Chicago newspaper.

I was just a kid then but I remember some things that may or may not have been true. The slot machines you mentioned were first taken to the basement of the courthouse. They were supposed to be destroyed, but they mysteriously remained there intact with money still in them. When that was discovered and exposed, the slots were hauled to the fairgrounds where they were run over by a bulldozer.

Another story consists of a petition being signed by many people. All those people were summoned to court and told they would be in contempt of court unless they took their names off the petition. The judge was later censured by the state for this constitutional violation.

I believe there were charges of corruption made against one official and maybe a trial was held. The results of this trial might have led to the petition. A number of secret meetings were held by various groups. Furious election battles were held until the whole thing died out in the late 50's.

Another rumor was that a race track was to be put into the still open area west of the radio station.

The whole thing was brought to light in the Chicago papers and made Lincoln a famous (infamous?) place for a while. I believe we were referred to as Little Chicago.

I cannot vouch for the authenticity of all of the above; these are just vague memories that I have. I'm not sure of all the issues involved, just that part of Lincoln and Logan County was supposedly corrupt and the other part was out to save it.

It would be interesting to research this story. Sounds like it would make a good book and TV movie for you or Leigh to make."

Respond to Dan at [email protected].

Dan Gaydosh wrote in a follow-up email:

"Coonhound Johnny is sort of a folk tale figure to me. Stories heard by a little guy listening to grownups visiting with each other. I believe he got his nickname by training coonhounds, dogs that chased and drove coons up a tree at night for night hunting. His main job was producing "beverages" for thirsty people. It was hinted that he had connections to the Chicago mob, especially when there was a body of somebody who had been shot that was found along old Rt. 66. Again, this is all hearsay that goes back way before our time, Leigh. Don't make us any older than we are!" Dan Gaydosh

Dave Salyers emailed the following in response to fred's account of the slots:

Just read some of the mail on slots, etc. In the mid-1970s, my father called me to ask if I wanted a slot machine.

Long story short, he knew a guy who had several slot machines in his garage. Provenance for all of them was Coonhound Johnnie's.

(I still don't know where CJ's was.) [Note: I emailed Dave that the CJ's was located on Route 66 just north of Kruger's Elevator--on the east side of the road near the I-55 interchange.]

A friend and I rented a truck and drove to Lincoln to pick up a vast array of separate parts -- sort of like buying several autos -- all unassembled.

We hauled them back to Chicago and found a fellow who repaired slots and told him we wanted three completed, working machines out of the lot and that he could keep the rest (probably a heck of a deal for him, because he didn't hesitate a second in agreeing).

Anyway, I've still got one lovely Jennings Indian Head 5-cent machine sitting in my home.

Hope all is going well for you.

David Salyers Respond to Dave at [email protected].

Leigh replied:

"Dave, I mentioned my ignorance [about slots] and suspect many other folks in the LCHS alums' email group are like me -- heard about 'em but never saw one. I did a quick search at Google's images and came up with the following image and description. Does your machine look something like this?"

Respond to Leigh at [email protected].

Dave confirms:

"Yes, apart from the fact that mine sits in a wooden case with a metal rod at the bottom that serves as a foot-rest for the "serious" player.

The red side lights are illuminated when plugged in, and there's a brass Indian head that you can see just below the lemon, if you look closely." Dave Salyers

Below is a photo of the Indian head slot machine I found on the Web (link below). That Web site explains, "They [Indian head slots] have the highest odds against a player. They make enough money to pay for all the overhead cost required to run a large, modern casino. The big payoffs are far and few, but people play the slot machines more than any other casino game."

36.33: Indian Head Slot Machine from www.jme.com/slotsbody.htm

For many years in the 1950s and 1960s, Coonhound Johnny's roadhouse had enjoyed a second life as the public recreation center of Lincoln (becoming the famous "Rec" -- and sometimes still infamous -- but without the "slots"):

36.34: Coonhound's Roadhouse Reinvented as "The Rec"

(Photo from Gleason, Lincoln: A Pictorial History, p. 118)

For an explanation of why the Rec remained infamous, write to Jon Diers [email protected] or Jeff Fults [email protected].


The J & J Tavern of the Route 66 era was located at 408 Pulaski Street, and for decades beginning in the 19th century, this location was the site of numerous watering holes with other names now forgotten. This location is between the Kerpan Grocery, which was on the corner of Pulaski and Chicago Streets, and the Rustic Tavern on Pulaski Street at the alley. The J & J was one or two doors from the Rustic Tavern, the alleged site of the conspiracy to steal Abraham Lincoln's body in 1876. For a 19th-century photo of the site of the J & J site and the Rustic Tavern, access the page link immediately below and scroll down to near the bottom at the section titled "Early 20th-Century Photo of Pulaski Street with Rustic Tavern at Far Right": http://www.geocities.com/findinglincolnillinois/alincoln-lincolnil.html.

Joyce responded to my request for background information about her parents' ownership of the J & J. Joyce tells about her mother's early life: "Jennie Caroline Krueger was born in Altamont, Il, 1909. Sister: Edna Caroline Krueger (Miller), 3 brothers alive; one died as a baby. My father was Garland James ["Jerry"] Ogden, born in Springfield, Il (?), 1910. Sister: Ruth Ogden (Morris), 2 brothers."

"Both families were very poor. My Grandma Ogden urged Mom to marry my Uncle Alva--said he loved her and wasn't a philanderer. When Mom was going into 7th grade, I think because she was not a very good student, she was asked if she wanted to go to school, work with Grandma Anna (Burger) Krueger in the house, or with help Grandpa (Gus) Krueger in the fields. She chose the fields. Mom was crazy about horses but--again--no money for a riding horse. They had two work horses that she (secretly) rode all the time. Finally, Grandpa surprised her with a pony on her birthday. She LOVED that little horse and since she was enamored with all the female shooters and riders of that time. She taught herself to ride bareback, standing on the pony's back, making her brothers jealous. She was also a very good shot with a gun."

Joyce reported that her parents "were married in Springfield, IL, in either 1930 or 1931. They worked in Chicago as a chauffeur and personal maid to a rich family. When they would go to the FAIR (world's), movie, opera, etc., the lady of the house would braid Mom's hair and dress her in kids' clothes so she could pay for a lesser fare. Mom said she always looked very young for her age, probably late 1920s, early 1930s. It was probably in his chauffeur capacity that my dad met some of the Chicago hoods, including Al Capone, who later visited him in Lincoln."

Joyce candidly continues: "they operated the J & J from the early to late 1930s. I don't know a lot about the J & J, but I'll tell you what I know. It was opened after they stopped driving their truck. Mom said they helped take government stuff across country. I have a feeling that they ran whiskey."

36.35: Jennie Ogden with Truck of Family Business Prior to the J & J

Joyce continues, "my dad ran the tavern until he went into the Navy, then my Mom had the pleasure (ugg) of doing it. My dad didn't trust anyone else to do it--afraid they'd cheat him. You know it takes one to know one. During the time he was in the Navy, he paid someone to start a fire in the J & J for the insurance. They didn't do much of a job though. Mom and Dad used to have fish fries at the tavern, and Mom would make a lot of something to take down on Friday nights. Mom said my Dad watered down the liquor--not enough so someone could tell. They also mixed some homemade stuff with the regular liquor. They sold the tavern after they got a divorce in 1943 or 44. My mom was refused communion at Zion Lutheran Church because she bartended at the J & J, and then later because she was divorced. It really saddened her."

Joyce comments, "also, reading about Coon Hound Johnny and Hutton's lodge--even the Mill. Mom and Blossom [co-owner of the Mill and its cook and waitress] were good friends. . . . She would come to our house for coffee--I think in the '50's, makes me feel proprietary. They were MY Coonhound Johnny, and MY Hutton's Lodge. Isn't that silly?" [Leigh's note: not silly. Our recollection of the past is unique to each of us, and we are thus the only ones who can really own it. But we can also donate some of what we own--if the government doesn't take it all-- for the common good. The trick is to decide what to keep for ourselves--private property--and what to share. Extensive sharing has made this community history Web site possible.]

The following photos of the J & J Tavern and its owners, Jennie and Jerry Ogden, are courtesy of their daughter, Joyce Ogden Gibson, of Monrovia, CA. Respond to Joyce at [email protected].

36.36: Jerry and Jennie Ogden in Front of J & J Tavern


36.37: Jennie Ogden in J & J Front Doorway


36.38: Jerry Ogden Behind Bar with Two Unidentified Male Customers

Click on above photo for larger version. This photo shows bar stools, while the photos below do not. Perhaps the above photo comes from a later time than the bar shown in the photos below. Besides the stools, the back of the bar seen above has a clock and more signs than seen in the following photos.

Joyce recalls falling off the bar stools at the J & J when she was very young. "My Grandmother, Anna Krueger was my darling baby-sitter, but I always wanted to be with my Mom. When I just couldn't stand to not see my Mom, I would sneak down the alleys to the J. We called it the J. One 'trip' downtown to visit my Mother, who was tending bar, led to a 'trip' off the bar stool onto my head. I remember seeing stars and then being warned not to spin around on the bar stood any more. I also remember talking the next door neighbor's granddaughter into running down the alleys with me to get a candy bar and pop. She got in big trouble so it was the ONLY time she ever did that."

As the daughter of parents who owned a downtown business, Joyce early on became familiar with that part of town, as indicated by the photos below:


36.39: Joyce Gibson Ogden,
City Hall in Background


36.40: Joyce on the
Square at Broadway St.


36.41: Jerry Behind Bar, Jennie at Right, and
Others Unidentified


36.42: Jerry and Jennie Behind Bar,
Others Unidentified


Click each photo for a larger version, and then click on that one again for an even larger version. In the photo above at right, notice the pinball machine (at left) and the cuspidors (spittoons) in both photos. Notice the photo above the back of the bar. The subject is unidentified but was perhaps the governor of Illinois. Joyce notes, "at some point when they took the one-armed bandits out of the basement of the J & J, many of them came down to our basement there on Wyatt Ave. People never came to pull the handles, and they were covered up--seems like in the coal bin."


36.43: Jerry Ogden Ready for Customers

Click photo for a larger version. The liquor selection is impressive. Notice the details, including the sign that says "No Ladies Seated at Bar." There was decorum even in a working-man's watering hole. Previous photos show ladies standing at the bar.

36.44: Jerry Ogden Center with Friends Holding Giant, Skinned Catfish

Joyce says the photo above was taken in the J & J, and she provided an undated Lincoln Courier clipping with the following story: "Lincoln, Ill., Aug. 1--Jerry Ogden and George Gluick with friends Wednesday night were displaying a hefty specimen of the catfish that the succeeded in hooking in Reel lake in Tennessee early Thursday morning. The blue catfish tipped the scales at 48 pounds. The men reported the fish made delicious steaks when dressed. The men said their total catch included a big string of crappies and two large bass."

Joyce also commented that "other people would also bring in a load of fish or deer, etc., from their hunting/fishing trips, and when the did, Mom would cook and service it. From what I remember, the food was always free and an encouragement to drink more beer or booze."

Leigh notes that his dad said as a kid in the 1920s he used to go to the Mill for free wild game dinners. The owner at that time liked to hunt squirrels and would skin and fry them to offer free dinners to his tavern patrons and friends.

Joyce provides an undated clipping from the Lincoln Courier with an article titled "Tavern Burglary of $160 in Goods." "Merchandise including cigarettes and liquor valued at $160 was stolen early Tuesday morning from the J. and J. Tavern, 408 Pulaski Street, operated by Jerry Ogden, according to a report made to police."

"The theft was discovered by Officer Jacob Leininger at 2:30 a.m. when he heard a tramp dog, which has been staying in the alley, barking. He investigated and found the back door of the tavern had been jimmied open."

"The thieves apparently used a car to haul the loot away as employees in the nearby Molloy restaurant heard a car drive away from the rear of the tavern about 2:00 a.m."

"Chief of police Marshal Brannan investigated Tuesday morning and reported 120 cartons of cigarets [sic] and 10 quarts of whiskey were stolen."

"Chief Brannan also was investigating the theft of pillows and sheets from the beds in two rooms at the Commercial hotel sometime during Monday night. Wesley Clark, manager of the hotel, was of the opinion several hotel guests cleared out early Tuesday with the bed linens."

Joyce continues: "oh, during the time my Dad came home from the Navy (he paid a doctor to say he had a bleeding ulcer to send him home), and during the time he was getting very interested in "the other woman," he was starting the J & J Garage in Springfield. . . . He had a contract with the Springfield police, maybe state police too, to service their cars. There was interesting talk about that. In case you haven't noticed, my father was a Jr. Hood."


Hutton's Lodge, Later Known as Lonnie and Mae's, Then and Now Tom's Lodge

Below at left is a photo of a roadhouse located on Route 121 between Lincoln and Hartsburg. Presently it is a tavern called Tom's Lodge. Previously it was called Lonnie and Mae's, and originally it was Hutton's Lodge, allegedly one of the watering holes frequented by Al Capone and his gang. Some where nearby was Coonhound's Grove. Local lore says it was a rustic retreat used by the Capone gang.


36.45: Route 121 Roadhouse


36.46: Ad in 1954 Lincoln Evening Courier

Joyce Ogden Gibson Writes About Hutton's Lodge, Her Father, and Al Capone

Joyce wrote: "my father, Jerry Ogden, owned or managed Hutton's Lodge. That was where they used to have parties for Al Capone. Whenever Al Capone came into town, my dad would take him out to Hutton's Lodge for booze, food, women, and dancing and whatever else he wanted. Mom said they had to call him by another name--Mr. Blah Blah ????

I know my dad watered the booze, and my mom would get mad at him. They had pinball machines and one-armed bandits at the Lodge. I remember hardboiled eggs in a big jar out there. I remember when we would go out to Hutton's Lodge, and there would be a TON of people out there. Usually at night. I loved to go out there because we always got to see people who were nice to me and gave me candy. We used to have lots of pictures of all the goings on out there."

"My mom did the main cooking. She said Capone always 'bragged on' her potato salad and slaw. I still have a set of ceramic bowls she kept because she said Al Capone had eaten coleslaw and potato salad out of them. I believe this was during Prohibition. Coonhound Johnny used to take Capone hunting or sold him a dog or two. Johnny had a dog run somewhere behind the Lodge." (Emails to Leigh of 9-2003 and 2-2009). Respond to Joyce at [email protected].

36.47: The Bar at Hutton's Lodge

(Undated photo courtesy of Joyce Ogden Gibson)

The quality of the photo is poor, and the only one Joyce can identify is her mother, Jennie Ogden, at the left.

Dave Salyers Writes About Lonnie and Mae's (formerly Hutton's Lodge)


"As to roadhouses, in 1962, Roberta Vlahovich and I used to drive up 121 to a place we could dance to music from the jukebox. I was fresh out of the army and ready to return to school in the fall. But the place we visited wasn't the one in your photo -- unless it has been radically altered.

Yet, I recall it was called Lonnie and Mae's. The place we visited sat on the east side of the road. I had a sweet, blue TR-3 that I'd brought back from Europe, and one lovely summer night, Roberta and I drove back to Lincoln on a back road. The top was down, and we could smell the blooming clover and alfalfa in the fields.

We were batting along, deep in conversation, when I saw, to my terror, that the road before us "teed." It was pretty exciting for a couple of nano-seconds as I braked really hard and slid the car about 90 degrees. I was lucky to keep it on the road.

Well, God watches out for idiots and young people, I guess." (Email to Leigh of 5-2004). Respond to Dave at [email protected]

Entertainment in Other Lanes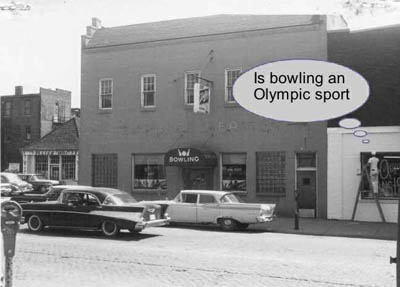 36.48: Harold and Paul Madigan's Ten Pin on Broadway in the 1950s
(Photo provided by D.D. Welch with caption by Norm Schroeder)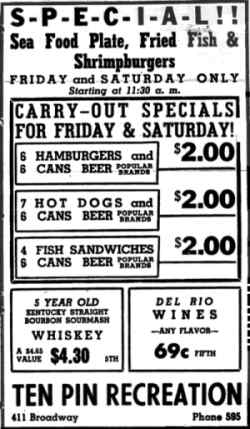 36.49: Ten Pin Ad from Lincoln Evening Courier, April 2, 1953, p. 5
shrimpburgers?
Email comments, corrections, questions, or suggestions.
Also please email me if this Web site helps you decide to visit Lincoln, Illinois: [email protected].
"The Past Is But the Prelude"