1860 photo taken 4 days after Mr. Lincoln visited Lincoln, Illinois, for the last time. Info at 3 below.

This President grew;
His town does too.
Link to Lincoln:
Lincoln & Logan County Development Partnership

Site Map
Testimonials
Abraham Lincoln Bicentennial Commission of Lincoln, IL
1.
Abraham Lincoln and the Historic Postville Courthouse,
including a William Maxwell connection to the Postville Courthouse
2.
About Henry Ford and the Postville Courthouse, the Story of the Postville Courthouse Replica, Tantivy, & the Postville Park Neighborhood in the
Route 66 Era

3.
The Rise of Abraham Lincoln and the Founding of Lincoln, Illinois,
also the founding of Lincoln College, the plot to steal Lincoln's body, and memories of Lincoln College and the Rustic Tavern-Inn

4.
Introduction to the Social & Economic History of Lincoln, Illinois, including poetry by William Childress & commentary by Federal Judge Bob Goebel & Illinois Appellate Court Judge Jim Knecht
5.
"Social Consciousness in William Maxwell's Writings Based on Lincoln, Illinois" (an article published in the Journal of the Illinois State Historical Society, winter 2005-06)
5.a.
Peeking Behind the Wizard's Screen: William Maxwell's Literary Art as Revealed by a Study of the Black Characters in Billie Dyer and Other Stories
6.
Introduction to the Railroad & Route 66 Heritage of Lincoln, Illinois
7.
The Living Railroad Heritage of Lincoln, Illinois: on Track as a Symbol of the "Usable Past"

8.
Route 66 Overview Map of Lincoln with 42 Sites, Descriptions, & Photos
9.
The Hensons of Business Route 66
10.
The Wilsons of Business
Route 66, including the Wilson Grocery & Shell Station
11.
Route 66 Map & Photos Showing Lincoln Memorial Park (former Chautauqua site),
the Historic Cemeteries, & Nearby Sites
12.
Route 66 Map & Photos Showing Salt Creek & Cemetery Hill, including
the highway bridges, GM&O bridge, Madigan State Park, the old dam (with photos & Leigh's memoir of "shooting the rapids" over the old dam), & the Ernie Edwards' Pig-Hip Restaurant Museum in Broadwell
13.
The Historic Logan County Courthouse, Past & Present

14.
Route 66 Map with 51 Sites in the Business & Courthouse Square Historic District, including locations of historical markers
(on the National Register of Historic Places)

15.
Vintage Scenes of the Business & Courthouse Square Historic District
16.
The Foley House: A Monument to Civic Leadership
(on the National Register of Historic Places)
17.
Agriculture in
the Route 66 Era

18.
Arts & Entertainment Heritage, including the Lincoln Theatre Roy Rogers' Riders Club of the 1950s
20.
Cars, Trucks & Gas Stations of the Route 66 Era
21.
Churches, including the hometown churches of Author William Maxwell & Theologian Reinhold Niebuhr
22.
Factories, Past and Present
23.
Food Stores of
the Route 66 Era

24.
Government
25.
Hospitals, Past and Present
26.
Hotels & Restaurants of the Railroad & Route 66 Eras

27.
Lincoln Developmental Center
(Lincoln State School & Colony in the Route 66 era), plus debunking the myth of Lincoln, Illinois, choosing the Asylum over the University of Illinois

28.
Mining Coal, Limestone, & Sand & Gravel; Lincoln Lakes; & Utilities

29.
Museums & Parks, including the Lincoln College Museum and its Abraham Lincoln Collection, plus the Heritage-in-Flight Museum
30.
Neighborhoods
with Distinction
31.
News Media in the Route 66 Era
32.
The Odd Fellows' Children's Home
33.
Schools
34.
Memories of the 1900 Lincoln Community High School, including Fred Blanford's dramatic account of the lost marble fountain of youth
35.
A Tribute to the Historians and Advocates of Lincoln, Illinois
36.
Watering Holes of the Route 66 Era
37.
The Historic 1953 Centennial Celebration of Lincoln, Illinois
38.
The Festive 2003 Sesqui-centennial Celebration of Lincoln, Illinois, including photos of LCHS Class of 1960 dignitaries & the Blanfords
39.
Why Did the State Police Raid Lincoln, Illinois, on October 11, 1950?
40.
The Gambling Raids in Lincoln and Logan County, Illinois,
During the Late Route 66 Era (1950-1960)
_______
Pages in this section tell about Leigh Henson's Lincoln years, moving away, revisits, and career:
About Lincoln, Illinois;
This Web Site; & Me
A Tribute to Lincolnite Edward Darold Henson: World War II U.S. Army Veteran of the Battles for Normandy and the Hedgerows; Brittany and Brest; and the Ardennes (Battle of the Bulge)
For Remembrance, Understanding, & Fun: Lincoln Community High School Mid-20th-Century Alums' Internet Community
(a Web site and email exchange devoted to collaborative memoir and the sharing of photos related to Lincoln, Illinois)
Directory of Email Addresses of 168 Mid-20th Century LCHS Alums

Leigh Henson's Pilgrimage to Lincoln, Illinois, on
July 12, 2001
Leigh Henson's Review of Dr. Burkhardt's William Maxwell Biography
Leigh Henson's Review of Ernie Edwards' biography, Pig-Hips on Route 66, by William Kaszynski
Teach Local Authors: Considering the Literature of Lincoln, Illinois
Web Site About
Leigh Henson's Professional Life
__________
Pages in this section are about the writing, memorabilia, and Web sites of other Lincolnites:
A Tribute to Bill and Phyllis Stigall:
Exemplary Faculty of Lincoln College at Mid-Twentieth Century
A Tribute to the Krotzes of Lincoln, Illinois
A Tribute to Robert Wilson (LCHS '46): Author of Young in Illinois, Movies Editor of December Magazine, Friend and Colleague of December Press Publisher Curt Johnson, and Correspondent with William Maxwell i
Brad Dye (LCHS '60): His Lincoln, Illinois, Web Site,
including photos of many churches
Dave Armbrust's Memorabilia of Lincoln, Illinois
Leigh Henson's Review of Dr. Barabara Burkhardt's William Maxwell Biography
Leigh Henson's Review of Ernie Edwards' biography, Pig-Hips on Route 66, by William Kaszynski
Leigh Henson's Review of Jan Schumacher's Glimpses of Lincoln, Illinois
J. Richard
(JR) Fikuart
(LCHS '65):
The Fikuarts of Lincoln, Illinois, including their connections to the William Maxwell family and three generations of family fun at Lincoln Lakes
Jerry Gibson (LCHS '60): Lincoln, Illinois, Memoirs & Other Stories
Dave Johnson (LCHS '56): His Web Site for the Lincoln Community High School Class of 1956
Sportswriter David Kindred: Memoir of His Grandmother Lena & Her West Side Tavern on Sangamon Street in the Route 66 Era
Judge Jim Knecht
(LCHS '62): Memoir and Short Story, "Other People's Money," Set in Hickey's Billiards on Chicago Street in the Route 66 Era
William A. "Bill" Krueger (LCHS '52): Information for His Books About Murders in Lincoln
Norm Schroeder (LCHS '60): Short Stories
Stan Stringer Writes About His Family, Mark Holland, and Lincoln, Illinois
Thomas Walsh: Anecdotes Relating to This Legendary Attorney from Lincoln by Attorney Fred Blanford & Judge Jim Knecht

A Tribute to Robert Wilson (LCHS '46): Author of Young in Illinois, Movies Editor of December Magazine, Friend and Colleague of December Press Publisher Curt Johnson, and Correspondent with William Maxwell, including excerpts from Young in Illinois and from Maxwell's letters to Robert; family photos and information from Robert's only child, Sue Young Wilson; commentary from Literary Critic Lee Walleck; and memoir by Curt Johnson
Leon Zeter (LCHS '53): His Web Site for the
Lincoln Community High School Class of 1953,
including announcements of LCHS class reunions

(Post yours there.)
__________


Highway Sign of
the Times:
1926-1960
The Route 66
Association of Illinois
The Illinois State Historical Society
Illinois Tourism Site:
Enjoy Illinois

Marquee Lights of the Lincoln Theater, est. 1923, Lincoln, Illinois
22. Factories, Past and Present

"It [Lincoln, Illinois] has never had any sizable factories. . . ."
William Maxwell, So Long, See You Tomorrow (1980), p. 24.
"We are dust and dreams."
From "Diffugere Nives" by A.E. Housman
(favorite poem of William Maxwell)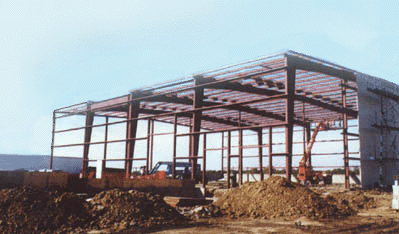 22.1: Construction Scene in Logan County
(Photo adapted from Chamber of Commerce Community Profile, p. 27. Photo provided courtesy of VillageProfile.com of Elgin, Illinois.)
The Lincoln/Logan County Community Profile & Membership Directory states that "Logan County communities support business and industrial development. Eleven years ago, the Lincoln/Logan County Enterprise Zone was created to provide capital investment and job creation incentives. Since then, 245 projects have invested over $45 million in construction and improvements, created 1,203 jobs and helped retain 1,271 jobs. The Enterprise Zone covers four square miles and has room to expand up to ten miles.
Two Revolving Loan Funds also provide incentives for businesses to expand and generate more jobs. Business start-up workshops and other business planning and technical assistance are available for growing businesses" (p. 27).
* * * * *
A community's manufacturers determine the local economy and heavily affect the community's culture. Factories are significant for the number of jobs, tax revenues generated, amount of money spent locally for vendors, amount of payroll, and types of workers -- and thus their effect on community life.
Commercial enterprises, from family farms to large factories, typically experience the same life-cycle patterns that people do: some perish before they can develop; some seem to grow with great promise but suddenly pass away; some enjoy prolonged but anonymous maturity before gradually declining; and a few prosper to distinction before outliving their time. Some are unfortunately lost, whether by accident, by natural disaster, or by human tragic flaw that results in self destruction.
Most local citizens have mixed feelings about a community's factories: This paradox is well described by Pam Sheley, advertising-circulation manager of Our Times: "Factories. Buildings made of brick, concrete. Large stacks belching gray smoke into the skies. Funny smells emanating from the walls. Trucks arriving and departing at all hours of the day and night. Noises from the very heart of hell escaping out of the windows. We see the building as a scars on the skin of our otherwise picturesque world. We realize the need for factories. We appreciate the products they make and the income they give us, but our hearts do not warm at the sight of them. . . ." Yet the owners, managers, and employees help to shape "the social and economic structure that makes a community a home" ("On a Personal Note," Our Times, 7.3, fall, 2002, p. 2).
This page offers a catalog of products seen in the history of manufacturing in Lincoln, Illinois. I begin with a listing of present-day manufacturers given as seen in a table provided by the Lincoln/Logan County Chamber of Commerce economic development page (Web site address below in Sources Cited). The history of manufacturing is difficult to develop because of the varying amounts of information available. For some companies, a little information can be found, for others almost nothing.

Contemporary Manufacturers in Lincoln/Logan County, Illinois
| | | |
| --- | --- | --- |
| Manufacturers | Product/Service | Employees |
| St. Gobain Containers | Glass containers | 230 |
| Eaton Corp/Cutler Hammer | Electric controls | 560 |
| Turris Coal Company | Mining | 225 |
| MII, Inc. | Store fixtures | 238 |
| Precision Products | Lawn/garden equip | 230 |
| Inland Tool Company | Machine Metals | 65 |
| Willamette Industries | Corrugated containers | 105 |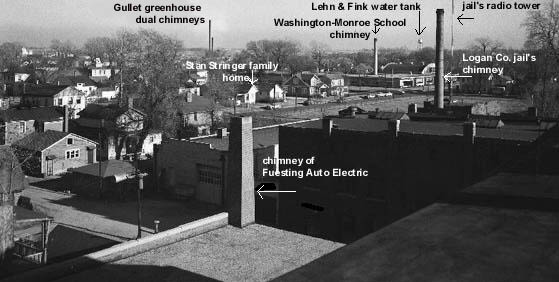 22.2: Skyline Looking East from Top of City Hall in Lincoln's Industrial Age (1950s)
(Photo by Mike Hamilton and sent by Fred Blanford)
Chimneys and water towers symbolized Lincoln's Industrial Age. The following account by Fred Blanford (fred) was sent, 2-9-03, when he emailed the above photo to 160+ alums of Lincoln Community High School.
Today's pic is again from the roof of City Hall. The skyline it shows has been altered to reflect "modern" times.

Notable in this pic are five chimneys/smokestacks and one water tower. Working from foreground to background -- Auto Electric's chimney/smokestack (hereafter c/s) -- gone -- now a parking lot for City
Hall; Logan County Jail/courthouse heating plant --c/s gone -- now a parking lot incidental to the New Safety Complex; Washington-Monroe School--c/s gone -- school survives; Gullett's two c/s -- gone -- approximately half the ground developed the other half vacant; Lehn & Fink's water tower -- gone -- along with its major corporate presence and good jobs for residents -- although the physical plant survives its occupant may not (I am unable to assess this objectively) put to "full" use the plant's potential.

I have included only the "tall" c/s items above. In the foreground of the pic -- there are three small/short chimneys on the Sheers building. Those are also all gone -- building torn down -- lot is vacant.

This old pic thus shows Lincoln to be like many smaller towns--cleaner air--fewer business/employment opportunities." fred (Fred Blanford, 1941--2008)
Catalog of Products Manufactured in the History of Lincoln, Illinois, and Vicinity

Aircraft (1928-1929)
In "A Pasture or a Flying Field?" Nancy Lawrence Gehlbach describes the building of an airplane in Lincoln, Illinois, in 1928-29 by the Capen Aircraft Corporation (Our Times, spring 2000, p. 4). Ernest Capen, a WW I Army flight instructor, "had come to Lincoln when his parents took over the Busy Bee Bakery." In 1928 he formed his corporation along with Robert and Hettie Sheets, Al Ahrens, and L.W. Dowling, the latter being the owner of the Lincoln Casket Company.
"The firm made one monoplane. The frame, fuselage, and parts (except for the engine, propeller, and a few accessories) were built at the company's work rooms at 217-1219 S. Logan Street in Lincoln, in a building that had formerly housed a planing mill. Welding and metal fittings were done at the Lincoln Casket Company factory" (Gehlbach, p. 4).
Test flights were successful from May through July of 1929. The airstrip was in a pasture of the Ahrens farm south of the Kruger Elevator near Route 4 (later Route 66). In August of 1929, a biplane engine failed, and Capen and Carl Schacht were "badly bruised" during an emergency landing on the Dierker farm near the Kruger Elevator.
On November 15, 1929, Capen had flown over Lincoln College and was approaching the Kruger Elevator when witnesses saw the plane "begin to wobble." Tragically, it then crashed, "striking its nose on the Chicago and Alton tracks, rolling down the embankment, bursting into flame, and killing Capen"(p. 4.
I did a brief search of the Web, hoping to find more information and a photo. The only additional information I could find was at a site by Aerofiles. This site describes itself as "the Internet's largest and most comprehensive, non-commercial research and reference site about our nation's contributions in the exciting field of aeronautics" (Web site address listed in Sources Cited below). I quote Aerofile's entire entry below for the Capen Aircraft Corporation. Note the apparent inaccuracy of assigning the corporation to the wrong city.
(Ernest J) Capen Aircraft Corp, Lincoln NB.
Parasol 1925 = 3pOhwM; 165hp Curtiss Challenger. POP: 1 [X240K] c/n 200.
Skyway (aka Special) 1928 = 4pOhwM; Anzani (replaced by 165hp Curtiss Challenger). Parasol wing. Suffered control problems after a few flights, crashed and burned, killing Capen [X7974] c/n 100.
Dave Armbrust's Material on the Capen Air Crash of November 15, 1929
In the spring of 2009, Dave Armbrust, LCHS Noble Class of 1960, emailed me copies of the Lincoln Courier news articles about the Capen tragedy, and Dave also provided photos of a charred fragment of Capen's parachute as well as a photo of workers in the Lincoln Casket Company, where part of Capen's aircraft had been constructed.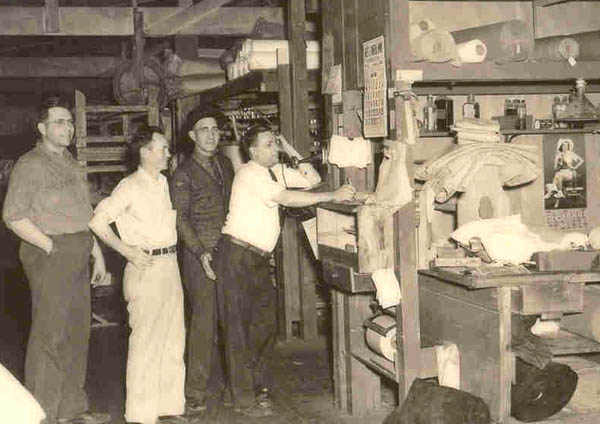 22.3: Workers at the Lincoln Casket Factory
Left to right, Raymond Armbrust, Ed Hickey, Elmer Moiser, and Earl LaPanse. Earl was the boss. Leigh's note: Elmer must have liked his boss to be giving such an affectionate pat on the patoot.
Photo courtesy of Dave Armbrust
Using the microfilm material obtained by Dave from the Lincoln Public Library, I created a PDF of the Courier's articles on the Capen crash.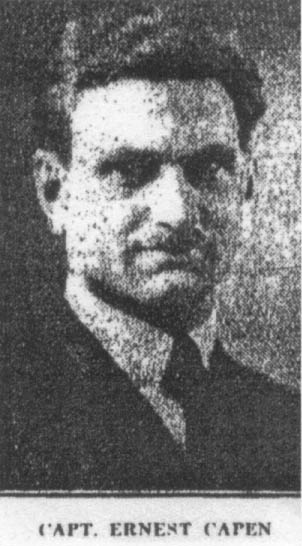 22.4: From the Lincoln Courier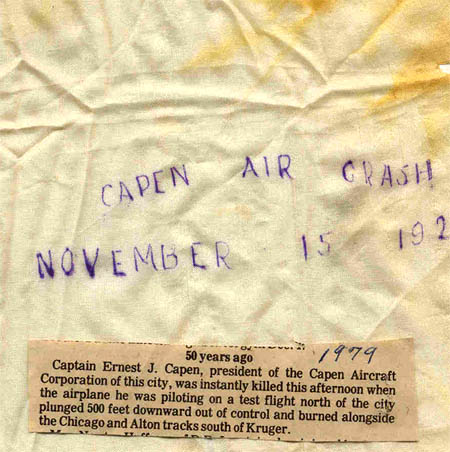 22.5: Captain Ernest Capen's Charred Parachute Fragment
Photo courtesy of Dave Armbrust. Email Dave at [email protected].

---
Alarms, Horns, and Sirens (1913-1915)
The first company to occupy the building known as the garment factory on North Chicago Street was the Typhoon Signal Company of Chicago. "The Typhoon Signal Company made electric sirens and horns: automobile horns, railroad horns, fire alarms, and mine and crossing horns, among others. The electric horns were thought to be a great advantage over steam whistles: certainly, flipping a switch was easier than maintaining the steam to power a whistle. As for the Typhoon type 'F' automobile horn -- available in black enamel, brass, or nickel -- it was the result of five years of research. Designed to be used on the outside of the auto, it retailed at $4. Perhaps the backlog of orders (33,000 waiting to be filled when the factory opened) had something to do with the company's subsequent demise. . . . By May of 1914, it had reorganized; in 1915, it closed and declared bankruptcy" ("A Factory Incubator," Our Times, 7.3, fall, 2002, p. 8).

---
Automobile (1906-1909)
The only source I find concerning the Lincoln automobile built in Lincoln, Illinois, is Nancy Lawrence Gehlbach's "The Lincoln Automobile" in Our Times, winter, 1998. The Lincoln auto of Lincoln, Illinois, first appeared in February, 1906. The article does not indicate exactly what individuals had made it, but the vehicle is described as "just a motorized carriage [with] a simple, air-cooled 15 horsepower gasoline engine; a unique direct drive that did away with differentials, transmission, chains, and sprockets; and high wheels with solid rubber tires" (Gehlbach, p. 3).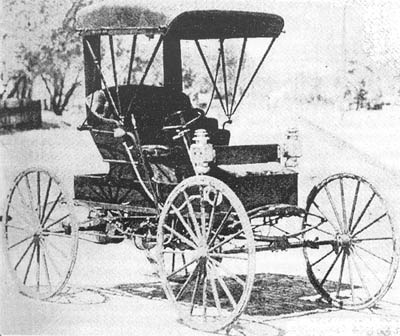 22.6: The Lincoln Automobile of Lincoln, Illinois
(Photo from "The Lincoln Automobile," Our Times, winter, 1998, p. 3)
A manufacturing plant was constructed at the corner of Limit Street and Citizens' Avenue by late 1907, but at least one vehicle was fabricated in Chicago. The other first few vehicles were built in other facilities in Lincoln. Local citizens have speculated that these facilities may have included "quarters in the block south of the German American National Bank (corner of Kickapoo and Pulaski)," Richard Georgi's blacksmith and wagon shop at Logan and Clinton Streets, and a machine shop on Clinton and Logan Streets. (For a photo of the Georgi Building and more information about the Georgi blacksmith and wagon shop, see 19. Business Heritage.)
Nancy Gehlbach writes that "very possibly the buggy part of the autos was made at Georgi's, then wheeled across the street to Cherry and Kates to be completed -- with parts that had been made at a third location. Probably not an unusual way for an early auto to be made" (p. 6).
Various complications prevented effective production and marketing. A plant foreman and stockholder who had loaned $3,000 to the company went to trial in 1907 for stealing tools. In 1908 the original Lincoln Automobile Company had reorganized as the Lincoln Motor Vehicle Co.
By the time of the reorganization, "the Lincoln auto had acquired differential gears. It had a right-hand drive and traveled at speeds of four to twenty-five miles per hour in high gear and two to eight miles per hour in low gear and boasted a five-gallon tank.
The auto's standard finish was jet black with striped red or brewster green gear. Wheels were made of second-growth hickory, and the body was trimmed with buffed-leather, tufted cushions with springs. The auto sold for $550, including the removable top, lamps, horn, and tools" (p. 6). Yet, the influx of Fords and Buicks was apparently too much competition; the company defaulted on loans.
In 1907, the main location intended for the manufacturing of the Lincoln automobile was "a tract of land about 150 feet square on the corner of Limit Street and Citizens' Avenue" that was donated by the Citizens' Coal Mining Company. The coal company "[stipulated] that a two-story brick factory, 40 by 100 feet, be built on the property. . . The land and factory were purchased in 1909 by David Harts, Jr., for $4,000 (Gehlbach, p. 3).
From 1913 to 1935, this building housed the Love Manufacturing Company, involved in building farm machinery (see Farm Machinery below). "The little building became the Lincoln Foundry after Ralph Weaver bought it in 1942" (Gehlbach, p. 6).
For a photo of the Lincoln Foundry, including the section where the Lincoln automobile was manufactured, see Iron Castings below.

---
Bottles and Jars

Photo at right shows a product of the Enterprise Bottling Works. The bottle that was for sale on eBay. It looks quite old and may be rare. Vaughn was also cited in the description. I find no other information. The name of Lincoln, IL, clearly appears on the side.

For more information about the Vaughn family business, see 19. Business Heritage.

22.7: Enterprise Bottling Works


The Saint-Gobains Company is a contemporary glass container manufacturer in Lincoln. The information below is from its corporate Web site: http://www.sgcontainers.com/index.htm

Production: 10.5 billion containers per year
Plants: 18 across the continental United States
Furnaces: 35
Employees: 5,400
Product range: bottles and jars for the food and beverage industries
Colors: Amber, Antique Green, Champagne Green, Cobalt Blue, Dead Leaf Green, Emerald Green, Georgia Green, French Green, Flint, Smoke.

This facility began as the Lincoln Glass Bottle Company in 1942 ("Lincoln Container Corporation Organized Here Eleven Years Ago," Lincoln Evening Courier, section eight, August 26, 1953, p. 12). The land for this plant had been owned by Stetson's. Lincoln, Illinois, had been selected as the site of this factory because of the city's rail transportation, "adequate, friendly, and intelligent labor; natural gas and other needed utilities and resources and above all a friendly city with excellent education, religious and shipping facilities. The Chamber of Commerce Industrial Committee, Dean J. Harris, John L. Gordon, and Walter Faster, made available the present North Logan site." In 1953, the payroll was $750,000 (Courier, p. 12).

This facility, like Stetson's, was served by the Alton and Chicago Railroad (later the GM & O), the Illinois Central Railroad, and the Illinois Traction System (ITS). The glass factory is located a couple of blocks "kitty corner" northwest of the former Stetson site on the west side of the present AMTRAK tracks.


22.8: Glass Container Factory

(Photo in Gleason, p. 42 )

---
Bricks and Tile (1878-?)
Stringer writes that "connected with the company [South Mine] is an extensive tile factory, which has been operated since 1878" (p. 542). Access to clay for the bricks resulted from digging mine shafts. Somewhere I read that this brick and tile factory was begun in order to provide work for the miners during the winter.
I find little published information about the brick and tile factory. The centennial edition of the Lincoln Evening Courier contains an undated photo of men and boys employed at the brick yard (August 26, 1953, p. 10). The caption of the photo identifies the location of the brick yard as the site of the house provided for the superintendent of the Lincoln State School. During some years of the Route 66 era, that house was the home of the Dr. William Fox family, whose son, Bradley, was my classmate at Jefferson, Central, and Lincoln High. Gleason's Lincoln, Illinois: A Pictorial History has a picture captioned "The 1870s brickyard crew of the old South Mine" (p. 33), and this photo is different from the one in the Courier.
Octogenarian Willie Aughton gardens in the south Lincoln area just a couple blocks north of the site of the former brick factory, and he says he finds a lot of broken bricks in the surface soil there.

---
Logan County History 1982, "at one time there were 324 casket factories in the United States. A conservative estimate placed 95 per cent of all caskets used in this county as products of the Lincoln factory" (p. 55). The Lincoln Casket Company was owned and managed by two generations of the Dowling family: founded by William H. and continued by his son, Leslie. "The plant served downstate Illinois, Missouri, Iowa, and as much of the St. Louis market as it could capture. The company sold directly to undertakers. Two or three salesmen canvassed the territory, beginning with William Dowling himself. In later years, the salesmen flashed handsome color catalogues" (Nancy Lawrence Gehlbach, "Lincoln Casket Company," Our Times, 7.3, fall, 2002, p. 7).

The caskets produced by this company required a wide range of high-quality raw materials and specialized craftsmen. "Forty-six men and nine women mostly skilled labor were employed at the Lincoln Casket company, earning an annual payroll of $125,000" (Beaver, p. 55).

Basic wooden and metal casket shells were produced on the first floor. Cypress came from Missouri and Arkansas, chestnut from West Virginia, walnut from throughout the country, mahogany from Cuba and the Philippines, plain oak and quarter oak from West Virginia and pine from Oregon (Beaver, p. 55). "Lumber was stored under a pole-and-beam roof in the yards, extending in front of the Armour plant" (Gehlbach, p. 7). "The cheaper wood was used for cloth-covered caskets, a poor man's only option. (The cloth disguised the poor quality)" (Gehlbach, p. 7). "After the wood was dried in the kilns, it was made into casket shells in the woodworking department." A 235-horsepower steam engine powered the shapers and milling machines and all other woodworking equipment. Later the steam power was replaced by electricity. A separate department produced steel, copper, and other metal caskets.

Caskets were transported by a hand-pulled elevator to the second floor, which housed the interior and lacquering departments. Italian and French silks were once popular but were replaced by Japanese silks, which were contained in a fireproof vault (Beaver, p. 55). "A room full of ladies lined up at sewing machines sewed casket linings and made pillows stuffed with excelsior. . . ." (Gehlbach, p. 7).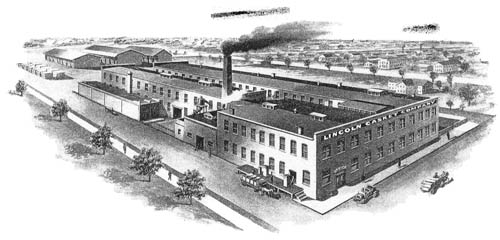 22.9: Lincoln Casket Company on Third Street
(Fish, Illustrated Lincoln, 1916)
"An automatic sprinkling system protected the plant for many years against fire. . ." (Beaver, p. 55). Yet, on September 27, 1944, a fire destroyed the casket company's lumberyard. The building was saved by the firemen and the sprinkling system -- which poured water down the south wall but the wooden water tower burned down. Firemen wet down the galvanized iron shed where lacquer and thinner were stored. Had it gotten hot enough, it would have been ' like a bomb,' says Dave Armbrust" (Gehlbach, p. 7). Cousin Jerry Gibson reports that his father, Ted Gibson, then a member of the fire department, was slightly injured in this fire.
"Ray Armbrust used to tell about the time a Jacksonville undertaker called with a special problem. A very elderly gentleman was on his deathbed, and there was one space left in a mausoleum that had been designed for older, smaller coffins. Workers at the factory removed the molding from a standard coffin to make it fit and sent it off. When Ray bumped in to the undertaker two or three years later, he asked him, 'How did that coffin work?' "We don't know,' was the reply. "He healed up.'" (Gehlbach, p. 7).
The photo below is of Ray Armbrust's father, who had also worked at the Lincoln Casket Company. Dave also provides the image of the Lincoln Casket Company check.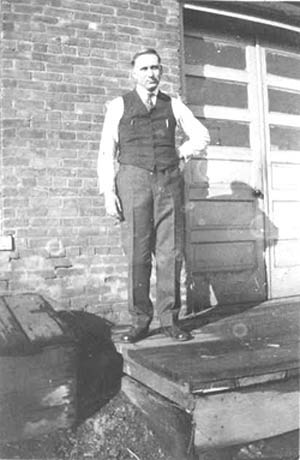 22.10: Jacob M. "Jake" Armbrust at the Entrance to the Shipping Dock of the Lincoln Casket Co.
(date unknown, photo courtesy of Dave Armbrust, his grandson)

22.11: Check Signed by W.H. Dowling, Owner-Manager
In 1946 other family members were uninterested in continuing the business, so the building was sold to the Lincoln Store Fixture Company.
I am eager to receive additional information and photos about topics in this Web site, but I suspect there may not be many photos of the products of this company, and I don't anticipate that someone will dig one up any time soon. Perhaps a copy of one of the catalogs will surface on eBay.

---
Cellulose (1900--1901)
From Gleason, Lincoln: A Pictorial History: "The Marsden Cellulose Factory was located north of the Illinois Central Railroad between Ottawa Street and Nicholson Road. Founded in 1900, the factory processed the pulp from cornstalks to make waterproof linings for battleships. The factory burned down after its first year of operations" (p. 35).

---
China:
The Illinois China Company (1917-1946) and the Stetson China Company (1946--1965)

The predecessor of the Stetson China Company was the Illinois China Company, which was brought to Lincoln from Roodhouse, Illinois, in the spring of 1919 ("Stetson China Company Was Moved Here from Roodhouse," Lincoln Evening Courier, centennial edition, section seven, August 26, 1953, p. 11). "The Lincoln Commercial Club was instrumental in bringing [this company] to Lincoln. . . . Lincoln residents had to raise $50,000 in stock -- two thirds of the capitalization when the company was incorporated -- before the company would move" ("Stetson China Company," Our Times 7.3, fall, 2002, p. 4).

The factory was built on a triangular-shaped area near the intersection of the Chicago & Alton, Illinois Central, and Illinois Traction System (ITS, interurban) railroads. "The building site was purchased from the Latham Estate although a portion occupies the former site of the Illinois Central passenger depot." (For an aerial view of the railroad intersections, see 7. The Railroads & Streetcar Line at Lincoln, Illinois.) At first only whiteware was produced (Beaver, Logan County History 1982, p. 54).

Officers and board members were "D.H. Harts [Jr.], President; F.W. Longan, Treasurer; James Smith, Secretary; James McGrath, Director; Will Houser, Director; William Kahn, Director." Employees who moved with the company included several foremen (Courier, p. 11). "James Shaw, William Baskeyfield, and Frank Shingler came from families who had spent years in the English pottery trade" (Beaver, p. 54).

22.12: Rare Picture Postcard of the Illinois China Co. on N. Kickapoo St.

Much of the facility, except for the kilns, was destroyed by fire in May, 1922. "The company collected $50,000 insurance and raised $50,000 by the sale of stock and an new plant was built" (Courier, p. 11). The new factory, 50% larger than the old one, was built to produce decorated china. A sprinkling system was installed (Beaver, p. 54).

"All patterns were purchased in England or Germany. Residents of this country lacked the patience to prepare designs that would compare favorably with the work of German artists. Exclusive designs were sold at $1,000 or $1,500, the buyer taking the responsibility of the design being a good seller. Much decorating was done by the use of 'decalcomania transfers'" [decals] (Beaver, p. 54).

The Illinois China Company was the only manufacturer of decorated semi-porcelain ware in Illinois and one of the very few in the central West. By far, the greater majority were located in the East, centered in a region near Pittsburgh and in Easton, Ohio (Beaver, p. 54).

The products of the Illinois China Company were sold "in practically every state." "Leading markets for Lincoln china were Chicago, St. Louis, St. Joseph Louisville, Memphis, Salt Lake City, Los Angeles, Detroit, and Portland (Beaver, p. 54). "In 1925, the local pottery was supplying 45 Kresge stores with decorated china" (Gehlbach, p. 4).

22.13: Sugar and Creamer Bowls Made by the Illinois China in Lincoln, Illinois

(photo from eBay)

The gold lines such as those shown on the bowls in the above photo were "inscribed by hand" (Beaver, p. 54).

"The Illinois China Company was sold to the Stetson China Company of Chicago on February 1, 1946" (Courier, p. 11). Nancy Gehlbach cites a Courier article of March 13, 1962, that said Joseph Stetson had seen "the beehive kiln chimneys of the Illinois China Company on his trips to Chicago and St. Louis and decided he would give Lincoln 'a real china producing pottery'" (Our Times, fall, 2002, p. 5). Mr. Stetson must have seen the Illinois China Company while riding the Alton and Chicago line, which passed close to that facility.

After Stetson bought the china factory in Lincoln, he spent 2.5 million dollars to expand it (Courier, p. 11). The plant was increased from 50,000 square feet to 265,000 square feet by 1962 and employed almost 800 people (Gehlbach, p. 5).

Stetson employees built most of the plant's machinery. This equipment included "automatic decorating machines that sprayed the edges of the dinner plates, automatic stamping machines, and conveyer belts" Gehlbach, p. 5). As clay (from Tennessee) "moved through the assembly line, a machine sliced off a piece of it, which fell onto a mold on the jiggering machine. That machine pressed the clay onto the mold to make the front of a plate; then a tool pressed down on top of the clay to form the back." These tools were designed and made in house. Tool were fabricated from carbon steel and took four to five hours (Gehlbach, p. 5).

Besides the expertise need to provide the machinery, skilled workers were needed to finish the products. Strippers removed rough edges after the product came off the mold. Hand painting the china was a process that required an organized approach to a meticulous craft. "After designer Alfred Dube designed patterns, the better painters made up 25 or 50 samples and developed a procedure for running the production line. Most commonly, Al would decorate a 10-inch plate and work back from there to cups, saucers, and bowls" (Gehlbach, p. 9).

Individual items were painted systematically. Instructors trained women in painting a particular image. Then, each painter "sat at a table, picking up a plate from a moving belt, painting her part, then putting it back on the belt. She was paid a salary and also by the piece" (p. 9). Some women would paint individual leaves or clusters of them; some might paint just dots; and more advanced painters did whole flowers.

The woman at the head of the belt set the pace, and the belt did not stop very often. If a painter got behind, the items were line up on her table until she caught up. If someone did not remove an item from the belt, the next painter was expected to. Sometimes painters moved to another table to help someone catch up, or "floaters" did this work. When a specific task was completed, the item was returned to the belt. The woman at the end of the belt removed, counted, and boxed the items (Gehlbach, p. 9).


22.14: Undated Aerial View of the Stetson China Company with
Main Business Entrance on North Kickapoo Street (Business Route 66)

(Gleason, Lincoln: A Pictorial History, p. 38)

"In 1962, it [Stetson China] was the largest manufacturer of hand decorated dinnerware under one roof in the world and Lincoln's biggest industry in payroll and personnel, employing 792 people with an annual local payroll of more than $4 million" (Gehlbach, p. 4).

"Plagued by foreign competition and the introduction of Melmac (which Stetson's itself produced at Manitowoc, Wisconsin), the factory closed in 1965" (Gehlbach, p. 9).


22.15: Picture Postcard of the Former Stetson Factory Outlet Show Room on North Kickapoo Street

The factory outlet location is identified in the preceding aerial photo. The outlet remained open for some time after the factory closed.


22.16: Set of 48 Pieces of Stetson Rio China for Sale on eBay, 1-03


22.17: A Typical Stetson Logotype


The Stetson China Company designed and produced commemorative plates for the centennial of Abraham Lincoln's birth (1909), the centennial of Lincoln, Illinois (1953), and the sesquicentennial of Abraham Lincoln's birth (1979). The golden Stetson plate commemorating the centennial of Lincoln, Illinois, is shown on 7. The 1953 Historic Centennial Celebration of Lincoln, Illinois.

22.18: Rare 1908 Abraham Lincoln 100th Birthday
Commemorative Plate by the Illinois China Company


22.19: 1959 Stetson Plate Commemorating the Sesquicentennial of A. Lincoln's Birth (1809)






22.20: Inscription on Back of Plate 22.15

22.21: A Second Style of Stetson Plate Commemorating the Sesquicentennial Anniversary of the Birth of Abraham Lincoln


22.22: Commemorative Plate for the Centennial of Lincoln College: Image of University Hall

Memoir of the Stetson China Company

After graduating from Illinois State University in the spring of 1964, I had one more leisure summer in Lincoln, Illinois, before I reported to Pekin Community High School to begin my teaching career. Some of my other LCHS male classmates had also just graduated from college. Two of them were Gerry Dehner and Thom Zimmerman, whose father, Ken, was then the Logan County sheriff. The three of us sat in the living room of the sheriff's quarters in the jail and discussed how we could make a lot of spending money in a short time.

Somehow we learned that Stetson's was hiring laborers to put a new roof on one of its buildings. The three of us applied and were hired. We were told the employment would end when the job was finished.

On the aerial photo above, I have identified the building whose roof we helped to replace. We had not been on the job more than a day or two when we learned that this non-union project had offended the local union, which insisted on having some of its members join the roofing crew. The July heat on the roof was fierce, and the union guys soon climbed down, deciding they would have no part of this job.

My Uncle Gib Wilson was working in this building at the time, and I would see him when I left the roof to visit the water cooler in the plant. He was quite amused at the whole situation.

Working in the hot sun was somewhat tiring, and breaks could be taken whenever we wanted to. We were instructed, however, to come down from the roof on these breaks. Front office folks did not want the public to drive by and see workers sitting down on the job.

22.23: Logan County Jail in the Route 66 Era

(photo from Beaver, p. 138)

The black rectangle identifies the sheriff's living quarters, where my LCHS classmates and I as recent college grads discussed how to make a quick, easy buck in the summer of 1964.

The main part of the jail was constructed in the mid 1800s. This facility was demolished and replaced in the mid 1970s, according to Beaver's 1982 history.

The liberty of taking breaks as needed was the only way I could work in the heat. The trick was to visit the water cooler a couple of times per hour and swallow a lot of salt tablets.

After the job was completed in a couple of weeks, we were offered other work. I worked in a warehouse nearby for a while and was then sent along with two or three regular laborers to a warehouse located south of Lincoln near an old elevator next to the railroad tracks. There, in two old, round-shaped metal buildings -- still remaining in 2003 --, I became unhappy when one of my co-workers ridiculed me by saying I had a college education but I was doing the same work he was without one. That didn't much bother me, but he also enjoyed throwing large boxes in my direction. I feared being drawn into a fight. I had already worked longer and earned more money than I had expected, so I went to the personnel office to say I was quitting at the end of the week.

There, I was told I could not leave the job without at least an advanced notice of two weeks. I was told that if I left without putting in a more advanced notice I would not be able to find other work in Lincoln. A little cocky, I said that I already had another job, and that my new employer did not care that I had previously worked at a factory. Ironically, schools in those days were run somewhat like factories, but that is another story.

---
Cigars
In Lincoln, Illinois, the manufacturing of cigars, an industry that dates to the beginning of America, came to an end during the Route 66 era. The story of the last cigar factory in Lincoln, Illinois, is "Paul Schuster Carries on Hand Cigar-Making Begun by His Father 75 Years Ago" (Lincoln Evening Courier, centennial edition, section five, Wednesday, August 26, 1953, p. 12), and I quote it here:
"In a spacious shop at 508 Broadway, right above the Broadway cafe, there exists the only hand made cigar factory left in Lincoln. This three-room factory, adorned with cases of hand made cigars, has all the atmosphere of the old time cigar maker shops. The owner, proprietor, and sole manufacturer, Paul Schuster, still carries on the business that his father started some 75 years ago.
It was customary in those days to serve a three-year apprenticeship to a skilled worker before taking up the trade. Therefore, Mr. Schuster started up in business when he was about 28 years of age. He says he can recall when there were at least seven cigar makers in business in Lincoln. He himself used to have four other men helping him, but after World War I and with the coming of the machine-made products, the hand-making system suffered. Mr. Schuster, says he maintains his business more as a hobby than a business now, just to give him something to do.
He, of course, still maintains that the hand-made cigar is far superior to the factory made product. 'It is just like anything else,' he says, 'anything hand made is the best article.' He has cases of tobacco from some of the finest fields in the East, namely Connecticut, which he purchases from a jobber in St. Louis. He also has imported tobacco from Puerto Rico and Havana, a blend which he proclaims to be the best. He uses it in his finest cigars.
Small pieces of rough tobacco are used in the inner part of the cigar and are bound by larger pieces on the outside. The inner part is pressed before the outer leaves are put on, and then pressed again, by layers, in the cigar box before being packed. About 300 cigars a day is considered a good day's work. Most of his cigars are sold locally to retailers, but he does take individual orders also.
He puts out three different brands, the No. 17, the Royal Seal, and the Palmer. The No. 17 was so named by his father, who had always had a desire to go into railroading. His parents, however, objected since in those days so many railroad employees were killed or injured on the job [Note: that happened to D.H. Harts's older brother, John, and led D.H. to return to Lincoln after beginning a law career in Chicago]. Consequently he took a great interest in trains and could tell which train was coming by the sound of the bell. He used to make bets with the people in his shop and the number 17 engine was always a winner for him. Consequently he labeled one of his cigars the No. 17, a name which it still bears today.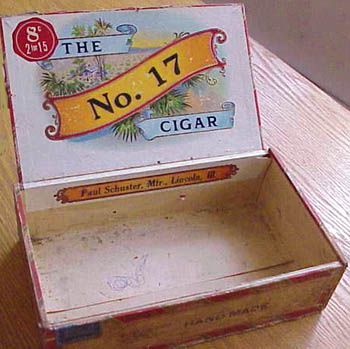 22.24 No. 17 Cigar Box
In the regular brand cigars, Mr. Schuster also makes up novelty packs such as those encased in a cellophane wrapper bearing the traditional pink or blue stork with the lettering 'It's a boy' or 'It's a girl.'
So what was once the means of livelihood for many and a source of enjoyment to countless more has now become little more than a hobby in the 'modern age,' namely the hand-made cigar."
The following photo shows the interior of Scheid's Cigar Store in Lincoln. This photo was emailed to me in June, 2004, by Stan Stringer, whose message said in part:
Last fall I visited Dan and Betty Baker, who now live in Collinsville, IL. Betty asked me if I could copy some family pictures for her to share in their family. I was pleased to do this for my former neighbor. Two of the pictures from the Baker family were quite interesting, and I asked Dan if he would have any objection to me sharing them with you for your website. Dan said he didn't mind. I hadn't shared them until now because I didn't see a particular place where they might fit. However, your mention of the cigar shops appears like an opportune place for mention of Scheid's Cigar Store. The interior picture I'm attaching shows Dan's father Daniel R. Baker attending the counter of at Scheid's Cigar Store. In this picture, a note with the picture indicates the year is 1910 and Daniel R. Baker is 18. I found the interior with the display cases, floor and ceiling fascinating. Daniel R. Baker later owned a his own store, and that is the second picture. I think this was taken in the 1930's." Email Stan at [email protected].
The second photo, showing Dan Baker's Cigar Store at 405 Pulaski Street, is posted as #14 on the page titled Judge Jim Knecht (LCHS '62): Memoir and Short Story, "Other People's Money," Set in Hickey's Billiards on Chicago Street in the Route 66 Era.
Note that Mr. Baker promotes his product by using it.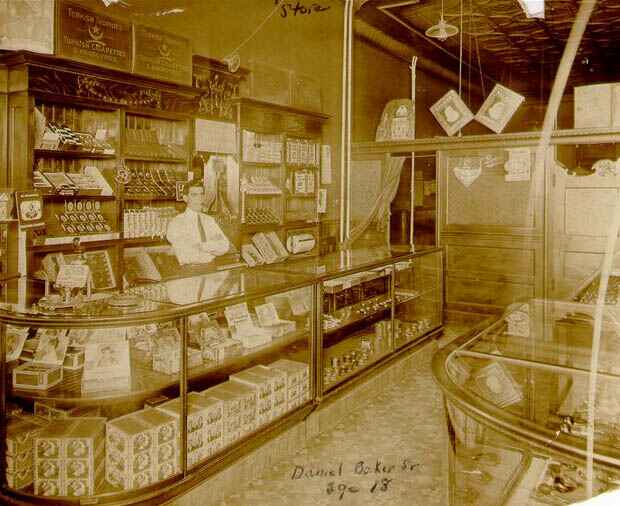 22.25: Scheid's Cigar Store in Lincoln, Illinois
(Photo provided by Dan and Betty Baker)

---
Concrete Blocks, Ornaments, and Tile: Shoup & Jones (early 20th Century)
I find no information about the Shoup and Jones Cement Works. Mr. Shoup was locally famous for his clever "chalk talks," and I remember he gave them in schools.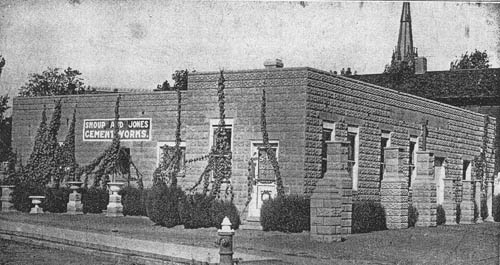 22.26: Former Shoup and Jones Plant
(Fish, Illustrated Lincoln, Illinois, 1916.
Looks like the steeple of St. Mary's Church in the background.)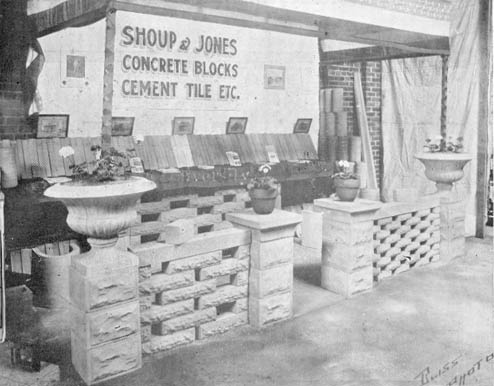 22.27: Shoup & Jones Display Ad in the 1918 Lincolnite
22.28: Ralph Shoup as a Faculty Member of Lincoln College
(Lincoln College Yearbook, The Emancipator, 1928, p. 14)

---
Corrugated Containers (contemporary)
With its beginning in 1947, this facility during the Route 66 era was known to locals as "the box factory," and it is located at the southwest corner of the intersection of the old Route 66 beltline and Fifth Street Road. Presently this factory is owned by Willamette Industries.
This industry seems to hold promise for growth and development in Lincoln. According to a news summary of 2002 in lincolndailynews.com, "Groundbreaking ceremonies were held for a new warehouse at Willamette Industries, Inc., at the intersection of Lincoln Parkway and Fifth Street Road. The 70,000-square-foot warehouse is expected to be completed in April. The plant has already added six new employees and expects to add an additional four later. Willamette employs about 100 people in Lincoln."

---
Cosmetics, Deodorant, Disinfectant: Lehn and Fink (1947-1995)
Paul Gleason in his Lincoln: A Pictorial History explains that "Tussy cream deodorant, Lysol disinfectant, Dorothy Grey, and Chubs are all national brand products which originated in Lincoln" (p. 36). Gleason's account summarizes this company's history from its beginning (when female employees had to go to the Logan County Courthouse to use restroom facilities) to its closing in 1995. The original facility had 287,000 square feet (although no restrooms for women). By 1980 the facility had 562,000 square feet, 30 loading docks, three railroad spurs, and "a new tank farm" (p. 36). Three million gallons of water were used each day, with two 100,000-gallon water storage tanks and the ability to filter four million gallons daily. Products were shipped world wide.
Gleason's book reports that in 1947 men began at 70 cents per hour with a nickel raise after 60 days. Women began at 60 cents per hour with the same raise rate as for men.
Before coming to Lincoln, the Lehn and Fink Company had become well established in pharmaceuticals. An article in the Lincoln Evening Courier centennial edition, section six, titled "Lehn and Fink, in Lincoln Since 1947, Was Founded 80 Years Ago" describes the company's 1874 founding in New York City and its early success in "oils, drugs, chemicals, and botanicals." In 1884 Lehn and Fink presented these products "in a striking display of colorful bottles for the American Pharmaceutical Association National Convention in Milwaukee. The exhibit was a sensation and included such products as cocaine, phenacetin, antiprin, pilocarpine, vanillin, and coumarin which were then first introduced to this country by Lehn & Fink." Mr. Fink traveled to Europe, contracted with suppliers of high-quality products, developed superior tin-line packaging in Europe, and succeeded in underselling British competition.
In 1894, Lehn and Fink also "first introduced diphtheria antitoxin to the United States from France. The serum arrived in New York harbor late one Saturday night in November 1894 at the time of a serious diphtheria epidemic. Mr. Fink sought and received special clearance from customs authorities for immediate unloading and turned the serum over to the physicians who were lined up in carriages before the Company office."
In the first decade of the 20-Century, "Lehn and Fink presented for the first time to the American medical profession a safe, dependable, uniform antiseptic and disinfectant under the brand name 'Lysol.'"
By 1925, Lehn and Fink sold products made only in its own laboratories and manufacturing facility in Bloomfield, New Jersey (Courier, section six, August 26, 1953, p. 3).
Very Brief Memoir of Lehn and Fink
At about the age of ten, my Uncle Loren Wood sometimes let me go with him when he drove a truck for Melvin Transfer in Lincoln. I was impressed with his skill in backing his truck to the loading dock of Lehn and Fink. I think I saw my first forklift truck in that plant.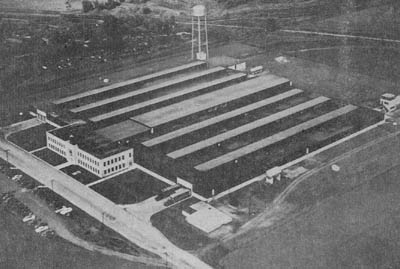 22.29: 1950s Aerial View of Lehn & Fink
(Aerial view from the Lincoln Evening Courier, Centennial Edition, Section Three, p. 5. Photo also appears in Dooley, p. 36.)
The Illinois Central Railroad tracks are noticeable across the top of the photo.

---
Electronic Controls for Business, Industry, and the Home: Cutler-Hammer (contemporary)
From information at http://www.cutler-hammer.eaton.com: the Cutler-Hammer division of the Eaton Corporation manufactures electronic controls for the home. These products allow homeowners to
▪ expand residential use of indoor and outdoor electrical products;
▪ enhance security system control;
▪ regulate and economize the use of energy; and
▪ gain added safety protection against power surges, overloads, short circuits, and other potential problems.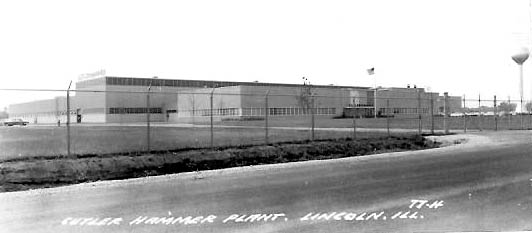 22.30: Undated Picture Postcard of Cutler Hammer

---
Farm Machinery (1913-1935)
The former Love Manufacturing Company built the "Perfect Corn Harvester."

22.31: Postcard Technical Illustration from the Internet
In "The Lincoln Automobile" Nancy Lawrence Gehlbach writes that from1913 to 1935 this company was housed in the building first constructed for the manufacturing of the Lincoln automobile. The Love Manufacturing Company "was incorporated to produce agricultural machinery; sell lumber, grain and coal; and operate a slaughterhouse on the site" (p. 6). (What happened to the idea of doing one thing well?)

---
Garments (1926-1993)
The building known in the Route 66 era as the garment factory was constructed at 220-226 North Logan Street as a result of the efforts of the Lincoln Commercial Club in 1913 to provide a facility for the Typhoon Signal Company of Chicago. "The building, designed by local architects Deal and Ginzel, cost about $5,000; the company would pay 6% interest to the holders of notes until it could buy the building itself" (Gehlbach, "A Factory Incubator," p. 8).
After the Typhoon Company failed, "the next tenant of the building was the Linway Company of Chicago, which leased the Typhoon company's equipment in 1916 and set to work making patented automatic screw drivers, maps, saws, and the like" (Gehlbach, p. 8).
After the International Shoe Company used the building from 1919 to 1926, the Mitchell Brothers garment company occupied it. This building and the Goldsmith property to the north on Chicago Street were purchased by the Lincoln Allied Garment Company in 1946. "In the late 60s, the Lincoln Garment Company opened a factory outlet store next door to the factory, at 230 N. Chicago Street. The garment factory closed in 1993 [because of foreign competition], and the property was sold in 1996. It is unoccupied at present [fall of 2002]" (Gehlbach, p. 8).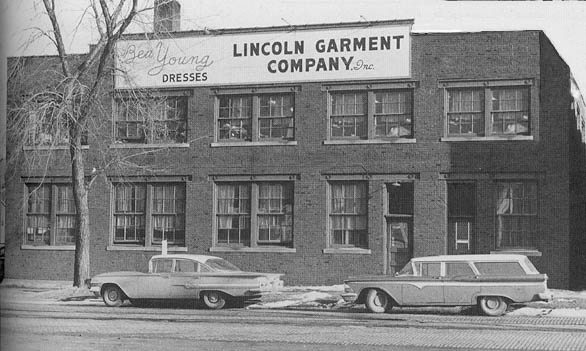 22.32: The Lincoln Garment Company in the 1960s
(Gleason, Lincoln: A Pictorial History, p. 31)
The above location is North Chicago Street, which is paved with brick. The dark lines just in front of the vehicles were tracks of the interurban.
While a few men were employed to do heavy labor, most of the factory work was done by women, and the production process was tedious and physically punishing: ". . . sore shoulders and backs from bending over to sew amidst the deafening roar of the sewing machines. . . . feet encased in boots in winter to keep out the cold and--before the advent of air conditioning -- hair soaked sweat on hot summer days" (Gehlbach, p. 1). My mother, Jane Henson, worked at the garment factory in these conditions for many years in the 1950s and early 1960s to help support her family.
Nancy Lawrence Gehlbach describes the process of manufacturing dresses at the Lincoln Garment Company:
Samples were made in the plant and sent to Chicago for approval. At the beginning of production, men used machines to cut 500 pieces at a time. "All those pieces were separated into bundles at the splitting table, each bundle with its own number. When the bundles arrived upstairs where the sewing was done, they were sorted. Each piece that went with a dress had a bundle number, and workers matched them up so there would be no shading. Then a bundle of work was tied up with a ticket listing the operations that needed to be done.
Each woman specialized in a different operation: putting together the front of a blouse, setting in sleeves, putting on collars, or inserting zippers, for example. Twenty to 30 operations were often required to complete a garment.
On a typical dress, the first girl would make the sleeves, tie them into the bundle, and pass it on to someone like Leona Apel, who did nothing but make fronts. She passed the bundle to the girl who did nothing but set collars. Someone else would put on cuffs, and another girl would set in the sleeves.
One special machine was used to make buttonholes and one to put on buttons. The hemmer was used just for hems.
When a girl finished a bundle, she tore off a ticket and stuck it on a gum sheet she turned in at the end of the day, so someone in the office like Carol Estes or Ellen Lichtenwalter [Moore] could calculate her pay. She put her time clock number on the ticket fastened to the bundle, next to her operation." Dresses with errors were returned to the person whose number indicated she had done that piece. Time spent correcting errors might reduce the chances of an employee meeting her quota. "Usually, women were paid extra for any work they did beyond their quota. . . ." (Gehlbach, p. 2).
Dresses made by the Lincoln Garment Company were sold by Penny's, Sears, Ward's, Avon, New Process, and Spurgeon's in Lincoln. Labels included Bea Young, Bea Active, and Kay Ashton. In 1957, 8,400 dresses were produced per week.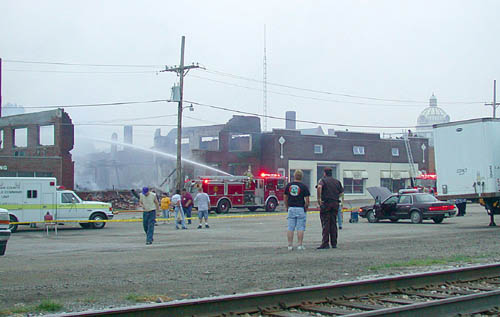 22.33: Building of the Former Garment Factory Burns, July 11, 2005
(photo courtesy of Fred Blanford)

---
Horse Collars (1890--192?)
The Lincoln Cork-Faced Collar Company was established in 1890; and a three-story brick factory was built in 1891 on South Kickapoo Street south of the Illinois Central Railroad. The operation was one of only two such factories in the United States. This company was located in Lincoln from Washington, Missouri, through the efforts of W.H. Hagenbusch. Founders of this company included some of Lincoln's most successful early entrepreneurs: S.A. Foley, D.H. Harts, Sr., A.C. Boyd, J.T. Hoblit, Frank Hoblit, and Frank Frorer. "The horse collars manufactured [were] faced with granulated cork, and [were] light, cool, elastic, durable and [prevented] irritation to he shoulders of animals" (Stringer, p. 545).

---
Ice (pre-1920-197?)
The only source of information I have found about the manufacturing of ice in Lincoln, Illinois, is "Central Illinois Public Service Company 'The Ice Plat'" (Beaver, History of Logan County 1982, p. 52). The Striffler Brothers Ice and Coal Company was purchased by the Central Illinois Public Service Company on March 1, 1923 (Beaver, p. 52). In 1927, electrical power replaced steam-driven power in the manufacture of ice by the new company.
Improved ice service benefited merchants and consumers. This company sold ice to thirteen other communities. Ice was used by produce suppliers and shippers in such central Illinois cities as Farmington, Havana, and Centralia (Beaver, 52).
"Cipsco ice cubes, cut conveniently for table use, were introduced to Lincoln patrons in 1928 when they were placed on sale at the plant and downtown service station, and made available from all company wagons [six wagon routes in Lincoln]. These Cipsco ice cubes [were] a great aid in serving cool sparkling drinks during the hot summer months, and [added] distinction to the well-set table" (Beaver, p. 52).

22.34: Ad from Polk's Lincoln, Illinois, City Directory, 1934-35

---
Iron Castings
In 1972 Richard "Ivan" and Elaine Ray bought the building below. At that time it was empty. The original part of this building had been home to the Lincoln Automobile Company (1907-1909) and the Love Manufacturing Company (1913-1935). "The Rays remodeled the building and built Modern Brake and Alignment behind it" (Gehlbach, Our Times, winter, 2003, back cover).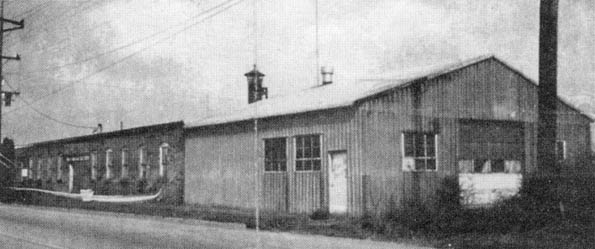 22.35: Lincoln Foundry on Limit Street, 1972
(Photo from Our Times, 7.1, winter, 2002, back cover. Photo provided by Ivan Ray.)
The caption of this photo reads, "Lincoln Foundry, 1972. The brick portion in the rear was the first floor of the two-story Lincoln Automobile Factory, built in 1907. Ralph Weaver bought that building in 1942 for the Lincoln Foundry."
Additional information provided says that Howard Stewart had managed the Lincoln Foundry. This facility "had cast items like manhole covers, storm drains, and curb drains. The flow was covered with mold sand--sand mixed with oil and used in the casting process. Casting requires wooden patterns; Ralph bought his from a woodworking shop in Pekin and had about 180 different styles and designs. Two overhead cranes held the big metal ladles used to pour the molten metal reclaimed from scrap iron that Ralph had purchased.
I found more information about the Lincoln Foundry in the centennial edition of the Lincoln Evening Courier: The Lincoln Foundry in 1953 produced 150 tons of gray iron castings used to manufacture agricultural machinery, cast iron smoke pipe, drainage materials, and airport equipment. "Unlike many highly mechanized industries where repetitive mechanical skills prevail, gray iron is essentially a craft industry. Four years of apprenticeship is [sic] normally required to develop journeyman molders, core makers and pattern makers, and anywhere from six months to several years to learn other foundry jobs" ("Lincoln Foundry Began Operation Over 50 Years Ago," Lincoln Evening Courier, centennial edition, section eight, Wednesday, August 26, 1953, p. 4).

---
Lawn and Garden Products (contemporary)
Red Devil Lawn and Garden Products information below is from its corporate Web site: www.precisionprodinc.com

Precision Products, Inc. is proud to be one of the leading manufacturers of heavy-duty quality lawn and garden equipment. We continue to grow and make new strides in innovating and improving our products. From easy to assemble trailer carts, to heavy-duty aerators and detachers, to fully assembled lawn spreaders, there is a Precision product for your every need.
Precision Products, Inc. is centrally located in Lincoln, Illinois. With a manufacturing facility of 565,000 square feet and 32 loading docks we are capable of producing thousands of spreaders, trailer carts, and other accessories each day. We are looking forward to the future in providing the highest quality products for each of our customers.

---
Mattresses
Mattresses were manufactured in the former Excelsior Factory on North Chicago Street (Gleason, p. 34).

---
Metal Stamping and Assembly (contemporary)
From the Web site of Inland Tool Company: http://www.inlandtoolcompany.com/companyprofile.htm
"Inland Tool Company is a full service metal stamper and assembler located in Central Illinois in Mt. Pulaski. Inland Tool Company began as a tool and die shop in 1974. At that time we were located on 3 acres in 11,000 sq. ft. of space. In the early 1980's, in a effort to mitigate the boom or bust cycle associated with tooling, we expanded into the stamping area. We built a new facility, expanding to 25,000 sq. ft. Most of the parts we produced were fairly small and made in progressive dies.
In 1988 when Diamond Star Motors (now Mitsubishi Motor Manufacturing of America – MMMA) built their new plant in Normal, Illinois, Inland Tool Company became one of their earliest suppliers. Through MMMA work we greatly expanded our automotive exposure.
In the mid 1990's we greatly expanded our value added welding and assembly business. We added projection, spot, robotic arc welding, plus various assembly operations.
In December 1999 Inland Tool Company became QS9000 certified.
In April 2000 we completed our new 40,000 sq ft stamping and assembly building. This new facility is located on 25 acres on Route 121 and just across the street from our older facility. This latest expansion doubled our square footage to approximately 80,000 sq. ft. In 2000, we also added a second shift and temporary third shift.
As we expanded into our new facility we added 11 stamping presses (for a total of 29) and 7 additional welders. The stamping presses included several big bed presses (up to 108" x 60"). The larger presses, with a feed line capable of feeding material up to 72' wide and handling coils of up to 20,000 pounds, now enable us to make larger progressive parts. This expansion also greatly increased our tandem and hand transfer capacity.
As a full service stamper and assembler we design, build and maintain our own tooling. Building on our tool and die roots we build quality and ease of processing upfront into our tools. This ensures superior quality and ease of maintenance.
Our offering of services include metal stamping, CNC and high volume machining, spot and projection welding and robotic arc welding and general assembly. We service the automotive, appliance, electrical controls, leisure and lawn and garden industries, among others. Inland Tool Company is a strong, dynamic, growing, quality and service oriented company that builds on its strengths to solve our customers' problems and meet their stamping and assembly needs."

---
Packing Material
From Gleason's Lincoln: A Pictorial History: "The Excelsior Factory, located on North Chicago Street between Keokuk and Burlington Streets manufactured packing material. The facility later became a mattress factory" (p. 34). A picture shows a T-shaped, two-story wooden building.

---
Paint (1886-196?)
From Paul Beaver's History of Logan County 1982: "Dating back to 1886 was a business that grew into Lincoln and Logan County's only paint factory, owned and operated by Floyd Weymer at 113-115 North Logan Street.
P.B. Weymer, father of the present owner, was the founder of the business and following closely in his father's footsteps. Floyd Weymer took over the business and continued and enlarged it from year to year.
From 1886 to 1921, only contract painting and decorating was attempted. However a new era was begun with the first manufacture of Weymer paints.
When manufacturing was begun on a small scale in 1921, Mr. Weymer had no idea that orders would justify such a tremendous growth in volume as has been experienced in the seven years that transpired since that time. Manufacturing gallonage [sic] increased more than 1,000 percent since the first year.
There were approximately one hundred different raw materials used in the manufacture of paints. This necessitated the carrying of an enormous supply of raw materials, granting that only a small stock of each was carried at any one time.
Weymer's factory turned out 10 different kinds of paint -- with four to ten colors packed in quantities from half pints to barrels.
All paint manufactured at the Weymer factory bore the Floyd Weymer label, Lincoln, Illinois, with Floyd Weymer's own signature.
Nine tenths of the paint manufactured was shipped by truck to parts of Illinois, Wisconsin, and Iowa to 58 regular customers.
Weymer's Paint Factory had a daily capacity of 300-500 gallons of finished paints. After Mr. Weymer's illness the factory was operated by his wife until the early 1960s" (Beaver, pp. 56-57).

---
Plate Glass (1952-198?)
A main source of information about the Pittsburgh Plate Glass Company's facility in Lincoln, Illinois, is "Pittsburgh Plate Glass Company of Lincoln Employs 90 Persons" (Lincoln Evening Courier, section five, Wednesday, August 26, 1953, p. 12).
The Pittsburgh Plate Company, formed in 1883 from the New York City Plate Glass Company, was one of a few surviving manufacturers of glass in North America. Although glass manufacturing was one of the first industries in the New World, plate glass manufacturing had not proved very successful.
The Pittsburgh Plate Glass Company endured into the 20th Century because of its network of local distribution centers and because of its effective research and development. It took research from 1939 to 1951 before the Company was prepared to manufacture its "TwindoWeld" design. The plant in Lincoln was established just to make this product. The Lincoln site had been purchased from the Stetson China Company.
The TwindoWeld product did not attempt to replace the Twindo, but was "specifically designed for residential glazing, apartment, schools and all other building applications where large quantities of relatively small size insulating units may be utilized. TwindoWeld [was] available in sizes up to 50 inches by 62 inches" (Courier, p. 12).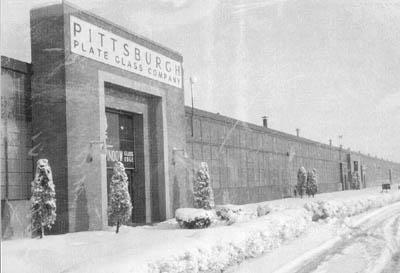 22:36: Pittsburg Plate Glass
(Photo from Gleason, p. 37)
"The edges of this new product are electrically fused to provide a glass-to-glass window, having all the advantages of the assembled double-glazed units now on the market plus the permanency of true glass-to-glass sealed edges. Having no metal in its construction, TwindoWeld also eliminates edge conductivity, making it particularly desirable for refrigeration and air-conditioning applications" (Courier, p. 12).
"TwindoWeld [consisted] of two layers of eighth-inch thick glass separated by a three-sixteenths inch air space. The air between the two panes of glass is removed in the manufacturing process and replaced with especially dried air. Internal air pressures are adjusted to enable the insulating units to withstand atmospheric pressure in all part of the United States having altitudes under 3000 feet" (Courier, p. 12).

---
Shoes (1919-1925)
After the Typhoon Signal Company failed in 1915, the facility where it had been located, "the garment factory," was used by the Linway Company of Chicago, which made "patented automatic screw drivers, mops, saws, and the like" (Gehlbach, "A Factory Incubator," p. 8).
"By 1919, the building's tenant was a branch of the International Shoe Company. Women at the Lincoln factory stitched uppers for the shoes made at the company's Springfield factory. The Lincoln factory employed 65 girls and women and had an annual payroll of $50,000 when it moved to Springfield in 1925" (Gehlbach, p. 8).

---
Store Fixtures (contemporary)
Information below is from the Web site of Mii, Inc.:
http://www.mii-inc.com/Main/About%20mii/about.htm
"Mii, inc. is a privately-held corporation, headquartered in Lincoln, Illinois. A full-line manufacturer of wood and metal store fixtures and shelving systems, the corporation owns and operates nearly 700,000 square feet in four cities: Lincoln, Illinois; Jacksonville, Illinois; Harrison, Ohio; and Clark County, Nevada. Total average employment is over 500. We take pride in our modern facilities and are constantly evaluating state-of-the-art manufacturing equipment that will provide versatility and efficiency, while continuing to shorten lead times. We understand the needs and problems of the retailing industry that we serve, and are committed to a quality product, delivered on time. All of our manufacturing plants are supported by a full-service installation department, headed by professional construction managers who coordinate experienced field supervisors strategically located throughout the United States."

LCHS Alums Remember Lincoln's Factories
Dave Salyers' Grandfather: The Meanest Man in Town (3-05)
Hi, Leigh --
Hope all is well w/you and yours.
Today, I found myself reading the "factory" section of your web site.
(Perhaps I should say "re-reading," because I'm sure I've been here before.
But, incredibly, I never saw the piece on the Shoup and Jones concrete block factory.)
I was told, on pretty good authority, that my grandfather, Hays Cox, was a principal investor in that business (although I'm not sure if he ever actually worked there).
Jones was married to Mollie Dunnuck, a sister of Hay's wife, Pearl, and both couples had moved to Lincoln from Ottawa, Kansas.
My grandfather bought a farm off Route 10, near a tiny hamlet called Midland City, where my mother was born.
I'd kill to know more about the Shoup & Jones business. Do you know anyone who might have more information? If you do, I'd be very grateful to know who it might be. (I, too, recall Ralph Shoup's "chalk-talks." I don't remember exactly what he did, but he was at some LCHS assemblies, wasn't he?)
I was told that John Jones was very creative, but not a particularly good business man, and that might very well be why my grandfather was involved.
Another story was that they tried to create concrete block houses. A bad idea, apparently, because the story goes that that effort was what ultimately brought down the business. But I have nothing more than family lore (and you know how dodgy that is) upon which to base this).
The Salyers family had several connections with Lincoln factories. My grandfather Salyers drove a team for the casket factory in the early 20th C.
Two of my father's sisters worked at the China Factory, and my uncle Rob Salyers was a supervisor at PPG. Even I, my ownself, worked at the china factory. It was for most of the summer of 1962, after I got out of the army until I returned to college. (The work was hardly enough to keep the mind alive, but was an added incentive to get a college degree.)
My father worked for many years at the ice plant. (In fact, that's how my father and mother met. He delivered ice to John Jones' home, where my mother and her sisters often stayed.)
Dad was almost killed when an elevated motor fell and hit him atop the head.
What saved him was that he was standing on an icy floor in the ice room, and apparently the force of the blow "squirted" him out from under the heavy motor. That was winter of 1948 or 1949, and I remember that he was in a coma for weeks. Dr. Gaffney told mom that dad was a goner, but he recovered.
Many weeks after the accident, when they finally let me into the hospital to see him, his head looked as if someone had taken an ax and buried it in his skull. It was a very nasty wound, and it's remarkable that he not only lived, but was mentally a whole person afterward.
Here's an interesting story about my dad's father, about whom dad often said, was "the meanest man who ever lived." He was a heavy drinker and a violent drunk. Dad's younger brother, Robert, told me that dad would frequently defend the family from him when grandpa would stagger home drunk.
When grandpa worked for the casket factory, a neighbor's bulldog took a liking to him, and the neighbor gave him to grandpa. One day, as my father told it, grandpa was driving his team past the fire department. Several firemen and their Dalmatian were sitting outside.
It was the bulldog's habit to run along side the wagon, or sometimes even under it, as it moved down the street. The Dalmatian attacked the bulldog, and was tearing it up pretty badly, which greatly amused the firemen.
The fun stopped when the bulldog did what bulldogs are bred to do -- he took that old Dalmatian's muzzle between his jaws and then sat back down to see what would happen next. Up to this point, grandpa had let the dogs fight, but when the battle swung in the bulldog's favor, one of the firemen, armed with a barrel stave, decided to pitch in to defend the firehouse dog.
At this, said my father, grandpa took issue. Dad said grandpa put several of the firemen in the hospital that day.
I recall that my dad told me that story without a hint of approbation for my grandpa's actions. It seemed to be just another way for him to explain to me that my grandpa was truly "the meanest man in the world." After the dogfight, I expect that at least a few of the Lincoln firemen would have agreed with that description.
Telling that reminds me of yet another story about my grandpa. He and my grandma lived on Sangamon, just behind the china factory. I remember when I was very young -- maybe 10 -- seeing my grandpa set out to go to town. He was so feeble that he could barely put one foot in front of the other, and to a child's eye, it looked doubtful that he'd ever make it downtown, at least in the same day.
One day, I read in the paper that my grandpa, then in his late 70's, had knifed a man in (?) the Corner Tavern. Well, even at that tender age, I was very embarrassed.
In any case, knowing what I knew of grandpa, I knew he must have been the instigator, and for many years I held that opinion, until I learned the truth. For the life of me, I can't recall how I got hold of the follow-up story in the Courier.
The article quoted the sheriff (or police chief) as saying, and I paraphrase, that the younger man who had started the fight with this old man got just what he deserved, and that no charges would be filed.
I guess that's as much as I'll ever know about that, but I'd love to have all the details.
Well, now that I've drained my memory tank dry, I'll be getting back to the 21st century.
Best regards,
Dave Salyers
Email Dave at [email protected]
Leigh Henson Responds to Dave's Factory Memoir
My Grandmother Ruth Henson's home in the 500 block of Fifth Street had been built some time in the late 19th century. Her house had a concrete sidewalk that ran from the front porch to the red-brick sidewalk that paralleled Fifth Street. The concrete sidewalk was inscribed with the names Shoup & Jones.
Darold Henson remembers the Jones family that lived in the 500 block of Fifth Street. When I was a child, I remember two elderly members of this family, Al and Joner, who daily walked past my grandmother's house on their way between their home and Postville Park, where they liked to sit. They sometimes walked unsteadily, and the rumor was they pulled on the grape. As a kid, I also remember going with Darold to the shed behind the Joneses' house, where some of them and other men from the neighborhood played cards. The shed was heated by an old-time, wood-fired stove.
Darold said that one or two members of this Jones family were concrete workers at Shoup and Jones. Other brothers besides Al and Joner were Ryle, Hen, and Tub. Darold says he thinks Al and Tub were the concrete workers. The 1934-35 Polk's Lincoln City Directory identifies Allie and Katherine A. Jones of 516 Fifth Street. This directory identifies the owners of Shoup and Jones as Thomas Shoup and John P. Jones. Perhaps John P. Jones and the Joneses of Fifth Street were related.
The 2005 photo below shows a concrete hitching post in the 500 block of Fifth Street--a rare remnant of the 19th century on Fifth Street (imagine a time when horses were hitched so that they stood at the edge of Fifth Street). I do not know if the Shoup & Jones Concrete Block Company constructed this hitching post, however. As I recall, the Jones family lived in the second house from the right in the photo.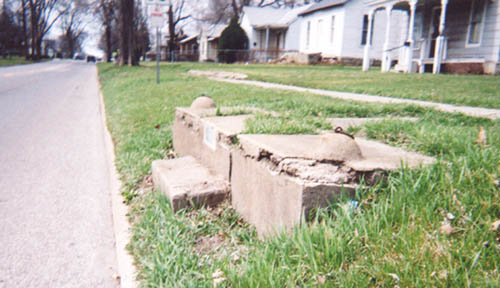 22.37: Concrete Hitching Posts in the 500 Block of Fifth Street
(Leigh Henson photo)

---
Sources Cited
Aerofiles Web site: http://www.aerofiles.com/_ca.html
Beaver, Paul J. History of Logan County Illinois 1982. Published by the Logan County Heritage Foundation. Dallas, TX: Taylor Publishing Company, 1982.
Dooley, Raymond, ed. The Namesake Town: A Centennial History of Lincoln, Illinois. Lincoln, IL: Feldman's Print Shop, 1953.
Fish, Henry. Illustrated Lincoln. Lincoln, IL: The Star Publishing, Co., 1916.
Gehlbach, Nancy Lawrence. "A Factory Incubator." Our Times 7.3, fall, 2002, p. 8. Sam Redding, Publisher. Prairie Years Press. 121 N. Kickapoo St. Lincoln, IL 52656. 217-732-9216
___________. "A Pasture or a Flying Field?" Our Times, spring 2000, p. 4.
___________ . "Cars. . . and Drivers." Our Times 3.4, winter, 1998.

___________ . "Come Fly with Me!" Our Times 5.1, spring, 2000.
___________ . "Factories of Yesteryear." Our Times 7.3, fall, 2002.
___________ . "Factories to Remember." Our Times. 7.4., winter, 2003.
___________ . "Lincoln Casket Company." Our Times 7.3, fall, 2002, p. 7.
___________ . "The Lincoln Automobile." Our Times winter, 1998, pp. 3 and 6.
___________. "Stetson China Company." Our Times 7.3, fall, 2002, pp. 4-5 and 9.

Gleason, Paul E. Lincoln, Illinois: A Pictorial History. St. Louis, MO: G. Bradley Publishing, 1998. Material from Mr. Gleason's books is copyrighted with all rights reserved. Mr. Gleason's material used in this Web site is with permission from the G. Bradley Publishing Company, 461 Des Peres Road, St. Louis, MO 63131. Call 1-800-966-5120 to inquire about purchasing Lincoln, Illinois: A Pictorial History (1998) (200 pages of rare photos and text) or Logan County Pictorial History (2000) (also 200 pages of rare photos and text). Please visit
http://gbradleypublishing.com/.
___________ ., and Paul J. Beaver, Logan County, Illinois: A Pictorial History. St. Louis, MO: G. Bradley Publishing, 2000.
"Lehn and Fink, in Lincoln Since 1947, Was Founded 80 Years Ago." Lincoln Evening Courier, centennial edition, section six, August 26, 1953, p. 3.
"Lincoln Container Corporation Organized Here Eleven Years Ago." Lincoln Evening Courier, centennial edition, section eight, August 26, 1953, p. 12.
Lincolndailynews.com information about Willamette's new warehouse built in Lincoln, Illinois.
http://archives.lincolndailynews.com/2002/Jan/07/News_new/today_a.shtml
"Lincoln Foundry Began Operation Over 50 Years Ago." Lincoln Evening Courier, centennial edition, section eight, Wednesday, August 26, 1953, p. 4.
Lincoln/Logan County Chamber of Commerce. Economic development: demographics http://www.lincolnillinois.com/
Lincoln/Logan County Chamber of Commerce Community Profile & Membership Directory. Lincoln, IL: 1998. Photo courtesy of Village Profile.com, Inc., 33 N. Geneva Street, Elgin, IL 60120. Please visit the Web site of this remarkable company at http://www.villageprofile.com.
MII, Inc. Web site: http://www.mii-inc.com/Main/About%20mii/about.htm
"Paul Schuster Carries on Hand Cigar-Making Begun by His Father 75 Years Ago." Lincoln Evening Courier, centennial edition, section five, Wednesday, August 26, 1953, p. 12.
"Pittsburgh Plate Glass Company of Lincoln Employs 90 Persons." Lincoln Evening Courier, section five, Wednesday, August 26, 1953, p. 12.
Polk's Lincoln (Logan County, Ill.) City Directory 1934-35. Chicago, IL: R.L. Polk & Co., 1934.
Sheley, Pam. "On a Personal Note." Our Times, 7.3, fall, 2002, p. 2.
"Stetson China Company Was Moved Here from Roodhouse." Lincoln Evening Courier, centennial edition, section seven, August 26, 1953, p. 11.
Stringer, Lawrence B. History of Logan County, Illinois, 1911. Evansville, IN: UNIGRAPHIC, INC., 1978.

Email comments, corrections, questions, or suggestions.
Also please email me if this Web site helps you decide to visit Lincoln, Illinois: [email protected].

"The Past Is But the Prelude"