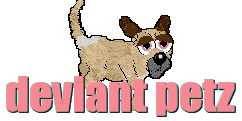 my reviews

Here you can see what other people have said about my site. I love having my site reviewed, so if your site offers reviews, I'm always open for some reviewing action.

Review by Fabled

DEVIANT PETZ: http://www.geocities.com/wingedshaddow/

FIRST IMPRESSION: The site looks great =D The layout is really organised, and even though I'm not fond of that shade of green, I can't fault it ;) I really like the use of the green sneaker on the pet on the first page, and the thick black border lines. The background is really subtle. The only thing is the heading, the font looks a little out of place with the layout. I like your links too, how when you hover it's green and cool.

CONTENT:
Main: The introduction is good, I like the first one =D The second one should just latch onto the first, I guess? It's just weird to see two there o.o The updates are organised and nicely done though! Links: Really organised, it's good how you have the "Link To Us" on the same page too. The "Reviewed By" bit is awesome 8D I'll definitely check out some of those sites because I love being reviewed too!
E-mail me: I hate direct email links =( Because I don't use Microsoft Outlook, it becomes a hassle as a I need to Right click --> Properties --> Highlight it all, Copy, etc... How about a contact page instead? :D
Details: It's good how you have this page explaining your adoptions and also, your text is organiseedd<3 Not a whole bunch of crap strewn all over the place =D Luvverly =D The only thing is, I don't like it when sites are pure downloadable adoptions =( Although it's interesting to see a site with only these ! But I like to have some exclusives and whatnot, y'see.
Litters: Oh wait, don't worry, you have litters which aren't downloadable n_n Ooh Javert kitters!<3 Javert's such a sexpot 8D I'm tempted by one of the solid whites, I don't think I have a white RB ....
All ze other adoptions: Nice. I like how you use labels, it makes them easier to see and all that.
Shows: Yay! I love to enter these. You're approved by iWin! Great :D (I still need to apply, rofl. I procrastinate. Sigh. Obviously. <.< >.>) I don't remember whether I've entered your shows o.o Perhaps you should have an "Entered" section? Mrr, I'll enter the Dog Show later though 8D 0 show entries is such a sad number to have D:
The Site: Ooh, I love looking at your past layouts. I love your "Tiger" layout =D Beautiful cat.
Ramblings: These are cool to skim over too. Broken links, heh, there are probably tons at Fabled xD I'm a lazy ass.
Breeding: That's really nice, how you offer that service to other people. You might as well put that note on the My Petz page though since it's only a paragraph and you need to direct people to that page for it anyhoo.
Chinchies: Hey, a breeding project! That's awesome =D I've never had the dedication to finish one of these.
Silly pics: Aw, this is really cute =D I like the effort you put into it and it's pretty and cool n_n
Site tips: Awesome! I'll definitely read through these, see how I can improve Fabled and all that. Promotion is especially a good section to have since a lot of people struggle with "getting their sites out there."
Book list: This is very cool! I love to read so it's interesting to see the sorts of books you're interested in too =D I've read 1984 by George Orwell, the character of Julia fascinated me - so did Newspeak but the book rather bored me. o.o Angels and Demons I've always been interested in reading in, my friends urge me to read it xD Same goes for Pride and Prejudice! I've never even watched one of the movies but I love reading the classics. Congratulations, you've won the Gold Award, as if there was any doubt ;) Please link back to Fabled and display the award on your site!

Review by ADB Petz

You update frequently which is a very good thing. You have lots of adoptions and lots of different kinds which is what makes a petz site a petz site. You have a nice layout and easy navigation. You have lots of things to do and lots of helpful things for everyone. I love that you have shows and reviews. Deviant Petz is awesome!

Review by Kool Kennelz

I wasn't really in the mood to do a full out review, because they take a good half hour to an hour depending on the site, so I just went page to page checking it out.

The first thing I notice is the bright green, which seems very boring. If perhaps you could add Deviant Petz somewhere on it, it would look tons better. So if you had a layout of a garden for example, with a white picket fence at the bottom with dogz and catz up the sides, and Deviant Petz somewhere around the top, it would look SO much better, but I don't know your html skills, since I know I wouldn't be able to do it. If you went to I think it was Diverstiy, they have/make layouts for people to use.

adoption- you have a big selection, and a lot of cute petz. I like the variety.

shows- it looks better on your part to have the examples on your site instead of sending people to another site. I know from experience that you end up staying on that site, and keep going to others from there. In one day I've checked out about 50+ sites, and had about 3+ open at a time. (gets confusing) If you would like, you can use the examples I have posted, and the show points. All I ask is that you post somewhere that you took the examples from my site, since they are my petz. Oh, and your show awardz are cute.

inside- no comment on about me. i liked seeing past layouts. your petz are cute. I HAVE to comment on the ramblings, I just can't help it.
shows- people hardly even visit each other's sites anymore. I got sick of the petz community because everything became forums with it. Forums for petz AREN'T fun. I am on a forum for cyberpets, which is a market where we draw our own crits, and sell them to each other, then page them with stories, and role play them and such, but for petz it's very different, and to me seems like laziness and a major lack of caring. I am 20 years old, and have been into petz since Dogz 1! I loved the community back then, now I can't stand it. It actually sickens me to think about it since all my old site buddies are gone, never to return, and there seems to be a completely different feel for petz now.
broken links- i must rant against your rant because my site sucks. I am unable to alter any of my linkz since freewebs is the worst host in the world, and won't let me edit that paragraph AT ALL. so I am permanently stuck with broken linkz, and ones I couldn't post. (one of the reasons I stopped updating my site was because I was not ABLE to update it since freewebs sucks. That's what mostly pushed me back to angelfire where I run my cyberpet site.)
the times are changing- i REALLY agree, which is why i don't want to be part of the community anymore. petza is the lazy way out, people get as many petz as they can, for what? I admit that when I set up my crew pages, I posted A LOT of petz, but my petz would breed with each other, and I'd get more petz, and it just got out of hand. Right now I have close to 40 petz in my program, and I'm afraid to play with them because I have to take every one out and pet them otherwise I'll have runaways. It's super annoying. But I can't post any for adoption because I love them all. Anyway, the petz community has become lazy. They look for the easy way to do things. Petza was created for that, you can instantly do things, and I think that's unfair to the people who for around a decade have bred their petz with love potion, music, and heart treats. Then if they were lucky they messed with the pc calendar and got puppies 4 days early. Of course stuck pregnancies would happen once in a while, and you would go crazy for about a month until you found a faq somewhere and found out you just have to change the years and she'll have the pups. Yes...times have certainly changed, but I must say for the worse.

other stuff- silly pics made me grin, thanks for that.

ok, I like your site. I love that you don't have mis-spelled words everywhere because that drives me crazy. You might think about adding some contests or games to make things more interesting. I haven't given out stars in a while, and this is my first review since maybe sometime in 2005. I think your site would earn 4 1/2 paws. (ack, it's been so long I forgot it's pawprints not stars) anyway, because you feel that I'm still around even though my site doesn't get updated, I'll make you an award to post, since I like you. award is attached. it contains one of my all time favorite petz- Mandarin.

Review by Tahini

Site: Deviant Petz
Owner: Emily
Layout: Green & White with pawprints (?)
Date: July 16, 2006

First Impression: Okay :) The layout is simple, clean and nicely coordinated. I like how there's no "guess what this link leads to" in the navigation. And the pawprint background is very cute. I want to see what's going on. (10/10pts)

Opening Welcome: Good. You have a link to the official petz site and you have came out and said that you specialize in naturally bred downloadable adoptions. Cool! But here you didn't say what versions the site supports, so I just assumed they're for petz 3+(until I later found that they were bred in petz 4). I like how you gave the visitor a heads up on any problems Geocites might cause, and a frame escape link. (4/5pts)

Content: Wow! You have so many adoptions! They range from purebred catz and dogs to mixed cats and dogs--and even more impressive, you have pages of full-blooded Deviant Petz lines that are hex free. And even MORE so, you have bred them the old-fashioned way! Obviously, much time and effort has been put into your numerous adoptions, seeing that you had to upload all those files and such. GREAT JOB on the adoptions (though I wish to see more purebred dogs, I will leave that be since there are tons more to look at). I see that you have hosted a Shows section even though your specialty is in adoptions. To me, all that content looks so exhausting but obviously you have it under control! Extra points given :) (25/20pts)

Something Extra or Exclusive: [curbed for specializing adoptions] Since your site is all about adoptions, I would consider "shows" as something extra. The chinchy project looks promising as well. I like how you've compiled a book list and I especially like the site tips, as not many people have them and they are great for new (and experienced!) site owners. I like that you have a place for you, the site and your crew to get to know what all's behind the coding. And about the crew, I'm also happy that you're not just showing off all your pretty pets, you're showing that they are important and that they are the source for all those wonderful adoptions. (I like that :) Nice point made in the rant, by the way ;) (10/10pts)

Visitor/Site Interaction: Glad to see there is a find it- everyone enjoys those :) And I found it! -back on track- Anyway its nice to see that you take other people's suggestions and request through the breeding page-which your breeding service looks really flexible for both you and the visitor. Also, the adoptions are self-serving so the visitor can come and adopt as they like. Along with the tips, its good to see that you are doing reviews for other sites. Its nice to know that you are willing to share your knoledge and wisdom with the PC :) (10/10pts)

Graphics/ HTML?: I'm glad all your images work (for me atleast) And are put to good use. HTML looks pretty good too. However, I'm not so sure on the layout-- I like that the layout is clean and easy to navigate, but its missing some sort of character to it. Nyche with the shoe on the main page was a welcoming invite, but other than that and the pet pictures themselves, the feeling of the layout doesn't catch any emotion or intrique me. I think you should have something in the layout that generates a reaction from the visitor. The entire site is beautiful and amazing, I think if you had a catchy layout (that still can be very simple), that would just send it pass the stars and forever capture the hearts of your visitors (sorry, didn't mean to get all... yeah.) (8/15pts)

Oh, and look, you've linked Tahini! (+5pts)

Overall Impression: I must say that the layout isn't what will make me remember Deviant petz, its the content. My overall impression is great. When I'm looking for cute and diverse naturally bred petz, I'll know exactly where to go. Its a great reference for people who are new to site making, and a new spot for entering shows. Just looking at your links section and updates, I can tell you are involved in the PC. Whatever it is your doing though, keep it up! I enjoyed reviewing Deviant Petz! (28/30 pts)

FINAL SCORE: 100/100 - [A] - DROP DEAD AMAZING! [perfect score!]

PS- I took some dogs with me ;)

Review by Petz Dreams 3

Reviewed by: Rylee and Rhonda

Layout/backround/template: 3/10

We really didn't like the green backround. . .it was plain. It needs something, how do we say "zesty", and maybe a few pictures to spice it up.

G-book/forum/tagboard content: 10/10
We didn't see any swearing or rude or offensive languge; it was a perfect normal, nice conversation on the taggy.

Content 8/10
It has no swearing or anything; but me and my friend think it needs more colour to make it more interesting, and the font needs to be bigger.

Easy Navigation 4/5
It is easy to find; as soon as you enter the site you can read it. But maybe the titles and stuff could be a little bigger so they are easier to see.

Stuff for you 7/10
It had a lot of downloads, I'll give you that much; but not very many people what the same pet as others. We suggest that you ask for people to leave a note and then say "adopted" or something on the pet for downloadz. The find it and funny pics and advice and showz are all good, though.

Entertainment 8/15
It was good with the downloadz, tipz, and find it to entertain you; but where is the rest of the stuff? We think it needs more entertainment.

Petz 5/10
It is good with the my petz page; but your petz should stick out more. We suggest getting some hosts for the pages to make it more interesting; or at least put some pictures of your petz on the page to make it more lively.

Adoptionz 4/10
Tons and tons of downloadz. But TO many downloadz. There are lots of downloadz, but NO actual adoptionz. We think you should do at least some form adoptionz.

Grammar/no broken stuff(e.g., images,links) 10/10
The links all work; the grammar was perfect: No typos or no spelling mistakes.

Does it stick to the topic? 3/5
The ramblings, we think, in our point of view, are completley pointless, and un-usefull. You should add more fun things to your site: Such as things like quizzes. And more choice in showz. Maybe some funner shows; like cutest pet showz. Also, do you really think you need ramblings on a petz site?

Overall mark: 61/100.

Ranking: Purrfect

Review by Random Pawz

Content (15): Your content was amazing. You had a good variety. It wasn't just all petz, but it wasn't overboard on the reads and rants.
Overall: I was entertained, never bored.
Layout (13): It was nice. Nothing clashed, and it was easy to read. It didn't really have a spark that captured my attention. The graphics could have been a bit better if they were bmps. I do understand that they take up more storage though!
Overall: Very nice.
Organization (10): I saw no grammatical errors. The navigation bar was easy to understand.
Overall: I can't say much more! It was just great!
Profanity (0)
Style (9): I felt your style didn't quite come across in the layout of the site, but it did in the content. You seemed a bit more "bubbly" in the about me section. But it came across all the same.
Overall: Well done.
Total Points: 52/55

Comments: Charming site! I think the downloadable adoptions were great (I couldn't leave with out a few!). You seemed a bit low on show entries... I would suggest making your entry limit bigger so you get more entries faster. I use five, but any number between 2 and 5 is pretty good. That might help a bit. Oh and by the way... my adoptions were bred in Petz5. Thanks for your review submission! I really enjoyed your site!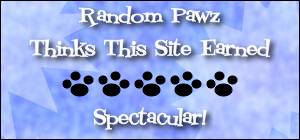 Review by Petz du Soleil

Site Review #4
Deviant Petz
Site
15points=100% Asked By: owner
Results: 86% out of 100% and 12 out of 15 you got a B congrats
Because your site is some-what big i'm going to do it like fabled's.
Home: Green..with a cute dogz..chewing a shoe not some thing i see my dogz do.Also your big text box is expandable..it may just be a mistake, but i like it: 15 out of 100
Adoptions: Downloadable? thats not something you see alot. I've seen couples before, which i like..and you have ALOT of adoptions to download..i don't have that many at all..i'm kind of confused about your extras..but besides that you now have: 30 out of 100.
Shows: ahh..the shows. Sadly, i never understood why puppyz/kittenz can't enter. still fare rules and such are good. 35 out of 100.
Inside: o0o0 the about me, you're name is Emily? my sister site's owner's name is Emily. neat. You like red? thats good to know, and you're past layout with your cat triger is sooo awsome~you don't have as many petz as i thought you would, and i never really liked rants, but thats ok in this case, they are petz themed. Reveiws, now who DOESN'T like reveiws? 69 out of 100
Other Stuff: -well, it fits the catergorey i'll say. the breeding is neat.. but the chinchillas should be on that page..i think... reveiws, which i sent you are fare, and i love sending people mine to reveiw. Find Its i couldn't find it so thats good..somewhat. Then the silly pics..catz and airplanes, not something you see alot in petz or on petz websites. I love site tips. thats neat and the book list..i don't understand..its kin of just their...anyway you now have 82 out of 100.
extras: not much, its a basic petz site that tricks you into thinking its more, which i like. Maybe --1 or 2 things need more explanantion..now you have 86% a b..

Review by Petz Playa

Emily
www.geocities.com/wingedshaddow

Grammar: 10
Downloads: 10
Effort: 10
Truth or Lies: 10

You Recieve: Pot Of Gold

Review by Kiwi

Content: Wow! You have all downloads! That is a lot of petz to adopt! Thatís pretty cool. Sometime visitors donít like only downloads because then everyone else can have that same pet. But still, it is a great thing. You should have more with the site, like maybe shows and other stuff for the visitors to do besides a review. Oh! Kiwi is linked! (12 points)

Graphics: Your Petz pictures look pixilated. But still, youíve done a good job. I can see you edit your petz with the highlighting. Good job! (7 points)

Layout: Very simple to get around. Everything is right there, in front of you. I like the colors of the layout, very bright and welcoming! (20 points)

HTML: Nice, you have CSS going on and everything looks nice! (20 points)

Congratulations! You scored 59 points! You get the Purrfect Award!