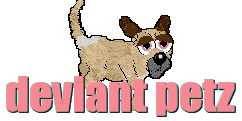 support downloadable adoptions

This clique is for all the sites out there that offer downloadable adoptions, or just plain like 'em. To join, right click and save one of these banners. (I only have a few up here right now, but hopefully there'll be more someday.) Post the banner up on your site and link it back to Deviant Petz:

http://geocities.com/deviantpetz

Finally, send me an e-mail at

[email protected]

with your name and URL to let me know that you joined.
Current Members
Emily @ Deviant Petz
Alicia @ Aurora
main
home
links
download
details
purebred
mixed catz
mixed dogz
litters
for you
find-it
clique
site help
pose help
the project
info
members
progress
inside
about me
the site
my catz
my dogz
my reviews
ramblings