KATHRYN THOMPSON

"You Can Take It With You"
blown and torch worked glass, sandblasted
$400

Some people do try to take all the 'bells and whistles' with them as they depart this mortal earth. "What will I wear – my best fur, my diamonds and emeralds? How about that fancy Cadillac to get me where I'm going? Or maybe I'll float serenely down a blue river. As in days of your, please pack everything with me and please don't forget the…"


"Mask"
blown and kiln slumped glass, sandblasted
$500

Hopefully we die in old age after having lived a beautiful life. That's the way it should be. But we know that all too often that's not the case. Some people barely get started: some just haven't been here long enough to finish. Death Mask. Life Mask. Which ever it is, the mask can be whatever you wish it to be.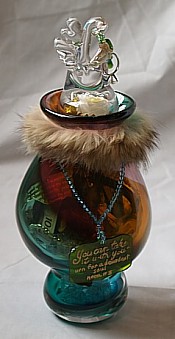 .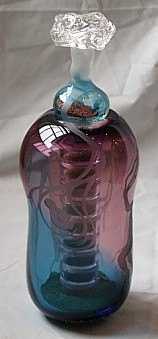 " Where might I be going? I might need a token from my life. I might need to remember who I was – or maybe someone else might want to know who I was. My toys, memories of my pets, an image of my face – these are left, and just a bit of dust…"