Home
History
Themes
Regions
State
District V
Calendar
Our Chapter
Meetings
Officers
Committees
Members
Newsletters
Altruism
Scholarships
Forms
Awards
Song
Poems
Photos
Recipes
Ideas
Contacts
Links




ALPHA DELTA KAPPA NEWS & NOTES
AUGUST-2006
Texas Beta Lambda Newsletter
District V
Publisher Patsy Green Volume 1 Issue Number 1 Date August 14, 2006
Back to School News
Can you believe, summer vacation is nearly over? I hope you had a wonderful restful time. I can hardly wait to visit with several of you about your tours and cruises. And I know some of you feel relieved and fulfilled that you have had time to clean out closets and cabinets. Aren't breaks nice?
I was able to attend both the State Convention in Waco and the Regional Conference in Springfield, MO. Thank you for your support that enable me to attend both of these. Hopefully, I learned at State the information to guide us through a successful biennium. Regional was a fantastic conference on leadership. I recommend a Regional Conference for all who are in a leadership role at sorority, school, church or wherever.
By the time you read this, many of you will already be back at work. I wish for you a calm, peaceful year with lots of mountain tops to help you get through the valleys that will come. Have a GREAT YEAR!

TEACHER
God took one pair of angel wings
And patience without measure,
Two eyes that see potential,
Great wisdom from His treasure,
A smile to give encouragement-
A truly heavenly feature...
He wrapped it up with tender care
And called this gift a "TEACHER"
FIRST MEETING
Our first meeting of this biennium will be Monday, August 28 at 6:30 P.M. We will be meeting in the Choir Suite at Mobberly Baptist Church on Loop 281 (If you need directions call Carolyn Wynn or me.) I hope you can be there. Our program will be presented by a young lady who has Spina Bifida. Spina Bifida is our new State Altruistic project. We will also have a brief report about the State Convention and Regional Conference which were attended by Patsy Green.

SUPER IMPORTANT! We will have a pledge ceremony to pledge Jayne Craig (we voted on last spring). Because of circumstances we were unable to pledge her last year.

BIRTHDAYS

Belated Happy Birthday to :
Carol Barnard - June 26
Patsy Green - June 26
Carla Carson - July 4
Evelene Albert - July 24
Sharon Jennings- August 4
LaNell Buvens - August 6
Charlotte Jackson - August 7
Mitzi Horton - August 19
---
OCTOBER-2006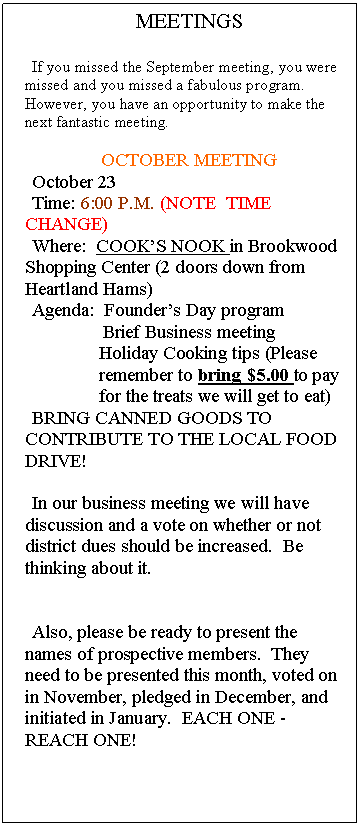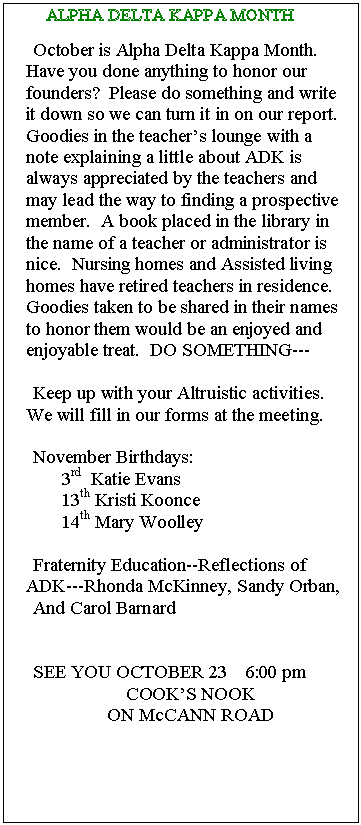 ---

TEXAS BETA LAMBDA ALPHA DELTA KAPPA NEWSLETTER NOVEMBER 2006
Publisher Patsy Green Volume Number 4 Issue Number Date 11/13/06
GREETINGS-HAPPY THANKSGIVING
Can you believe, Thanksgiving is almost here. YEAH! We are all so blest and we have so much for which to be thankful. I am thankful for each of you who are making this biennium so pleasant. Thank you for being patient, kind, and giving. If you are traveling this holiday, may God go with you and keep you safe.
NOVEMBER 27 6:30 PM
Our next meeting is Monday, November 27 at 6:30 PM at the Choir Suites of Mobberly Baptist Church. Our program will be on the effects of underage drinking, presented by Holly Fuller.
Things to REMEMBER:
Dues (this is it ) Active $64 and Retired $44
Altruistic Project for this month-
Personal items for the Womenís Shelter (socks, undies, brushes, combs, shampoo, etc.)
Names of Prospective members
My sincerest apologies to Rhonda, Carol B., and Sandy for forgetting to let you share your reflections of Alpha Delta Kappa. You may do so at our November meeting, or e-mail them to me and I will email to all. This monthís reflection of Alpha Delta Kappa will be by Mitzi Horton, Sharon Jennings, and Kristi Koonce.
---
Jingle bells, Jingle bells!
Since our December meeting is just 2 weeks after our November meeting, hereís an advance notice.
WHEN: December 11 6:00 PM
WHERE: Eveleneís house
WHAT: Bring your favorite snack, item or items for the silent auction, and money (Remember, this goes to our Altruistic fund.)
---
HAPPY DECEMBER BIRTHDAYS
8TH WANDA ALLEN
29TH SANDY ORBAN
---
December News
HO! HO! HO! IT'S THAT TIME OF YEAR! MERRY CHRISTMAS!
It was good to see so many of you out for our November meeting. You are to be commended for coming out on such a yucky night.
I hope each of you will be able to join us at Evelene's house on Monday, December 11. The festivities begin at 6:00. We will have a musical program, a short business meeting, food, silent auction, fellowship, food (see how my mind goes). Come ! Bring your favorite snack food, an item or items for the silent auction, and money for the silent auction. Bring a guest, consider a former member or a possible new member. The money from the auction will go to the Susan Komen Breast Cancer fund and to St. Jude's. See you there.
Home News: Peggy's surgery went OK. She is at home and still sore.
Fraternity Education Reflections will be from Evelene, Marian, and Carol P.
Monday--December 11--6:00 PM--Evelene's house
---
January News
HAPPY NEW YEAR!
I hope you each had a wonderful, peaceful, and refreshing holiday season. Now it's back to the thrill of guiding and shaping young minds. What an awesome endeavour.
LOCAL CONCERNS
Peggy is still having some pain with her shoulder and will begin therapy this week. Remember Carol P. as she has knee surgery this week. Prayers, cards, and visits would be appreciated- Mother Francis hospital through Friday the 12th.
JANUARY MEETING
Yum, yum, time for food and fun. This is our soup, salad, and desert meeting. The phone committee will be calling you during the week of January 15th to ask if you plan to bring soup, salad, or dessert. The phone committee needs to report this information back to Mary so she can let Linda Ann know before the 19th.
PLEASE TRY TO BE THERE BEFORE 6:00 (NOTICE TIME CHANGE) FOR THE INITIATION CEREMONY FOR JAYNE.
If you are not sure of directions to Linda Ann's, please ask your telephone chairman when she calls.
ALTRUISTIC REPORT
Be compiling all your altruistic moneys and hours. Peggy must have that information at the February meeting. Remember the cost of items you donated for the silent auction and the money you spent at the auction. We raised approximately $300 for our altruistic projects. (Wow! you are awesome!)
REFLECTIONS OF ADK--LINDA ANN CAROL S CAROLYN
SEE YOU JANUARY 22 22 6:00 pm
---
FEBRUARY NEWS-2007
Well, if you missed the last meeting, you missed another fantabulous meeting. We were thrilled to initiate Jayne and welcome her as a new member. Then we enjoyed some delicious soups and salads, and of course great desserts. MMMMMMM good.
Our next meeting is Monday, February 26--6:30 at ALPINE CHURCH OF CHRIST. Please note that this is a change in location. Its not much of a change. Go to the Loop and head toward Mobberly Baptist Church. If you are traveling east, get in the right hand turn lane right after you go under the Eastman Road (259) bridge. Look up. You will see the new water tower. Immediately past the tower there is a drive that goes up the hill beside the water tower. Turn there. As you get to the top of the hill, you will see a parking lot in front of you and one to your left. Turn into the lot on the left and follow it all the way to the flag pole and the covered entrance. Park near the covered entrance (if you look down, you will see Mobberly). Enter through the double doors under the covered entrance and walk all the way to the end of the hall. You're there. Please try to be on time since I will have the Sgt. at Arms stationed at the locked doors.
Remember that this is our joint meeting with Theta. Carolyn has come up with another great program. We will have a humorist speaking to us. We will have the financial planner at a later date ( Theta has already had a financial speaker--therefore, the change.)
If you would like to help with refreshments, contact Rhonda, Yvonne, Sharon, or Rachel. If you can help, give them a call.
Happy birthday to : Cecelia - Feb. 12 Chloe - Feb. 17 Janice - Feb. 21
Reflections of ADK: Mary Peggy Shirley
Counting on a good turn out. Let's make Beta Lambda proud. If you get lost, call 903-746-4026.
Peggy wants to remind
our members of the importance of bringing their altruistic reports to the meeting Monday or mailing it to her next week. You understand the importance of everyone doing one and how if reflects on our chapter report. Please remember to bring your report.
---
APRIL A.D.K

. Newsletter
Publisher Patsy Green Volume Number 9 Issue Number April 2007
SPRING IS HERE! (Maybe)
How have you liked these nice crisp mornings? I love the cool breeze and the chirping birds. Our tomatoes, though, would love some warmer weather. But after last year, I am so thankful for Godís blessings of rain and cooler weather.
APRIL MEETING
Can you believe, our last meeting of the year is upon us. We will meet on Monday, April 23 at 6:30 pm. Back to our meeting place at Mobberly Baptist Choir Suites on the Loop. Be sure to be there for the fellowship, program on relaxation (massages), and planning for the GARAGE SALE.
We have had absolutely fantabulous programs this year. If you missed any, you missed a treat. Donít miss this last one. Caroline did a super job this year. Be sure to give her a hug and a thank you for a job well done.
DISTRICT V MEETING
Marian, Janice, Linda Ann, and I traveled to Marshall/Elysian Fields to the District Spring Meeting. As usual, the Carthage sisters did an absolutely fabulous job hosting the meeting.
The Council voted to increase the District dues for next year by $1. That will make District dues $4 per person for the 2007-2008 year. If the need arises to reconsider that increase, it will be discussed at next springís meeting. As you may recall, when I placed this matter before you in November, our membership agreed to a $2 increase. At our April meeting we will address how you wish to handle this increase.
The fall District meeting will be the first Saturday in October in Nacogdoches. Start now to make plans to reserve that Saturday for a fun, informative trip. The more the merrier.
NEWS & NOTES
I tried to forward the News and Notes to everyone, but some of you said you could not open yours. Sorry, technology is so wonderful it keeps everyone screwed up.
Of course, most of the stateís focus at this time is toward the International Convention in San Diego, CA . Iíd love to have several of you join me on a trip out there. I have a room reserved with a harbor view. Texas will host a Texas breakfast and a Texas reception. An of course, District Vís own Ann Hudson will be installed as International President. Yea, Ann!
REFLECTIONS OF ADK will be shared by Katie , Cecilia, and Janice.
April Birthdays:
Carol P 25th
May Birthdays
Carol S 16th
Rhonda 29th