Welcome to the
Idea Exchange!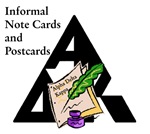 Share your favorite ideas for ADK Month, Founders' Day, meetings, activities, altruistic projects, or programs!

You can get some great ideas from one of our sister sites at http://www.illinois.alphadeltakappa.org/Pages/idea.html .

Send your ideas for the Texas ADK Forum to the webmaster.
Requirements:
(1) Enter "ADK Idea Exchange" in the subject of your e-mail.
(2) Include your name, e-mail address (optional), state, and chapter in your message.