[ Home ] [ The Story ] [ List ] [ Location ] [ Gallipoli ] [ North Sea 1914 ] [ Western Front 1914 - 1918 ] [ Survivors ] [ World War 2 ] [ The Battle in the Air ] [ Site Guide ] [ Feedback ] [ Links ]
GALLIPOLI
1915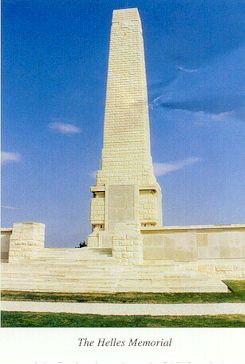 To read the young men's story click on their underlined names
FRYER, Ernest HMS VENGEANCE
RADFORD, Arthur ESSEX REGIMENT
"Those heroes that shed their blood and lost their lives…you are now lying in the soil of a friendly country, therefore rest in peace. There is no difference between the Johnies and the Mehmets to us, where they lie side by side, here in this country of ours….You, the mothers, who sent their sons from far away countries wipe away your tears. Your sons are now lying in our bosom and are in peace. After having lost their lives on this land they have become our sons as well."
Mustapha Kemal Ataturk (1934) President of Turkey & the commander of the Turkish forces at Gallipoli.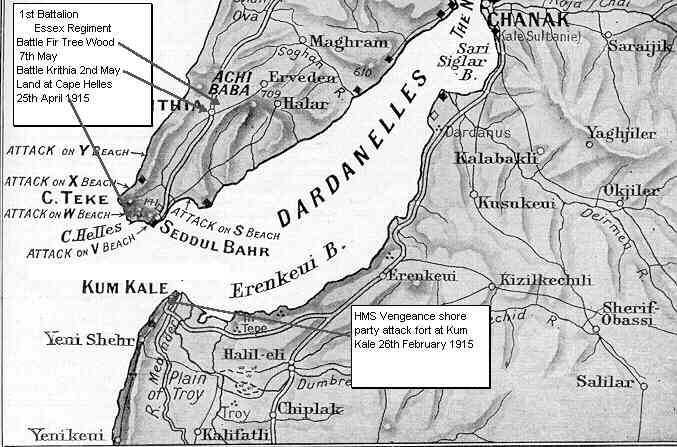 Map of Gallipoli showing actions where Arthur's regiment and Ernest's ship were involved.
When Arthur Radford landed at Gallipoli, he was not the only local man there. Farther along the beach was David Brookes from Langenhoe with the 2nd. Battalion of the Royal Fusiliers. Hugh Smith from Mill Road on Mersea Island was also with the 1st Battalion Essex Regiment and Private George Hewes from St. Peter's Road West Mersea landed at Anzac Cove.
Hugh Smith landed on the 25th April and after 8 days fierce fighting was wounded. He was evacuated to Malta where he wrote the following in a letter to his brother Edward :-
*****I shall never forget the Sunday we landed on the Peninsular, we were taken off a minesweeper, about 400 yards from the beach, and transferred to rowing boats manned by our brave sailors. Bullets flying all round us, our boat was hit 5 times, our Lieut. Was hit in the back, and died I heard afterwards the same night. During that few minutes, the thought flashed through my mind "Have faith in God" and he has indeed been good. In closing I ask once again for your prayers.****
Hugh later joined "A" Company of the 9th Battalion Essex Regiment. He was killed 15th February 1916 by a shell near Vermelles in what was known as the "Battle of the Craters", reference (1).
George Walter Hewes had been an Able Seaman with the Royal Naval Reserve in 1914, when War broke out. When the Merchant ship he was on reached Sydney, he went ashore and enlisted in the Australian Imperial Force joining "B" Company, 2nd Battalion, 1st Infantry Brigade. After fighting in Gallipoli, he was ultimately killed in Action on the Somme on the 20th July 1916. Reference (1)
One who had a lucky escape was Able Seaman Edward Jay from Langenhoe. He was serving on H.M.S. Ocean, which was sunk while trying to force the Dardenelles early in the campaign. Fortunately all hands were saved (2).
02/05/03 last updated
References:-
(1) Information relating to G. Hewes & H. Smith has been taken from Roger Bullen's Book "Not Just A Name", ISBN 0-9537322-1-5, with his kind permission.
(2) Essex County Standard 27th March 1915
**********************************************************
These pages are dedicated to the memory of the Fallen from the two World Wars, who lived in Abberton & Langenhoe.. Prepared by Saint Andrew's Parochial Church Council. November 11th 2000