I will try to update this page at least once biweekly, but real life SUX and tends to get in my way many times :-)
NOTE: This page is mainly for news on my maps and other pkarena related stuff, to DOWNLOAD the maps, please
go to my LEVELS section.



10/25/2007


Hyperblast-q3 was finished and sent to Groundplan as well as LvLworld for review, it is in the map queue to be reviewed still,
I had sent the beta to their beta section and got a couple good constructive comments, and then finihed the map. I also finished
hyperblast-pka which supports low gravity outside the ship (that was a b1tch to make :-) , also finished condemned-pka, well-pka
and foresthill-pka. All these maps can be picked up at my levels page. Still working on Quadcity beta and Gloom-pka beta.



09/10/2007


The latest project, being tested in our pka servers is Hyperblast, a remake of the UT level where you had to fight the boss
level XAN, the pka version has low gravity outside the ship just like the original, unfortunately the vanilla version does
not support it. You may get the latest beta at THIS forum thread at Groundplan or at hyperblast page.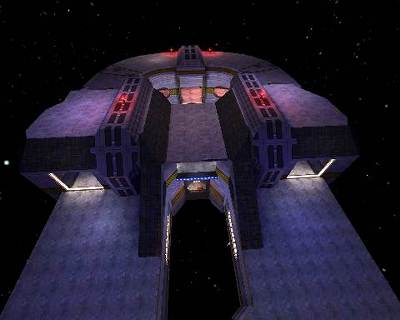 Also, Hexen's Village II was revisited and hallway and jumpad added for better flow in getting out of the lower dungeon level,
it can be callvoted at Nutsak's server. It can be picked up at the pklevels section.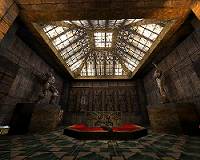 06/27/07


PROJECTS IN PROGRESS

I have been busy doing some remakes of Q1 maps- Gloom and Elder God Shrine, these are in beta stages and can be found at
Groundplan's quake revitalization project. In other news, I have once again joined forces with Blood Transfusion's lead mapper
PREDATOR to remake some of the fine "Blood II: The chosen" maps, which he will include in the next Bloodbath pack, these are
quite fun maps and are done from scratch, attempting to keep the most details possible. I am personally doing bb_condemned,
bb_drain and bb_chosenarena, but I was having so much fun I went ahead and remade bb_rooftops too, I had previously made a
loose attempt at a rooftops level, mostly mapping from memory of few years back when I used to play blood II, this time I fired up the
Blood II game and took countless screenshots to get it done right. These maps are all beta and fully playable and available for download
at Groundplan's Bloodbath thread. More details are available at Predator's Blood Transfusion page, he will be doing some maps too:
BB_cabana, BB_beast and BB_fun.

Here are some screenies:







BB_CONDEMNED- One of my favorite
Bloodbath levels, gloomy and atmospheric

BB_CHOSENARENA- Great fun with
3-4 players

BB_ROOFTOPS- Very small 1 VS 1
map.





BB_DRAIN- No where to hide on this
one, not for whimps.

GlOOMPK- Remake of Quake Classic

QUADCITY- Remake of Elder God
Shrine Q1 map.

Quake maps are remade with very high quaity textures done from scratch by the Quake Retexture project team led by Up2nOgOoD[ROCK]
and they look really sweet, very prpofesional made. AWSOME job by these guys.

There is a new server playing all of the bloodbath painkeeped maps and it is quite busy sometimes, with up to 5-6 players, I am having a blast :-),
the name is D_West PK Arena_Bloodbath and is operated by Kagee and Dekkion . Thanks guys, I'm very grateful for yer server :-)



12/06/06


NEW MAPS FINISHED!
Valley of the Dead (named Vod-pka) is finished as well as Deathrow-pka, and there is another map that I had long discarded
because it was actually a map I used to try things out in radiant, not meant to be played at all, but I threw it in as a joke in one of
the threads at Groundplan and some people actually liked the idea, so it lives on as a beta still in it's own thread at Groundplan,
Foresthill-pka-beta6: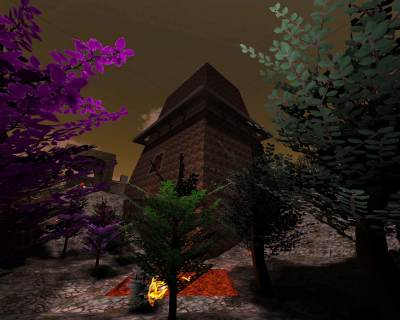 VOD-PKA and DEATHROW-PKA can be picked up at my LEVELS page.



11/13/06


HAPPY THANKSGIVING!
After a long Hiatus, I have been working in a new map, another egyptian level :-) which has been inspired by real miscellaneous
structures in Egypt. It will be called VOD-PKA-SBQ when finished (Valley of the Dead). It is actually not an SBQ (smear the Blue
Queer) map, but it is another one of Sh1theads' trademark creations :-)) called Crackhead, which is a variant of SBQ, where the SBQ
quad is bundled with a haste for really really mad, fast addicting and fun experience. It is up to beta3 and can be followed in it's own
thread at Groundplan. You can download the latest beta there or hopefully the final version soon.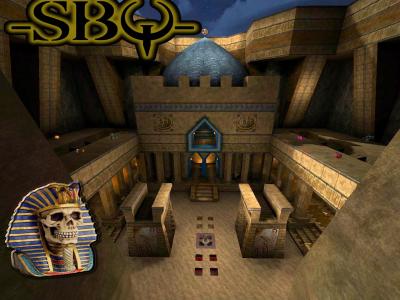 In other news PKA keeps going strong with the new addition of egyptra-sbq and mustaine-pka and furious and hilarious deathmatch
resulting in some really funny and entertaining demos happen almost everyday.



04/04/06



Holy Jeezez, It's been over a year already? Darn, real life gets in the way of so many important things!
Lots has happened in the pkarena world since my last entry, one of the most important ones is the continued
enthusiasm over the latest pkcraze started by our pk-fun director Sh1thead, and is called "Smear the Blue Queer",
these are usually small fast and fun maps with a long arse quad time and smart item positioning in a server with
quad factor at insanely high levels. The result is a hilarious fast non-stop fragging time for all. The latest of them
maps can be downloaded at Sh1thead's site and is called MAPPACK #5 .
I haven't been mapping much myself and have done only a couple things, like remaking some of the old Q1 pk
maps with high resolution textures for nostalgia, and a new map Deathrow-pka, these are still beta and can be
found at Groundplan's Quake revitalizing project thread and the New Map Sticky thread . The only map I have mad since
last year was Sphinxwalk-pka with item positioning help from Sh1thead, quite a fun map I think, and can be downloaded
at the Pklevels section .
SPHINXWALK-PKA: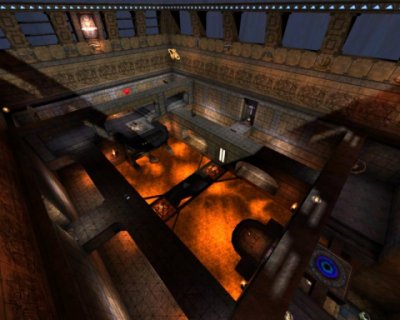 In other news, Predator and Fulgency have also been busy mapping, as well THING, which has made some really nice
fresh outdoor maps :-) I could not find direct links to the individual mappers pages, but all these maps are found at
Covenant's sensational MAPS PAGE , Great job Cov! Please take the time to visit that page for the latest maps.
Covenant has also given us a test server to test new beta maps, which is an awsome idea, people get to give
feedback befor the maps go gold.
Well, that's it for now, I'll try to update this page more regularly, just has been near impossible with my busy
reall life and my pronounced laziness :-)



02/04/05


I have neglected this page a little. Since my last post, Sh1thead has been busy painkeeping maps, please check on his
page for latest news. I have just finished the pk version of wolf3d map and dst-pka. The generations version of w3d
is still beta at this time and will be finished later. To d/l the maps you need FLUPAK1.ZIP .



11/22/04



PREDATOR has released his latest Q3bloodbath map pack with converted Blood and Blood II maps for Q3. These are
very detailed maps that capture the atmosphere and gameplay of the Blood series games. If you ever played Blood
and/or Blood II, you MUST check these out, If you never played the original games, these are very nice and challenging
maps and you oughta give'em a try. Grab'em at Predator's Q3Bloodbath site. These maps support painkeep.



11/19/04


I am currently working on 2 maps that are inspired by the generations mod, one is my own design with wolfenstein like
texturing and the other one is a Q3 conversion of Military base (d1e1m9). These are still beta and will hopefully be
finished soon. I also have the original pka10 map on my levels page, cause it is one of my favorite Team Evolve
levels and I wanna be able to play it in any mod, including the latest version of painkeep.

| | |
| --- | --- |
| | |
| Wolf3d map | Military Base. |


10/04/04


D2Grosse , a level based on Doom II's Grosse (level 32 of Doom2) is finished after 2 betas.



09/20/04


Hangar level is finished. Two maps, Hangar-pka with all-out graphics and not so great performance on lesser video
cards, and Hangar, a more civilized version with generations in mind. Both play well in pkarena. Bots are decent.



09/12/04


After narrowly being spared of destruction by three hurricanes this season, I managed to put up final beta versions of
the new map, on both forums, for pkarena and for genarena. I figured since it is a DOOM related map, it might be
of some interest to the genarena community. There are gonna be two different maps, Hangar-pka and Hangar, the
latter more for vanilla Q3 or generations, but will have pk support also. The final release is very near, as I get some
feedback and do further testing..



09/05/04


I haven't had much time to update the page, especially with Hurricane Frances knocking on my door, the latest
breaking Painkeep news is that PREDATOR already released the Bloodbath Packs , and these support painkeep! :-)
Go to his nice website right now to check'em out and download. I personally made a couple of the maps in the pack
too. These are conversions of Blood and BloodII bloodbath maps and are available for regular Q3 as well as pkarena.
PREDATOR'S site is at http://q3bloodbath.w.interia.pl/



08/25/04



With all the DOOM III excitement, I decided to open up radiant again to make a level. This time I am attempting
to recreate the original mother map of all :-) DOOM1MAP1, as I think it would've looked in DOOM3, this is more
of a personal project, I am using stock Q3 textures, some AWSOME DOOM textures by Tabun's in Generations ,
and some also awsome textures by SOCK (SIMLAND) as well as some free textures found in the net mostly at
GRSITES.

I have done very little, here is a super early alpha shot: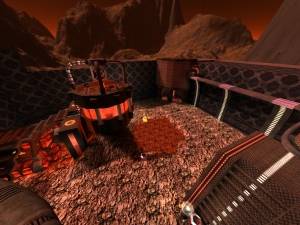 08/01/04





One more for the road, I really really have to stop :-( Anyways this is a quickie straight conversion of Q1 dm6 level.
No fancy textures , stock dimensions, some added areas for better fit of our painkeep stuff. DM-PKA



07/18/04


Finished what may be officially my last map, Penthouse . It has a great computer model by Anton , with pka desktop ,
and a brand new model, actually seen exclusively in this level, by the one and only UBERSTONKS , from Team evolve.
It is a surprise model that sits in the men's restroom of the penthouse- Enjoy!



06/20/04


Finished my latest map, Birdcage O' Pain . I meant to call it Birdhouse, but put birdcage by mistake and now it stays cause
I don't wanna rename all them .aas .txt .bsp etc. It is based on my previous "Railme" level, but is NOT rail only. Also
do check out Sh1thead 's site for latest conversions, he has upgraded lots of 2.8 maps to 3.0, just follow the Mo' maps
forum thread.



06/05/04


PREDATOR has nearly finished his Bloodbath pack #2 and should be ready for download in like 2 weeks, it includes two
of my conversions in it :-) He has also painkeeped may of'em, so now I'm double anxious :-/



06/04/04


I just finished my latest creation, these are just fun fragfests, no brainers and have KILLER bots in 'em. Flu's EGYPTPACK .



06/03/04


Sh1thead has gone nutz on us, he has painkeeped lots of new maps, padshop, padkitchen, chronic (upgraded to 3.0), auh3dm1,
charon3dm12, I just can't keep up :-). Visit his page linked to his name and download the latest.




05/22/04





Finished beta4 of duel-pka, which probably will resemble more of the final pr0duct :-) (update 06/04/04, it's finished, see above)


05/20/04





I am working on a new version of pkduel map, just finished a beta version and I would like some feedback, so grab
HERE (Update 06/04/04- Map is finished so no more grabbing :-) )



05/11/04





Added my profile to the web page :-)


05/03/04





Sh1thead

converted two more maps, nice ones too, Natedm3-pka and Gm3tourney2-pka. Grab'em here


04/20/04


My map Q1Start was reviewed by DNA on his " badplace " site. Thanks DNA, hope you guys enjoy it. :-)
Sh1thead has been busy reworking some of his pk 2.8 painkeeped conversions for optimized 3.0 play. As always, there
are traps and surprises awaiting you at every corner :-) Grab'em Ukooldm2 and Katdm3-pka here .



04/07/04


PKARENA 3.0 HAS GONE GOLD- It is finally finished and it looks to be a sweet improvement, awsome
new features, lots of adjusting the old weapons and inventory , which now feel justt right, nice improvements in the old maps, and
healthy dose of new FUN. For more information, visit TEAM EVOLVE site.



03/24/03


My new map Q3bridge, and one of the older ones, Rooftops, will be included in an upcoming Q3 Bloodbath mappack by PREDATOR .
Predator already made a bloodbath mappack previously with some great not to miss Blood II Maps. He is also interested
in painkeeping some of his maps which is GREAT, since I only play pkarena :-). He will wait and see what new goodies
come out in the new pk 3.0 release.



03/22/03




I added a "fix" to bridge-pka, it is actually a new map called Shittytown , which is bridge-pka with an added room, but you NEED
bridge-pka.pk3 cause that's where all the custom texturing is.



03/21/03


Bridge-pka is finally finished, and ready for download. It also has another map in it, q3bridge, just a different version
of the map without the pk parody stuff :-)



03/20/03


Seems the release of Pkarena 3.0 is gonna be very very soon, I am looking forward to it with great anxiety to say
the least. In the meantime I am almost done with my recreation of a nice Blood II level.



02/12/04




Pk community has been playing lots of CTF lately, so I got motivated to try and make a level. Just finished, the map is
called ROOFTOPSCTF .



01/04/04




UPC League (ULTIMATE PKA CHAMPIONSHIP) :=)
How good do you think you are? Well WAKE UP and smell the TRUTH. Go sign up right now for a shot
at KING OF PKARENA :-) Applications are being accepted and the tourney is been organized by the KING
himself (Don't get too comfy in the throne cause I'm gonna be claiming it soon) TA.Gideon. Please sign up
HERE . If you have never played Pkarena but wanna sign up anyways, go right ahead, show us what the
elite vanilla players can do. We are sporting small and easy to learn maps in the tourney.



01/03/04


Hahhhhh! First news of 2004. Just updated the SCREENSHOTS page. I had it linked to my webshots page of
Q3 screenshots, but apparently they removed it cause I hadn't maintained it for long. No matter, I posted
new screenshots, including a couple from generations.



12/31/03


FINISHED RAILME LEVEL
Just finished the new improved pkrail version, dimmer, larger, funner :=) Optimized so that folks at vanilla Q3 and
GENERATIONS can also access invisibility.

HAPPY HAPPY NEW YEARS EVERYONE! ENJOY!



12/30/03




PRESENTING: PK67 (BATTERED STACATTO)
It's finished and ready for downloading, will bring memmories to hardcore painkeepers from the old Q1 days.



12/28/03


Anton has released a new masterpiece, the name is "Ancient Ways" and is available for download at his site,
http://anton.stonks.com/



12/31/03


Seems that pkarena 3.0 release is very close! :=) Didn't get it for Xmas, but New Years seems promissing.



12/20/03


I'm working on a new map that I hope to have ready soon.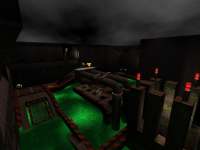 Looks familiar?, it should to hardcore painkeepers.



11/20/03


Shi1thead has converted another map to pka and this one is WILD, gm3tourney1-pka




11/17/03


Mo' maps from Sh1thead , this time a map that grabbed my attention called DM666, It is affectionately also known
as SMEAR THE BLUE QUEER :-). Grab the map here: http://sh.stonks.com/files/dm666-pka.zip



11/17/03




Sh1thead painkeeped another map, painfromspain, a pretty cool one that sports a lava swirl and other nice creative
features, which you may grab at http://sh.stonks.com/files/PainFromSpain-pka.zip



11/01/03




Pawnshop Level was reviewed at "The Bad Place" . It is the place to visit if you wanna find all kinds of remakes
of old levels from other games such as DOOM, halflife, UT, SIN, SoF, Blood, etc. converted to Q3.



10/08/03


Added my very own HALLS OF FAME (Brag.... smack.. brag...) Page to offend the lots of ya.



10/06/03




Sh1thead painkeeped a couple of cool maps, dk_ft-pka and earth-pka. Download'em at Groundplan forums .



10/01/03


Our kind host Uberstonks managed to get his s*&t together and got the site running again, which means maps are
downloadable again. All kid aside, THANKS UBER!
I made a map pack of all the pkarena 2.8 maps I had made and is now available at the Levels section.



09/24/03




UPDATE TO DOOMPARK: 09/23/03: Now that I started playing generations, I got nostalgic and
revisited DOOMPARK, I had to change a few things now that I know radiant since this was my first
map, and I managed to get rid of the tremendous fps problems the original had. I also made
it so it will play in either version of Pkarena as well as GENERATIONS MOD and regular Q3.
I also made it a little brighter in some places.
Screenshots of DOOMPARK


MAPS AND UTILITIES

02/04/05
FLUPAK1
Has 3 maps- DST-PKA, a level from scratch with classic pk2 level layout but to a larger scale to
accomodate 3-4 players, wolf3dpk, which is a level originally made for generations, with a w3d theme,
and wolf3df map made as a joke, resembling the original layout used in the original w3d levels, all
flat and repetitive :-)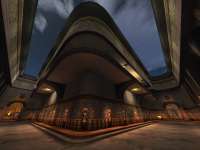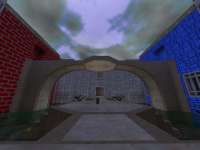 DOWNLOAD FLUPAK1 (8 Mb)

10/04/04
D2GROSSE
Got motivated after reading a post on generations forums.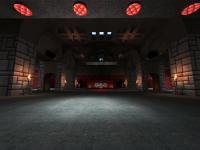 DOWNLOAD D2GROSSE (2 Mb)


09/20/04
HANGAR
It's a personal project that I had . I wanted to make a level resembling some aspects of DOOM3 and I
thought Hangar (DOOM1MAP1) would be a good choice.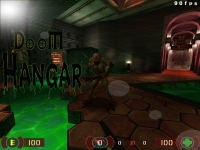 Download Hangar (9Mb)

08/01/04

THE PAINFULLY DARK ZONE
Straight conversion of Q1 Dm6 level with stock dimensions and minimal use of texturing. Not very pretty but
great playability. Should be great for 2-3 people. Pure madness with more than that.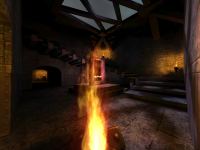 Download The PAINFULLY DARK ZONE- dm6-pka (<1Mb)

07/18/04
PENTHOUSE
Probably my last map, it is a tall building where you can frag in the last two floors and the top of the building.
Nice Shithead model by Uberstonks and computer by Anton, also a commemorative monument to our multicultural
community :-)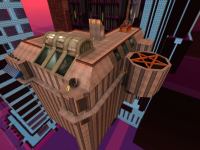 DOWNLOAD PENTHOUSE (6Mb)
06/20/04
BIRDCAGE O'PAIN
It is a project I started sometime ago that was scratched cause it got complicated and I wanted a rail only level, so I made it into
PkRail, later named Railme, but now that I had time, I finished it as a regular Pk map with all the weapons and finished the other
areas. It was at a time I was experimenting with arches and curves, so expect a lot of those :-)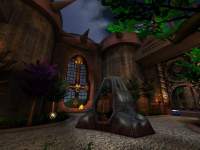 Download Birdcage O' Pain (4 Mb)

06/04/04
EGYPTPACK
It is a pack with two egyptian themed maps and the original duel-pka map. The pk3 is called egyptpack and has EGYPTDUEL-PKA map,
which is a remake of duel-pka with a couple of architecture changes and retextured with the AWSOME egyptian texture pack by
SOCK (SIMLAND), it also has LAIR-PKA, which is a remake of lair-pkr, with new areas as well as new textures by SOCK, and lastly
it also has duel-pka, which is a remake of pkduel30 and it was previously released as duel-pka_beta4,. It is a hefty download cause of all
the custom texturing and music, but it is a LOT of fun. These maps are mainly for pkarena, but should play well in regular Q3 and
GENERATIONS, only that some of the traps will not work, but it should not distract at all from gameplay since the traps were there mostly
for fun, not really necessary for gameplay. These maps are "conversions" of old Hexen II favorite levels.

| | | |
| --- | --- | --- |
| | | |
| Egyptduel-pka | Lair-pka | Duel-pka |
Download EGYPTPACK (17 Mb)


03/23//04
SHITTYTOWN (Bridge-pka_fix)
WARNING: YOU NEED BRIDGE-PKA (below) in order to play this map!
This is the exact same bridge-pka level, with an added room to add spunk to this map and to
honor our beloved Sh1thead who loves traps and beans :-) He has helped me so much with the
zip files that is the least I can do. Make sure you wear a gas mask while playing this level :-)

Download Shittytown (2 Mb)
03/21/04
Bridge-pka is finished and it is a recreation of a favorite bloodbath Blood II level that I really liked. I brushed it
from scratch, please read the readme file. Has two maps that are fully playable in regular or painkeep version.
Q3bridge is the level intended to be a recreation of the original, Bridge-pka is the same level, but taller, with
lots of cutom textures for the pk community. and a few structural changes to accomodate us painkeepers.
In bridge-pka, just like in Bood II you respawn with all the weapons and you gotta find the ammo, but in
regular Q3 there is no target_remove support so you spawn with armed weapons. In Painkeep, you respawn
with weapons but no ammo except the shotgun and machinegun.

Download BRIDGE-PKA (5.2 Mb)

With a newly renewed interest in CTF in the pk community, I decided to try to make my first real CTF level. I didn't
feel like brushing from scratch and I wanted a sniper friendly map, so I mirrored one of my old maps, Rooftops, and
added and modified a few things and now it's ready for fragging. I want to take a moment to thank Blakjack for all
his help and he actually detailed some of the map and improved vis time as well as performance. I also want to thank
our mapping guru THING for all his suggestions as well.

Download ROOFTOPSCTF (2.6 Mb)

12/31/03

RAILME

This is the same pkrail map with the lights dimmed a lot and an added area with a jumpad, it should play well in
any pkarena version as well as regular q3 and generations. NOTE ON PKARENA- It plays well in 2.8, but 3.0 is
a lot more fun because there ain't no tongue slashing in 2.8.

HAPPY HAPPY NEW YEARS EVERYONE! ENJOY!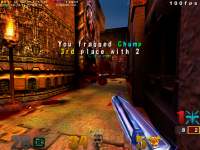 Railme (1.45 Mb)
12/30/03
I have finished a new map based on the old Q1 pk6 (Suicide Staccatto) and pk7 (Battered Brains) which I have
appropiately named "Battered Stacatto", I guess I also could've named it "Suicide Brain" :=) It is a large, well
connected map with stupid bots. I added lots of botclip and some "do not enter" brushes, but they seem to smile
and crap on my efforts. This map is intended for pkarena, it should play in both versions, and should also play well
in regular Q3 as well as in generations mod.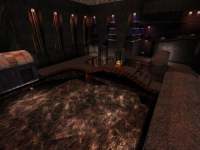 Pk67 (3.0 Mb)

I re-made the Q1start pkarena version and removed some of the gaudy textures :-) and lowered the ceiling
in the main room. I just started playing the new versions of Q3 generations and I made this map with it
in mind, It has no painkeep weapons, this is straight Q3. It is included in the Genesis.zip . If you play
it in generations, just unzip to baseq3, and bring down console in generations and type /map q1start_q3.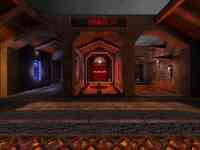 09/13/03
PKDUEL30
It's an updated, retextured, taller pkduel. Now it has a railgun too. I got the idea from Uber, who
likes quadfist-jumping and railing :-)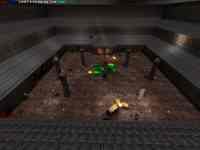 DOWNLOAD pkduel30 (0.3 Mb)

09/09/03
MAUSOLEUM O'PAIN
Just wanted to make a creepy level with all the orbituaries of the regular pk crowd, kinda representing
the mood around the servers and forums as of lately. Darn! that map took a loooong time to make.
PkSlash , PkRail are the same map with different respawn options, to be played only with
at least 4 players or bots :-). As always unzip the zip in the pkarena3 (or baseq3) folder and bring the
console down and type /map mausoleum (or pkaslash or pkrail). ENJOY!


DOWNLOAD MAUSOLEUM (7.9 Mb)

07/02/2003
FLUHOUSE [Flu's House O' Pain]
This is just a replica of my real new house. I did not intend this to be a fragging map, just a scaled version
of my map. No attention to gameplay or performance given at all. But came out pretty cool anyways :-)


DOWNLOAD FLUHOUSE (7.4 Mb)
05/15/02
MASSPAIN (Mass Disorder for PKARENA 3.0)
This is a vast improvement over the last one in my opinion :-) ENJOY!


DOWNLOAD MASSPAIN
04/25/03
GENESIS (Q1START MAP) (3.5 Mb)
For a long time this map has been roaming about on me head, till I snapped and remade it for Pkarena. While it is
HEAVILY structures after the original, it is NOT intended to be a remake. The tele destinations are different and
there are new as well as heavily restructured areas. The scale seems to be on the too big side, but it is well
connected and seems fast action at least playtesting with bots.


DOWNLOAD GENESIS

3/10/03
TIG_OUTPK (5.1 Mb)
I downloaded this map made by Tigger-on and really really like the texturing and ambiance, I thought
it was very relaxing atmosphere :-) and asked permission to painkeep it. Tigger replied and was
only too happy to have it converted, so here it is, enjoy! WARNING: BOTS are extremely efficient.
matter of fact, I test the map with 3 nightmare bots and have come close, but have not been able
to beat'em yet :-( to 30 frags.


DOWNLOAD Tig_outpk map

2/1/2003
PKS (PKSPHINX for PKARENA 3.0)
Lemme see, I had nothing to do, I miss chthon in pkarena 3.0. No way I was gonna start brushing from
scratch, pksphinx resembles chthon a lot, so I just got pksphinx, removed a few brushes, added a
couple, remove some weapons and items, retextured the whole darned thing, added pk3.0 stuff and
renamed pks. Come to think of it, it probably would've been easier from scratch :-)



PKS


1/26/2003
TECHNO
This will have to be my last map for a long time, start a new job in a couple of weeks and need to study
for a registry test. Damm real life gets in the way again :-)
Technomountain (pk13) for Quake I was a very popular and great map, I was just itching to play it on PKARENA.
PK13beta (techno in beta) was an unexpected great success, I just finished vising this last version, enjoy it.


TECHNO


1/25/2003
ROOFTOPS
I got a level that I made some time ago and seems to be popular and made it compatible with pkarena 3.0.
Unfortunately, I did this as I found a new fascination for skyboxes and got a real colorful one guaranteed
to give ya a headache, but I like it and IT STAYS! :-)


01/23/2003
Remake of one of my favorite DM maps of all time, Panwshop (NYCDM3) from Soldier of Fortune I.
Made from scratch, no conversion tools. I was just making a Q3 map based on it, but got homesick and
ended up texturing with real SoF textures and skybox. Excellent map for 2-4 ppl, bots play very well too.




Pawnshop for Q3
Click on image to enlarge
Original SoF Pawnshop.
Click on image to enlarge
PAWNSHOP
12/21/02
COLLISEUM OF WAR/ GARDEN/ SPHINXWALK (6Mb)

This will HAVE to be the last maps I make for a long while since pka 3.0 is coming out and we will
have some nice maps to play , and I must act my age temporarily and study for a coming registry test :-[
Colliseum of Pain was my idea of a verticl map with furious action in main courtyard. Garden is a remake
of a Quake I Painkeep map by Quo Vadis that I played a lot, unfortunately did not want to convert too well
to quake III, but still is fun, and Sphinxwalk is my interpretation :-) of another Quo Vadis map from the
good'ol painkkeping Quake I days.; it is based heavily on the house of Chthon I reckon.


PKA_COL, PKSPHINXS AND GARDEN.
12/05/2002
ROMERIC FOR PKARENA (about 8.5 Mb)
A couple people requested a map based on Hexen II romeric levels and I sacrificed :-) to abide.
Not being able to choose just a couple of nice areas, I decided to make TWO maps, small to
medium in size, rather than a big one (like happened w egypt level), and I was missing levels with
water, so I decided to make one of them heavy on water. WARNING: Bots + water = STUPID BOT
These two levels are called romeric (Hexen's II Romeric) and has some Hexen texturing, but mostly
stock Quake III, and the other level is called h2cath (Cathedral O'Pain) and is mostly Hexen II texturing.
They are for pkarena.


ROMERIC (8.5 Mb)
11/07/2002
CLASSIC DEGUELLO
It all started by an e-mail request to have this level converted. Not my favorite pk map because it was kinda
boxy , had no pk inventory and I ALWAYS got my booty whipped even by the worse players. Just not my
type of level. So I thought it was a challenge to make myself like it, and I pretty much left the level untouched
and added a new area that does contain the beloved airfist, and a few beartraps and sentries. The bots are
not too challenging in this level even though I tried my best to minimize their stupidity.. I also went really
easy on the eye candy and even left some stock Q1 textures, to concentrate on the gameplay.


DEGUELLO


10/26/2002
H2EGYPT (HEXEN'S II EGYPT)
Frag inside a pyramid and an old egyptian monument. Don't expect much from the bots unless bring 5 or 6 in
nightmare mod. Good for 3 or more deathmatch players.




Temple of DOOM (errrr....
Quake I mean )
Mysteries await, 3 secrets in
this level.
H2EGYPT (5.3 MB)
9/22/2002
COMING SOON! ( I Hope)
HEXEN II had some awsome egypt levels, I have already ripped one too many Hexen II level, so this one is gonna
be from scratch, with several areas resembling the nice structures featured in the Hexen level, and with gameflow
hopefully re-directed for deathmatch rather than single play, lets see how it goes.





| | |
| --- | --- |
| | |
| Hallway inside pyramid | Pyramid of Death |
9/21/2002
PKROCKET ARENA - I wanted to see how rocketarena would play under pk mod and made a couple
of maps with wide open areas , where players respawn with the rocketlauncher to satisfy my curiosity.
I didn't mean to insult real rocket arena players :-) I have never played it or even know what the strategy
or rules are, I just made it to my taste. It sure is a lot of fun with 3 bots though.
I decided to use two nice levels from Hexen II , I could've made my own two levels, but these were so nice already,
and perfect for my goal. The pyramid level is a conversion of Pestilence's Lair (Rider2c level) from Hexen II and the other one
is a conversion of Hexen II Colliseum of War (Romeric 6 level). The lair_pkr pk3 has two maps- One for regular Q3 called
Lair_q3 and one for pkarena called lair_pkr . The pkduel pk3 has two maps also; pkduel for pkarena and h2rom6 for regular Q3 .




| | |
| --- | --- |
| | |
| Frag inside a pyramid! | Remake of Hexen II level. |
PESTILENCE'S LAIR (Lair_pkr) and COLLISEUM OF WAR (pkduel) are both included in the
Flumaps.zip map pack above.

9/11/2002
HEXEN VILLAGE 5 MAP for QUAKE 3
AND FOR PKARENA
What do you do when you love the textures, atmosphere and maps of a certain game that just refuses to
run in your system due to video card, etc. problems? Well, buy a new system, or, as in my case, convert
the level to a game that does run in your system :-) There are TWO maps in the pk3, Hexenv5 for regular
Q3, and Hexenv5_pk for pkarena. Just unzip hexenv5.zip in your baseq3 folder and start from console, see
hexenv5.txt included in zip if need further help.

HEXENV5

"FIRST TIME LUCKY" MAP FOR PKARENA
Originally made by STARDAGGER . I saw the fun potential in this Q1 painkeep map and with Stardagger's
permission and supervision, I converted it to pkarena. Bots play exceptionally smooth and tough in this level. I
really like the way it turned out.
It has a definite Q1 feel and is rather dark and gloomy with plenty eye candy.


FTL (1asd1.bsp)
7/20/02.
PREFABS MAP FOR PKARENA (And 5 extra surprise maps too)
This is what I call a big project, 6 maps in an 11 Mb pk3. It includes my latest original map, called prefabs cause
I made it from many prefabs I had lying around on my computer from my previous maps. Bots play this map pretty
well and is pretty challenging. I don't know if it's an fps monger cause since I upgraded my computer to a P4- 1.8 Ghz,
my computer refuses to lower fps to less than 90+ :)) but I was getting 39-90 fps with my old PIII-500.

PREFABS
Please READ the README1ST.TXT file.
The big surprise is that this pk3 has not only prefabs, but also 5 more maps, four of them are remakes from the good
old Q1 painkeep days, and it has that "arcade" nostalgia feel. One of them was a special request from Stardagger, who
graciously reviewed his request yesterday at 2:30 AM in the morning :)) and made some great suggestions which kept me up
till 4:30 AM, and 7 hours straight today hehhhh. But it's OK because now I think it is even better. All maps come with
bot support. Now for a real shocker: I Flu>hateCTF>Syndrome, made my first attempt at CTF, mind you I have never played
a complete game of CTF quake in my life cause I hate it, so I just mirrored a small map and put a quad smack in the middle,
to make kind of a parody of CTF, and to make it fun for me, cause otherwise I wouldn't be caught dead playing that stuff.
The bad news is that the red bots seem to act real silly. It's called pk2ctf, I gotta try this thing with 12 players one day, has
to be a total riot.
6/21/2002
LIGHTHOUSE MAP FOR PKARENA
My latest map is an attempt to make a kind of "terrain" open air level. I am kinda tired of running through hallways
and was inspired by some of the SOF2 terrain levels. This is not a very fps friendly map, although if you keep to
the playing traffic areas, shouldn' t get below 40 fps, it does dip to 33-35 in remote areas.


LHOUSE
6/7/2002
"CUBAN" sounds for Q3 doomguy
I made a "cuban" sound file to replace the regular sounds of the doom player model. Those of you who know spanish may find
it amusing, those who don't speak spanish may learn a dirty word or two :)) Just unzip on baseq3 directory. If you don't like
it or grow tired of the sounds, just delete the sounds_doom.pk3 file. ONLY WORKS WITH DOOM MODEL.
DOWNLOAD: sounds_doom.zip
6/06/2002
LIGHTHOUSE MAP
I know I said I wasn't gonna do anymore maps, I lied, sue me. Actually Ihad high hopes for soldier of fortune II. I thought I was
gonna be playing it a lot and not have time for anything else, and it turned out to be a big dissapointment. I reckon is just my opinion,
but ain't nothing like the first sof, it's just a big, slow, lame butt game, with large weaponless levels. Only a couple levels are any fun.
Oh well this ain't sof page, so I'll stop. Back to the level, will be a medium sized level with a lighthouse.

It's very early stage, but I included a screenshot of it's foundation. Will probably take me a good month to finish, and it will also be
pkarena oriented.
5/4/2002
SAN MARCO BASILICA
Finally finished San Marco level. I had to restructure everything to gain much needed 10 fps across the level. It actually
does not resemble the original map I had made 2 months ago much, but I am overall pleased with the results and it
does play much better. I would like to thank Blakjack and Thing for helping me out and actually teaching me a thing
or two (or three, etc :) about map making. It is heavy on eye candy, guaranteed to not resemble anything you have seen
before, but HEY, so is the real San Marco Basilica, unlike any church you have ever seen before :)
STMARKPK It is about 7 Mb cause It has two maps with bot support inside, stmarkpk for
PKarena and SanMarco for regular Q3. Damm bots keep kikin' me booty in regular Q3, but I get'em back good in PK! YEA!.
This is my last map as I will be enjoying fraggin' action in servers now as well as soldier of fortune 2.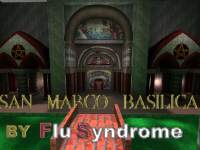 Pray before you die by my
rail beam
No need to knock, I have been
waiting for YOU
Nice for RL fights, but watch
yer butt, gravity well nearby.
Pick yer coffin and RIP.
Instructions: Just unzip to baseq3 directory, should leave stmarkpk.pk3 in there, then just start Q3 and pick SanMarco from
menu, or start Pkarena and pick stmarkpk from menu.
4/20/2002
I made this level real quick cause it had been roaming on me head fer a long time. It is a semi-remake of an old blood2 level,
rooftops. On top of that I was just inspired to do something with the NYC WTC twin tower theme and just couldn't resist.
I can't believe they're gone :( , but at least now we can deathmatch on top of'em. I know this won't be very popular because
it's like a space map, but is not that easy to fall off the edges. I tried several textures to make a nice skybox but didn't succeed and
the hellfog below would get screwed, so I left it with black sky all around.
Please note that there are TWO levels in the pk3, rooftops (for pkarena), and rooftopsq3, which is for regular q3.
INSTRUCTIONS: Just unzip to baseq3 and do quake3 +sv_pure 0 +set fs_gamepkarena +map rooftops (for pkarena) or choose from menu.
quake3 +sv_pure 0 +map rooftopsq3 for regular q3, or choose from menu.
ROOFTOPS ('bout 2 Mb)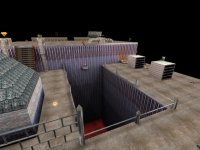 4/8/2002
PKSCHOOL for PKARENA (4.5 Mb)
Another level done. Why can't I stop?
Anyways, this baby seems to be fps happy, I average a good 60-90 fps in most areas with very few areas dropping into
the mid 40s and ONE particular stop as low as 39 fps, I think it is totally playable and fast action.
The inside of the castle was made to resemble the action in one of my favorite "soldier of fortune" level. It is NOT supposed
to be a conversion or remake for Q3, matter of fact it was done by memory of a level I have not played in about a year,
uhmmmmm it probably doesn't look like it at all :) but it isa lot of fun. Have fun in the uberlava trap and go directly to jail.
There is a secret level with most pk-goodies except the gravity and chainlighting gun, cause I want ya to go for those in
the strategic places they're at :)
Many thanks to BJ and Covenant and Uber fot their comments and suggestions.
INSTRUCTIONS: Just unzip to baseq3 and do quake3 +sv_pure 0 +set fs_gamepkarena +map pkschool (for pkarena) or choose from menu.
quake3 +sv_pure 0 +map pkskool for regular q3, or choose from menu.
PKSCHOOL (April 20, 2000)




Above Picture was taken from
above level where player can
reach, you won't see the ugly stuff
on top, just couldn't get a damm
decent screenie from the ground.
Lil' pkschool for me to learn ya
some tricks :)
Want the hook real bad don't ya?
Well it's in the uberlava trap, if
you get trapped, only way out is
to hook to teleporter above and
go directly to jail :)
Arena fer yer fraggin pleasure.


Yes it is what you think, this
superb model that greets you in
the main entrance is mooning you.
I figured SEX SELLS , and
nothing like a nice naked female
BUTT to do so. :)
This is an area familiar to many of
us who played soldier of fortune,
although texturing is totally different.
Yea!! I can still kik some butt.
YOU'RE NEXT!!!!!
3/29/2002
SAN MARCO FOR PKARENA
Had to restructure half of the map to lower the damned fps's. I am quite dissappointed that maps have to be always
a compromise between what you wanna do and what the game engine allowsyou to do, grrrrrrrr, it had turned out
mighty fine and now it's all chopped up.
Coming very soon to an arena near you:
UPDATE 5/4/02- Finished SanMarco, see above for d/l and info.
UPDATE 4/5/02- After many revisions and compromises, the map was sent out to the master, YES! Mr. THING himself
to see if this beached whale can be saved. It is heavy on fps but I don't drop from 35 fps or so in worse areas, although others,
like BJ, reported as low as 17 fps. The map is being revised at the moment, due to intensive restructuring, I had to box the map
till I figure the leaks, and according to THING and other REAL mappers,that made matters worse. Sooooooo, I'll work on it soon.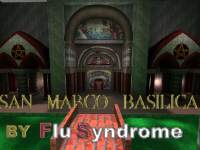 2/21/2002
MASS DISORDER FOR PKA
This is my latest project, it is a remake of a simple, but awsome Q1 level made by an unknown author (newsflash: just heard
the level was probably made for a Q1 mission pack named scourge ofarmaggedon ?? by a group called hipnotic or ritual, my
hat off to them for a nice job :). The level was painkeeped by Quo Vadis and was a blast to play in a crowded server. I made a
few modifications to fit the pkarena mod, which differs slightly because of the ease of use of the draggon tongue (hook).
Revision (3/2/2002): At the request of several folks, I made the map brighter, I also added a new "secret area" and a few weapons to
make it easier for new respawners to defend themselves in all the madness. Also fixed a couple of texture problems.


PKA_MASS Map included in Flumaps.zip mappack above.

3/22/2002
Maps in progress:



Lil School where I can learn ya
some tricks :) Now (3/23/02) I'm
working in it again. Gimme a month
or so, will ya.
This one is done, check out San
Marco map above.
1/25/2002
Finally finished my FIRST map. It took me sooooo long to finished that I lost track of time. Months, cause I wanted
it very detailed, just to explore q3radiant. Of course, being a newbie at this, paid so much attention to detail and NONE
to fps. Nevertheless it is quite fun to play with bots and it has lots of references to all my friends
in the pk community, including FUDGIE.
11/2001
MUST GET EGR!! What a map, still awsome after all this years.
Conversion from my favorite power level of all time: Elder GodShrine. Level is big, yet plays fast and furious.
Level was converted graciously to Q3 at my request by David Pochron ( http://www.ticon.net/~dpoch/games/ ),
who has made a Q2 conversion, an awsome UT conversion and is working on a half-life version of this level.
I painkeeped the map with his permission. There is a plot to this level too, time has gone by since Quake 1
and the shrine has deteriorated and is now in ruins, hence thenew name "elder god ruins", VERY well executed
plot and lots of fun to play. Well whatcha waiting fer? Grab it and let's frag!
Back to LEVELS DOWNLOAD Page
Back to Flu's Main Q3 Page