THE CLARK GABLE TOUR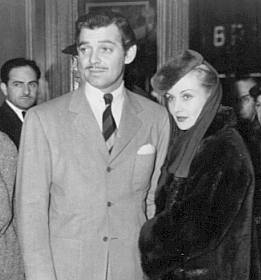 1901 - 1960
PART ONE
Author: Bob Siler
Memo: Bob is putting together a list of places that Gable lived at throughout his life,(addresses, street names),and some background history, such as when he lived there, how long, etc. If anyone has any historical backgrounds for when Gable lived in these houses, please email Bob. He is trying to complete the list. Many thanks!

FEBRUARY 1 1901
CHARLESTON STREET, CADEZ, OHIO
William Clark Gable was born on the second floor of a two - story white house at 5:30 AM to William and Addie Hershelman Gable. After his birth, Addie became too ill to care for herself or for the baby. William was trying to make a living drilling for oil around the country and was rarely home. He decided to take his wife and son to her parents in Pennsylviana, before returning to their Crawford County, Ohio, farm.

1901 - 1903
VERNON TOWNSHIP, MEADVILLE, PENNSYLVIANA
JOHN AND ROSETTA HERSHELMAN
Addie and little William stayed here with here parents. She died here in their home on November 14, 1901 from epilepsy. She was only 32 years old

ST. PETER'S CEMETERY
ADELINE HERSHELMAN GABLE
BORN - Jan. 3, 1869 - DIED - Nov. 14, 1900
Her marker is a red, marble stone. (The date of death is off by a year)
Addie's grave remained unmarked and fell into poor condition until 1934, when William visited it and became aware of this. In November 1934 the stone was placed on her grave.
Unable to care for his son, William left him with his in-laws. Addie's brother, Joseph, and his bride, Elizabeth, had not yet started a family and took charge of little Clark. In 1903 William returned for his son and brought him to their new home.

1903 - 1915
MILL STREET - HOPEDALE, OHIO

1915 - 1916
RAVENNO,OHIO
The Gable family farm.

1916
HARRISON COUNTY, OHIO
Gable was sixteen years old when he left his fathers house.

1916 - 1920
AKRON, OHIO
THE MILLER RUBBER COMPANY OF AKRON
Gable worked here while staying in a boarding house.

1920 - FEBRUARY 1, 1922
BIGHEART, OKLAHOMA
Lived here for two years.

1922
KANSAS CITY, KANSAS
Spent some time living in this city.

BEND, OREGON
Worked for a lumber company.

PORTLAND,OREGON
MEIR AND FRANK'S
Worked here selling ties.
It was at this time that he joined The Red Lantern Players.

JULY 23
ASTORIA, OREGON
Joined the Astoria Stock Company.

1922 - 1924
PORTLAND,OREGON
Josephine Dillon's acting school.
He became a student. She became his first of five wives.
In 1924 Josephine Dillon moved to Hollywood,California and opened "The Dillon Stock Company". Gable soon
followed. They were married on December 12, 1924.