THE CLARK GABLE TOUR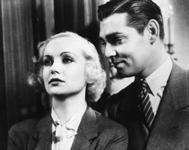 PART THREE
Author: Bob Siler

Memo: Bob is putting together a list of places that Gable lived at throughout his life,(addresses, street names),and some background history, such as when he lived there, how long, etc. If anyone has any historical backgrounds for when Gable lived in these houses, please email Bob. He is trying to complete the list. Many thanks!

HOPEDALE,OHIO

Jennie Dunlap, from Hopedale, married Will Gable on April 16 1903 and became Clark's stepmother. Will bought six acres of land and built a six room house, which took two years to build. They attended Hopedale Methodist Church, where Will was the Sunday School Superintendent. In 1917 Will sold the house and bought a farm sixty miles from Hopedale, near Ravenna. He said sold it in April 1920. Clark attended Edinburgh High School before dropping out in his third year. Jennie died in Hopedale in January 1919.

GABLE IN OKLAHOMA

September 1920
Gable, who had been living in Akron, joined his father in Bigheart,Oklahoma, and worked as a garage mechanic until it went out of business. He headed to Tulsa where he worked as abooker for 'Curtis and Brown's", a haberdashery. Five weeks later he was laid off. He returned to Bigheart and worked in an oil refinery, cleaning stills. Will bought them a house and they lived together until Clark left the state in January 1922. By July 1922 he was in Portland, Oregon.

CAROLE LOMBARD IN LOS ANGELES

1914 - 1942

1914
ALVARADO TERRACE
1435 SOUTH HOOVER STREET - LOS ANGELES
She and her mother moved to Los Angeles from Indiana and lived here.

1916
VIRGIL ELEMENTERY SCHOOL
152 N. VERMONT - LOS ANGELES
Young Carole attended here.

1924
QUEEN MARY OF FAIRFAX HIGH SCHOOL
Attended high school here.

1930
619 NORTH REXFORD DRIVE - BEVERLY HILLS

1931
Married William Powell.
They lived at 1416 N. HAVENHURST DRIVE - BEVERLY HILLS

1933
Divorced Powell and moved to another house in Beverly Hills.

1934 - 1936
7953 HOLLYWOOD BLVD, HOLLYWOOD
Was living here while dating Russ Columbo

1936
609 ST. CLOUD ROAD - BEL AIR

1939
Married Gable
325 NORTH CAROLWOOD - HOLMBY HILLS
Moved here with Gable.

1939 - 1942
4525 PETIT STREET, ENCINO
(is now The Galbe Estates and the new address is 4543 Tara Drive).
Lived here with Gable until her death.